LED turn signal lighting....help
---
I need some advice....where and what brand of LED lighting can I get for my 13 RGC? I would like LED lighting for my front turn signals and rear as well. At the HD store, they said that I could not replace the rear since it was included in the bar. Any thoughts?
---
Thanks,
Kevin
2013 Road Glide Custom
I installed
Custom Dynamics led setup
. You will love them. Awesome. I put them on for the main reason to be more visible to traffic. They have them for the Custom Turn Signal Bar (Fender without the brake light).
You WILL need the load equalizer unless you want your flashers at about 2-3 times the normal blinking rate. I didn't like the Custom Dynamics module so I installed a
Badlands Run, Brake, Turn Module
. About a 10 minute install, plug and play. Donít confuse them with a flashing brake light. With the Badlands, your bike has 3 running lights, hit your brake, and you have 3 brake lights. Touch your turn signal button, and you maintain your turn signal function while the other side remains a running light, or if you are braking, a brake light.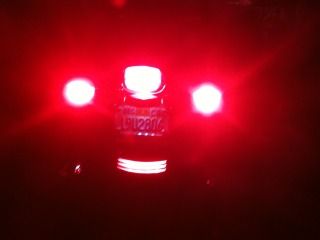 ---
yaS wa'DIch la'Hom Ho'neH jorDe' vestai-VamPyr
IKRV Hurgh HaP, Ring of Fire Fleet, Order of the Bat'Leth
Vietnam Veteran, PGR, Widow's Son, "lIgh tlhab" (Ride Free)

To view links or images in signatures your post count must be 10 or greater. You currently have 0 posts.

Another Custom Dynamics fan (lot's of us are) and yep, equalizer mandatory. I happen to have used the CD equalizer too though since it's easy to just tuck in somewhere along with the rest of the spaghetti near the fuse block.

CD is renowned for customer satisfaction too. I bought a full set for my '10 FLTRX a couple of years ago and, as an earlier version, had some of the front amber LEDs crap out. E-mailed CD and the rep replied about an hour later... said to just e-mail some pics and new units would be sent to me free (CD has lifetime warranty). In fact, the entire CD setup from my '10 is now installed in my new '13 since I made that transfer part of my trade-in/purchase agreement.

As for the "...included in the bar..." part, if you are talking about the lighted section at the bottom of the rear fender then yep, don't worry about them. Just ditch the four incandescents.
---
Bring 'em home or send us back!!

To view links or images in signatures your post count must be 10 or greater. You currently have 0 posts.

2013 FLTRX, Candy Orange
---
Last edited by 4getNo1; 11-04-2012 at

02:32 AM

.
Thanks guys...very helpful....I will look into those tomorrow.
---
Thanks,
Kevin
2013 Road Glide Custom
Been running Custom Dynamics for many years. But my personal choice for a load equalizer has always been Biketronics Smart Equalizer. Completely plug n play. No extra wires to run. No heat. And a lifetime warranty.
Custom Dynamics
---
They get my Vote as well.
Although they don't recommend adding a brake flasher on the Street Glide or Road Glide Custom because of possible confusion.
I've found if you pick the correct setting you can use the turn signal and break at the same time without any issues.
Ron
---
Fullsac X-pipe, 1.75" CVO cores, Big Sucker, TTS Tuner, Custom Dynamics LED turn and stop, 14" Wind Vest.
NIM, Ipod, CB, 2012 CVO SG seat.
X5 on the custom dynamics but the load equalizer they make has "0" heat and is very slim and durable being under the seat. I would also look I tot he plasma Rosa by custom dynamics and you'll live them. There is a you tube video on all of custom dynamics hot stuff especially the rods and how they install. Check it out I just did it on a buddy's street glide and they are sweet and bright.
---
Live, Laugh, Love, or Die Trying !
2017 RGS Velocity Red

To view links or images in signatures your post count must be 10 or greater. You currently have 0 posts.

Another +1 for the Custom Dynamics turn signal/running lights for the front and and turn signals for the rear. They are very bright.
Hangaround
Join Date: Jan 2011
Location: Grapevine, TX
Posts: 54
times what ever
---
I just installed Custom Dynamics too. White LED turn signals/running inserts upfront with smoked bullet lenses. Red LED turn signals with smoked lenses in the rear. I added their load balancer & Smart Triple Play Controler. Very bright with increased recognition at night. 10 separate flashing light patterns to choose from. The front white LED also double as sort of a small driving lamps too. Looks great with my new DayMaker LED headlights, if you can't see me coming you must be blind.
---
2011 Rio Red
Can never have to many lights ~ Signal Dynamics is awesome ~ I live about 10 minutes from where they assemble many of their products. I did opt for the Badlands equalizer ~ the CVO has an 8 pin connector and I am a plug & play kind of guy.... I have not started with lighting on the CVO except for the DayMakers but it is in my to do list ~ I did order the Signal Dynamics License plate bracket, had it powder coated black. It has all of the lights integrated that should light up the back of the CVO nicely... Have fun ~ lots of great products to choose from.
---
~Road Glide The only way to Fly ~