When I was shopping in earnest, I had made up my mind to get an Ultra, then make into a Custom with the QD gear. Yeah right. The TP is just too handy & I can buy other stuff with those funds. I don't like the look of the dash or the blue stripe, hope to figure some way to change it to something else someday. I didn't like the wheels either but planed to change those too regardless of Custom or Ultra so that was immaterial.

The main reason for the Ultra for me was lean angle, I drag stuff in the curves and with an Ultra I have a little more ground clearance. I really like the look of the low stance on the Custom but prefer the function a slightly higher ride height. Another inch of travel isn't much but for us Big Ole Boys, it can be important. I know I could jack up the Custom, just didn't think that would look right.

I like the Custom rear treatment, I will probably add the fascia (& yet another brake light) if I keep it long enough but I like the Ultra tail light, not because it looks better, it doesn't, but because I nearly had to buy a buddy a new CVO fender for running up on him when I didn't notice his brake lights on. I have the tour pack spoiler with lights and the luggage rack with lights and saddle bag spoilers rigged as run/brake/turn so there ain't no mistak'n when I'm turning or on the brakes.

The fact that right about the time I was ready to pull the trigger on a new Ultra, a Craigslist search yielded an '12 BBP FLTRU with $3k worth of accessories already installed along with the take offs, only 2,500 miles and at a lower price than a Custom had absolutely nothing to do with the bike now sitting in my garage.
Life Member
Join Date: Sep 2012
Location: Hixson, TN
Posts: 1,797
Was looking at the Custom to start then added up all the stuff and decided to go Ultra. Ended up with the CVO.
---
Red Sled 2011 RGU CVO in Rio Red,V&H Monster Ovals black. V&H Throttle Pack. George's TP relocation bracket. S&S twin tuned intake.
Newbie
Join Date: Mar 2012
Posts: 25
Price
---
I picked the custom up with 400 miles for 19K OTD thats the only reason i didnt do the Ultra.
---
2012 FLTRX
1997 FLSTC Bobbed
1972 IRON Regretfully sold.
I fell in love with the Anniversary paint scheme. If it had been an ultra or custom, would have been fine either way for me. I plan to add a tourpak and lowers for some more speakers first part of the new year.
I've never needed any of the FULL extras an Ultra comes with including the lowers. I just use cheap soft-lowers on the engine guard if necessary.

Therefore, when I bought a black denim '10 FLTRX, I just ordered a color matched quick-detach tour-pack for trips with mama. Then, when I bought my new '13, I made the stealer swap the old stuff I wanted onto the new scoot as part of the deal and will repaint the old tour-pack candy orange.

Bottom line... why pay extra for stuff you don't use? Get the stuff you want instead and move it to the new scoot when the time comes.
---
Bring 'em home or send us back!!

To view links or images in signatures your post count must be 10 or greater. You currently have 0 posts.

2013 FLTRX, Candy Orange
---
Last edited by 4getNo1; 11-23-2012 at

06:15 AM

.
Paint, looks, price - pretty much in that order. Yes, it ended up costing me close to the price of a 12 Ultra after adding color matched King TP, and a few other things, but add disconnect hardware and new paint to an Ultra and you see where I'm headed...
---
Be polite, be professional, but have a plan to kill everyone you meet.
Black denim!!
---
"DUDE!...Your exhaust is making the ground shake!" Circa March 2014, Born Losers MC, Atlanta.
i didnt!
---
got the ultra so the wifey could be happy! happy wife is happt life!
---
"I still dont know what Im goin for...But Im gonna go for it for sure!!!"
Well the Ultra wasn't out when I bought my custom, but even if it was I would have still bought the custom.

I was actually looking at used 09s, because I wanted the Mirage Orange. I even looked at ones with matching tourpacks. But visually, they still were just a blah bike with a nice paint job, they really didn't give me that warm fuzzy feeling. Then I saw the 2010 Custom, and it was like "wow, that's sweet".

And now that the Ultra's are out, I'd still opt for a custom because I like the look better. I can add lower fairings and a tour pack to my custom, and still have an ultra type bike but with all the cool looking custom parts and wheels on it.

If looks were secondary to function, then it would be an Ultra all day for sure.
---
Sal - 2010 Vivid Black FLTRX


To view links or images in signatures your post count must be 10 or greater. You currently have 0 posts.

Life Member
Join Date: Nov 2011
Location: Smyrna, DE
Posts: 2,220
Becaue they didn't make the Ultra in Chrome Yellow! Once I saw one, there was no turning back!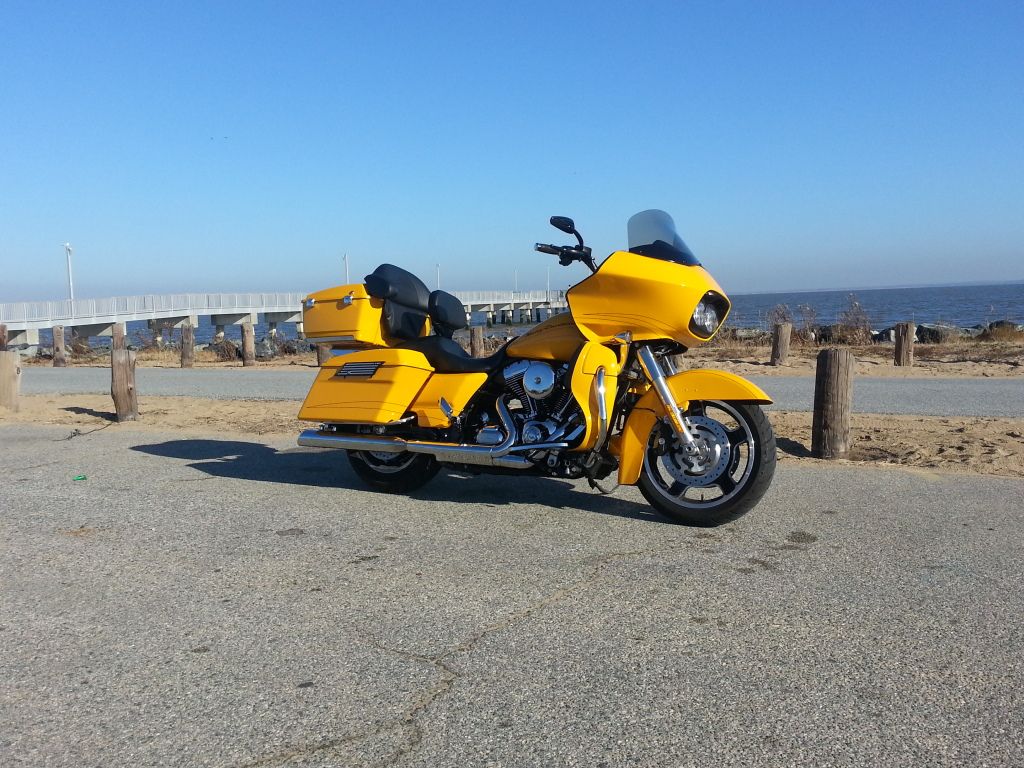 ---

To view links or images in signatures your post count must be 10 or greater. You currently have 0 posts.

2015 FLHR Morocco Gold Pearl