I saw my old bike and...
---
Yesterday I went for a ride with the owner of the local dealership, his kids and grand kids. There were about 10 other people too. I traded my 2010 RGC five weeks ago to buy my 2013 CVO. The owner had his 24 year old grandson riding my old bike. It was strange watching someone else on it; especially because he was riding in front of me. According to the guys at the dealership everyone has been riding my old bike because it's so much fun. They've put about 1100 miles on it since I traded it five weeks ago. It was a cool bike.
---
2013 CVO Road Glide 110 Anniversary Edition
1996 Fatboy
They should let you ride out front on that new CVO!
---

To view links or images in signatures your post count must be 10 or greater. You currently have 0 posts.

Ryan
more mods to come
I know the feeling... pulled up to a red light one day and saw my 2006 RK that I traded in on my 2010 RG.

bike looked pretty much like it did the day I left it at the dealer.... very strange seeing someone else on it.

hopefully they enjoy them as much as we did!
---
D.Mize
16 CVO RGU
Administrator
Join Date: Feb 2011
Location: South Florida
Posts: 11,574
The last time I saw my old bike was in an add where somebody listed it as an EGCU with all the toys, which I consider false because it was an EGC, and I had removed almost everything, but it still looked good.
Sent from my SPH-L710 using Motorcycle.com Free App
---
2010 FLTRX With Plenty of extras, goes by the name "Hardeshia"
To view links or images in signatures your post count must be 10 or greater. You currently have 0 posts.

That's gotta be odd. The guy that bought my custom and I have a mutual friend. I sorta dread the day we both roll up to the mutual friends bar on our bikes. We have just missed each other a couple of times...
After I traded in my super glide I talked to one of the salesman that sold it. I gave him my # because I have an attic full of parts. We got in contact and he actually came over to my house to buy some stuff. It was weird seeing it pull in with someone else on it. Then when he went to leave watching him start it up using the choke and leaving it on high idle for what seemed like forever. I wanted to show him the "correct start up procedure" but told myself it's his now. I sure miss that old bike.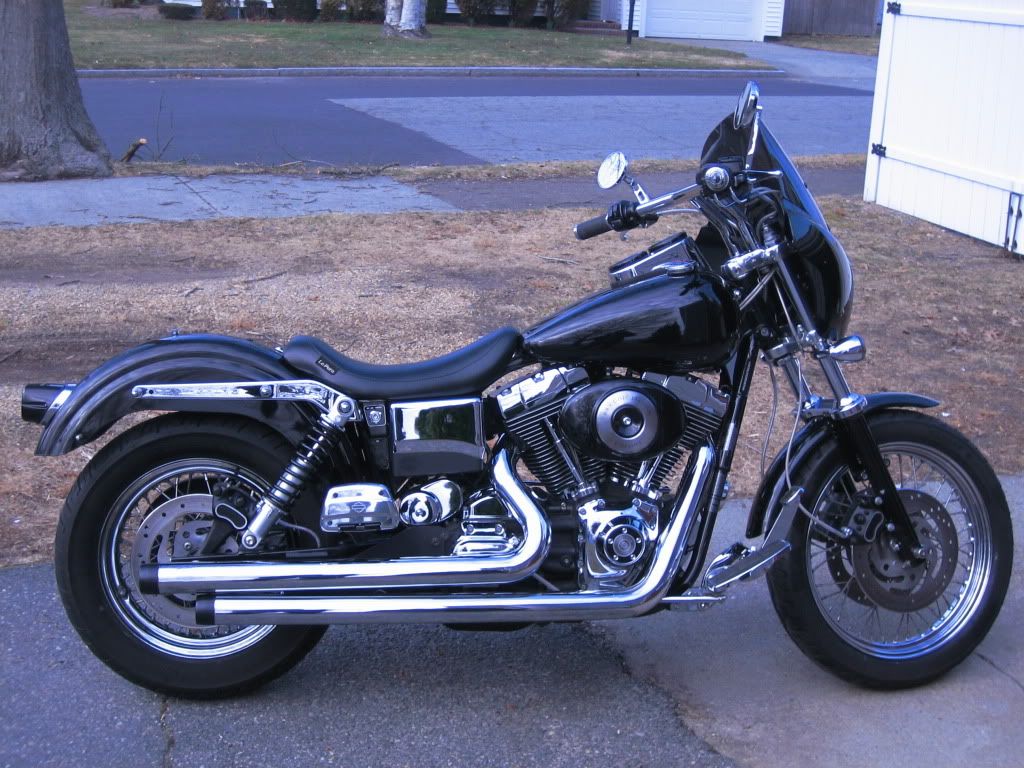 ---
2011 fltruse
1989 sporty hardtail project
Several years ago I wandered into the shop at my local dealers. My old Ultra was there for some sort of service, first time I had seen it in about 6 months.
I watched the brain surgeon on duty try to pump air into the progressive shocks I had installed for about 5 minutes before before I said something. He wasn't very amused.
---
John not in Saudi any more!!, mortgage in Cal.
2009 Road Glide; HoboCoastie's tank lift, Andrews 48H cams, TTS, Progressive 940's, a bit of chrome.
Thankfully I haven't seen it on the rode or anywhere else yet. I really struggled trading it in. I am completely happy I did but it wasn't easy. I don't know how I would feel.
---
"A zest for living must include a willingness to die."
Yeah, I would think that would be kinda strange, but it says a lot about what you did with the bike to have them all wanting to ride it.
---
Silence is golden.....duct tape is silver.
I haven't seen my last bike, my Deluxe but the wife saw it once. She said she was happy and sad at the same time. Brought up great memories but sad that we don't have it. I feel the same way. We loved that bike.