I carry foam ones
---
I carry purple foam ones from walmart. I wear the when I have a nice cross wind blowing around 40 mph. Other than that, I like digging the grit out of my ears.
---

To view links or images in signatures your post count must be 10 or greater. You currently have 0 posts.

Trailers are for Boats!!
Hangaround
Join Date: Mar 2011
Location: Outside Cincinnati
Posts: 98
Ear plugs
---
Went to local gun store...had the custom fit ones made for about $65. well worth the money wearing short helmet
I use the "shooter's ear plugs" from Wal-Mart. Just a couple of bucks and they're on a lanyard, which keeps them close at hand. With my 12" Klock Werks windshield, I get some wind blast right at my ears, so these are definitely needed. I don't wear a helmet unless required to, and then it's a half.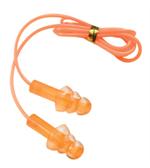 ---
2009 Screamin' Eagle Road Glide - Yellow

To view links or images in signatures your post count must be 10 or greater. You currently have 0 posts.

Prospect
Join Date: Jun 2012
Location: Central Illinois
Posts: 293
I have found it hard to get a good fit on a pair of plugs over the last 40 years in industry, so when I got serious a few years ago I ordered a variety pack
here
to try out different ones and find a good fit. What I ended up with is the Moldex Spark Plugs rated at 32db. Then I ordered a lifetime supply for about $15, I manage to lose 4 or 5 pairs each year.
---
Added equipment was a stage 1 HD air cleaner, a Cee Baileys windshield and a turn out boot heel guard. I also went with the BAL1 tail light MOD. You can never be too safe with lighting. Now I am riding a Vision with minor mods to give me this.

To view links or images in signatures your post count must be 10 or greater. You currently have 0 posts.

---
Last edited by Oldman47; 08-04-2012 at

04:07 PM

.
I use the foam ear plugs. Have them in many colors.
Big Hint.
Before you insert them in your ears, wet your hands with anti bacterial gel, roll the plugs in your hands. Allows plugs to slip on in and provide a tight fit.
Too late for me. Trying to preserve what hearing I have left. IMO, you ride a Harley for 20 + years, your hearing will need to be digitally enhanced. Good news is that good digital hearing instruments are no longer $10K; now $2K at Costco.
I rode for 3 years without ear plugs. 1 yr without a fairing - 2 yrs with a fairing. My hearing loss increased.

I went to full helmets.

Highway rides over 200 miles became annoying.

For 7 years I have been using a full face with the orange foam plugs.

My music comes thru fine. But the road hum and pipes are reduced.

I always use my plugs.
---
IBA# 22419
120,000k+ HD Miles
Retired Civil Servant, Navy Vet, MC Addict
Hangaround
Join Date: Jul 2012
Location: Bryan, Texas
Posts: 97
I read the reviews on ear plugs at web bike world -
http://www.webbikeworld.com/Earplugs/earplugs.htm
- and went with the E.A.R. soft. I got a box of 200 or so for about $40 or thereabouts. They came with a lanyard on them but I just pull it out of each plug before inserting into my ear. Work much better than the custom molded pos I got at a bike rally, which actually tends to amplify the low frequency of my exhaust, when I'm wearing my Bell RS1 full face helmet. The foamies I bought are much, much better, imo.
Online ear plugs for motorcycling
---
If you want to try different types of ear plugs for motorcycle riding look at this website:
www.motocyclebikerstuff.com
I got a "Trial Pack" so I could try different types to see what works best for me. And they are cheap.
---
DannyFromOz