Summer is pretty much over
---
Ok, so summer pretty much happened and I put the bike on the back burner for a while. I picked up a daily rider (100 mile round trip to work) so definitely got some miles in. Now for the bike. Here is the latest piece to the puzzle. My buddy and I started with billet aluminum and made the new fender brackets for the 23 inch front and custom fender. The pictures aren't the greatest, but they are contrast cut and match the rims design almost perfect. Lots of welding and grinding on this. (All the credit has to go to my buddy for the design and work on this one) They will mount directly to the front end and all hardware will be hidden on the inside of the fender, and spacing is enough for 1 washer on each side.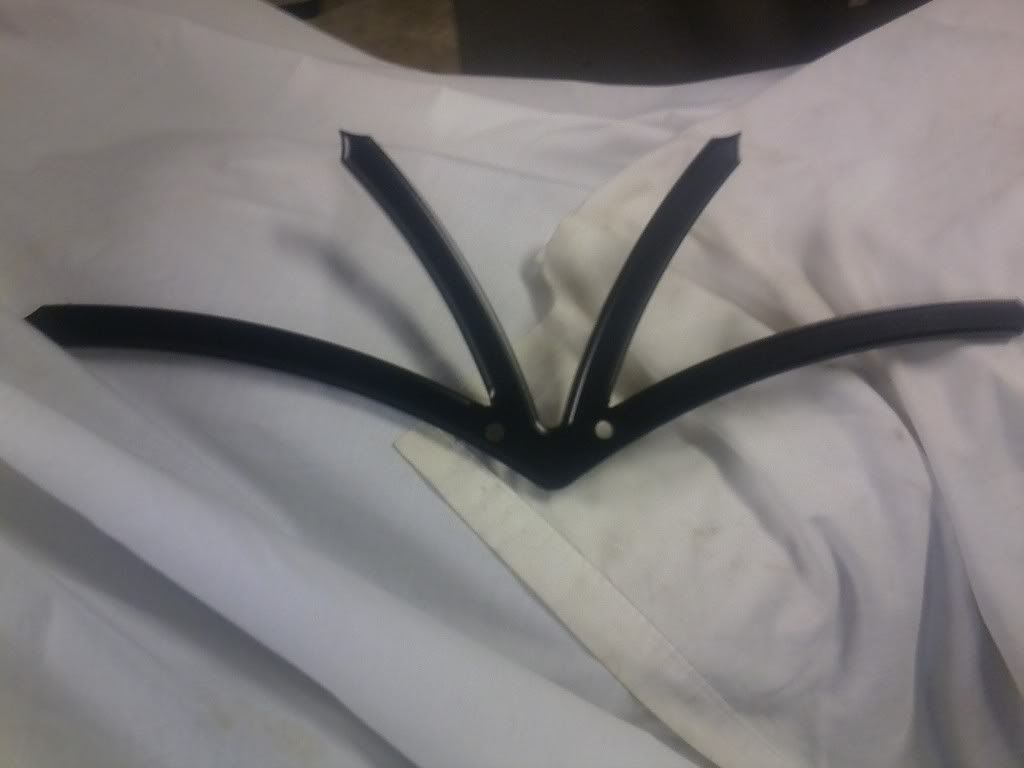 Here is a picture of the rim on the bike just for reference.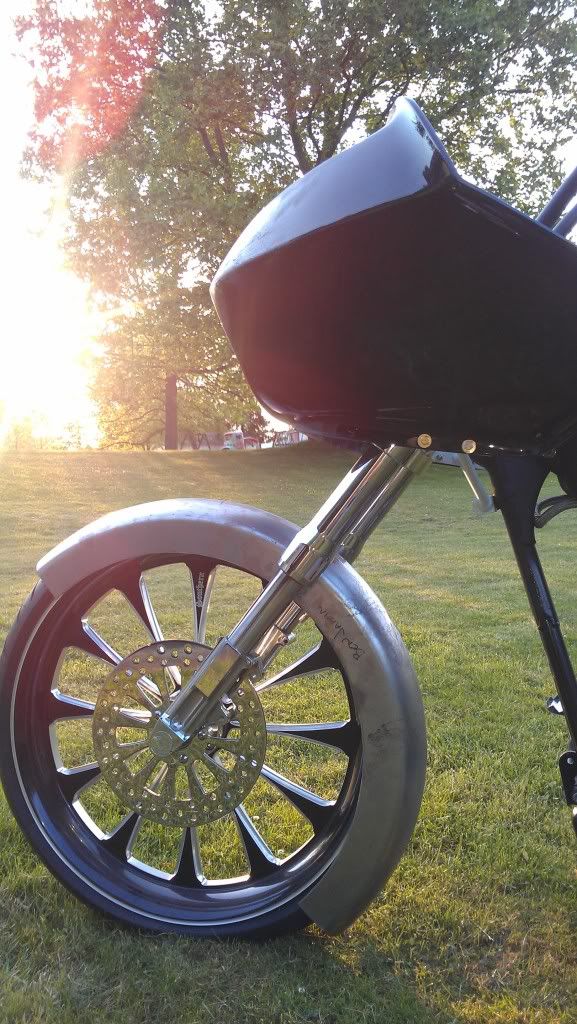 Quote:

... I'm to old skool , but I think ya oughta be beaten severely about the head and shoulders for destroying a classic ride ...JtB
Subscribed from the beginning. Awesome build. Disagree with JtB about constraining yourself to a
restoration
of the old technology ride. I enjoy seeing
restorations
keeping to the original design in some bikes, some cars, some houses. But the planet moves on. The supply of
restorations
should not exceed demand. The demand is a thin special market.
Instead I prefer
renovations
that equal or exceed the new technology. I enjoy renovations that express the individuality of the owner & builder. My personal preference is for
renovations
that car-folks call "outlaws." Looks like what it "was." Looks like it came from the factory. Looks like it is a natural evolution of the original. Outperforms the original and the current new from the factory.
So, keep on with the build. Interesting to follow...
Hangaround
Join Date: May 2012
Location: central florida
Posts: 71
---
Waiten on some updates
Looks real good, keep it coming
---
It's not about guns.
It's about CONTROL.
Newbie
Join Date: Jun 2013
Posts: 1
Any updates on the build?
This thread has been an interesting read...I'm thinking there is no updates because he filed bankruptcy after all the money that went into this project!!
---
96 cu; 21" RC Helix with FBI Wrap Around Fender and matching 17" Rear; Single Disc Conversion (6 piston); Powder Coated Fork Lowers; FBI chin spoiler; 10" Yaffee Monkey Bars; Vance Hines Power Duals with Hi-Output Slip-ons; J&M speaker upgrade; 944 Progressive Suspension Rear and -2" Monotubes; Stage 1 Air Cleaner V&H V02 and Power Commander V
I'm finally back to building!
---
So after quite a long hiatus, I am finally getting some time to start back up on the build and hopefully finish this thing! Since my last update, I have had a few things going on in the life. I am now the proud daddy of a beautiful set of twins. They are doing well now, but they decided to show up 3 months early and then spent 4 months in the NICU, after having the wife spend almost 2 months in the hospital due to the pregnancy. New job and all that other good stuff too, but no more frivolous details. I purchased the air ride set up from Summit racing that I am planning on using, and have picked up lathe and milling machine to help with a few of the special pieces I need to complete for the old girl. Anyway, expect a few updates and some pictures in the next few weeks (months/years)
Ben
Quote:
I purchased the air ride set up from Summit racing that I am planning on using,
Ben
Too bad. I have the Factory Confortflex seat set up that was an accessory on the early Rubber Glides.
Can be set to ride on the spring set, or locked down. Nice Harley Buddy Seat ride too.
I can't use it because it does not fit the new frame.
---
yaS wa'DIch la'Hom Ho'neH jorDe' vestai-VamPyr
IKRV Hurgh HaP, Ring of Fire Fleet, Order of the Bat'Leth
Vietnam Veteran, PGR, Widow's Son, "lIgh tlhab"
(Ride Free)
Shark of the Quarter Apr-Jun13
Join Date: Sep 2011
Location: Tulsa, Oklahoma
Posts: 1,053
I have subscribed. I luv the direction this is headed!
---
2012 RG Custom CVO "Skunk" Construction Complete
Quote:
So after quite a long hiatus, I am finally getting some time to start back up on the build and hopefully finish this thing! Since my last update, I have had a few things going on in the life. I am now the proud daddy of a beautiful set of twins. They are doing well now, but they decided to show up 3 months early and then spent 4 months in the NICU, after having the wife spend almost 2 months in the hospital due to the pregnancy. New job and all that other good stuff too, but no more frivolous details. I purchased the air ride set up from Summit racing that I am planning on using, and have picked up lathe and milling machine to help with a few of the special pieces I need to complete for the old girl. Anyway, expect a few updates and some pictures in the next few weeks (months/years)
Ben
Welcome back. Congrats on your new family. Now get to building LOL
Sent from
Motorcycle.com Free App
---
2012 Shark Face
Keep knocking on the devils door,
One day he is gonna answer