Thanks guys. I'll be sure to snap more pictures as the work continues to progress.
I think I'm going to drop the painted cowbells and put chrome on. The painted ones are chipped, and would look bad with such a nice sharknose on the front. Paint them again, and they'll just chip again.
Also decided to go with the mirrors that are on the new CVO Road Kings. They are low and sleek, which will be good with the tall bars. Not sure yet about over or under mounting. Lots of long rides on this bike, so I still want it to be functional.
Quote:
SWEEEEET!!! I love seeing a street glide butchered!! Even better that its a CVO! Your bike is gonna turn out killer man, excited to see it done.
Thanks Chainsaw! Before I took wrenches to it, I almost had a second of remorse...but I got over that pretty quick. I still like the look of a SG, but right now, I like the look of a RG that much more. Once you're hooked on that sharknose, there's nothing you can do!
Well, some bad news...
I was looking at some pictures to see how things are connected/cabled. I realized that the odometer reset button was installed on the LH speedo/tach housing, by the main switches.
I got to looking at the pieces I have in hand, and realize, I have old part numbers. Instead of the hole for that button, I have 4 switch holes!
I started looking at my invoices, and the labels on the boxes, and indeed, I ordered the correct part, that was introduced in MY11, but the parts in the boxes were introduced in MY98.
A quick call to New Castle, and I've got an RA# to send the wrong parts back, and they've already ran the order through for the new parts, again. They'll be comparing before sending to me.
Just glad I caught this before I dropped the pieces off for paint.
[QUOTE=Just glad I caught this before I dropped the pieces off for paint.[/QUOTE]

Aint that the truth.
---
"A zest for living must include a willingness to die."
Newbie
Join Date: Aug 2012
Posts: 42
Chad, looks like you are off to a good start. I am interested in pictures of the brake line issues you mentioned. Not sure I understand what the conflict is. Keep the pictures coming.
No problem!
On the SG with ABS, the puck mounted to the bottom of the triple tree has a feeder line that is vertical. This is the line back to the ABS module under the right side cover. On the RG with ABS, this feeder line extends forward, not upward. I presume this is to clear the bracket for the inner fairing.
See this picture from Magnum Shielding - the SG puck is on the left, the RG on the right: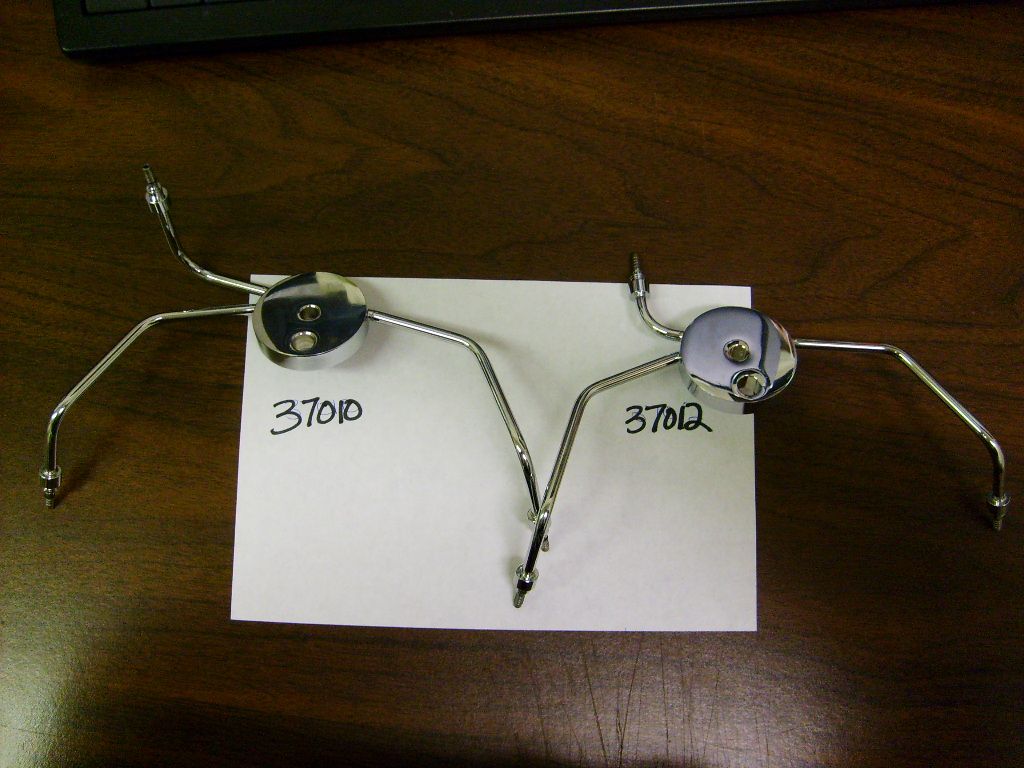 One other thing if anyone does a conversion with ABS is if you have ABS, you'll need to remove the steel well nut that it pressed into the frame neck on the Batwing bike. This is the nut that the ABS brake line clip fastens to. It's pressed into the right side lower frame hole where the RG bracket attaches. You'll need to drill it out in steps, starting with the smaller drill bits and working up. Once the inside is separated from the outside collar, a telescoping magnet will pull it out for you - there is a slot in the front of the frame by the neck.
In other news, I finally received my corrected nacelle housings. The right one was perfect, and the left was as well, except that one of the tabs was broken off. A quick call to New Castle HD, and the replacement is on its way. It will be here Monday, nNov 26. That gives me some more time to drop my forks and pull my painted slider covers off. They are so chipped that I am having them repainted too, with the rest of the parts.
Last night, I was also able to finish my wiring for the Carlini 18" Gangster Apes (1.25" version). Having done several sets of apes, even a couple of the PYO bars for the Batwings, I can say that the Carlini 1.25" Gangsters were the worst. The bends in the bars are fine, but they flatten out some as a result of the pipe being bent. The holes where the control wires go in are also very small, as is the hole between the clamp spots. I wanted to do 1.5" Gangsters, but with a hydraulic clutch, my master cylinder wouldn't sit correctly - and Carlini is no longer making mars with flat spots on both sides.
The finished product was well worth it though. I'm glad that I returned the 17" Evil Apes for these. Only down side is that my old clutch and upper brake line are now too short...I swear, it never ends! Hopefully, if all goes well, I'll be getting the parts to paint next week, on the 28th. I guess at this point, it's almost just like I had a RG that I am putting apes and a painted inner on. I really can't wait though - it's killing me!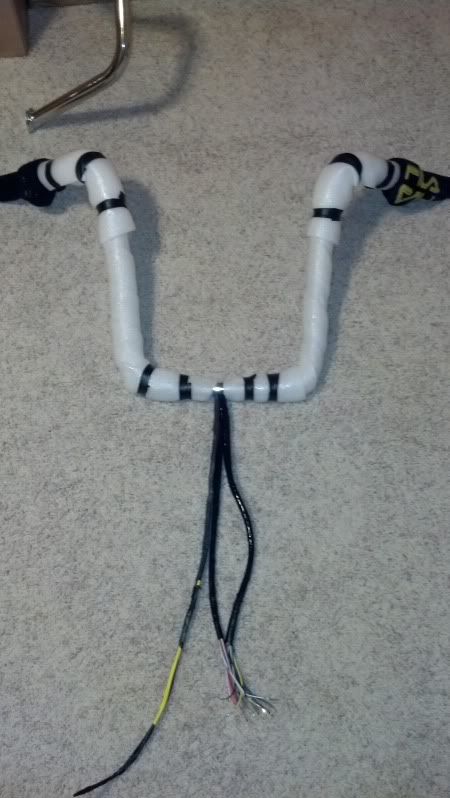 ---
Last edited by redbeard719; 11-20-2012 at

01:32 PM

.
Posting to subscribe looking forward to seeing the end result.
---

To view links or images in signatures your post count must be 10 or greater. You currently have 0 posts.

GLIDE OR DIE!!

To view links or images in signatures your post count must be 10 or greater. You currently have 0 posts.

Hey Gang...
Got some recent updates and photos to share.
I went to visit a painter that the local dealership uses for their work and refers their customers to for painted needs. I've met with the owner/painter before, but hadn't had him do any work for me. A few friends I've referred to him have gotten outstanding workmanship on their inner fairings so I thought it was worth a trip. A good riding buddy of mine is also in-laws with the guy as well.
Loaded up my outer and paid him a visit. He can order my paint from the manufacturer directly, so no worries matching the CVO Tequila Sunrise. He knew exactly what I was thinking with regard to the pinstriped flames too. In fact, his specialty is flames as well. I have a good estimate from him, and I'm just waiting to hear back from Gunslingers on their estimate.
The new painter is three weeks out will need my parts for about 2 weeks. Gunslingers said they'd prefer I waited until January, but since I had already made arrangements I could still bring my parts to them. Their turnaround was 6-8 weeks....
I think I may run with the new guy. His price is less, he's local, and I have confidence in him getting the job done the way that I imagine it.
In other news, I ordered a few more parts that I decided were good to have before getting into paint. First is a Klockwerks Slicer Hugger front fender and it wiil be painted to match, also pinstriped with flames as well for the OEM look. Second is the Paul Yaffe CVO Stealth License plate mount. I went with chrome, but I may have it painted to match as well.
On the bike, I did get some good work done this weekend.
Since I went with 18" Carlini Gangsters, I needed longer lines for my upper brake and my clutch. Installed the new brake lines, and got the system bled. It's not my favorite job, but at least it's done. Also got the new clutch line run as well.
Installed the new engine guard as well.
Since my fork slider covers were chipped (they're painted), I pulled my front fender, dropped the forks, and removed the slider covers. They will be getting re-painted as well with the rest of the parts.
Last big deal of the weekend was getting my bars installed how I want them, and mocking up the RG inner fairing. The bars are perfect, and I'm excited about the height. I trimmed my wiring to even lengths now that it was pulled, and re-pinned each wire. Instead of having separate wire bundles from the bars to the inner fairing, I ran them thru braided cable sleeve. It's going to look nice and clean.
Anyway, that's all for now. More pictures below.
For reference, the new lower brake line, installed. On the RG with ABS, the feeder hose comes forward, instead of upward like the Batwing models
Bars and engine guard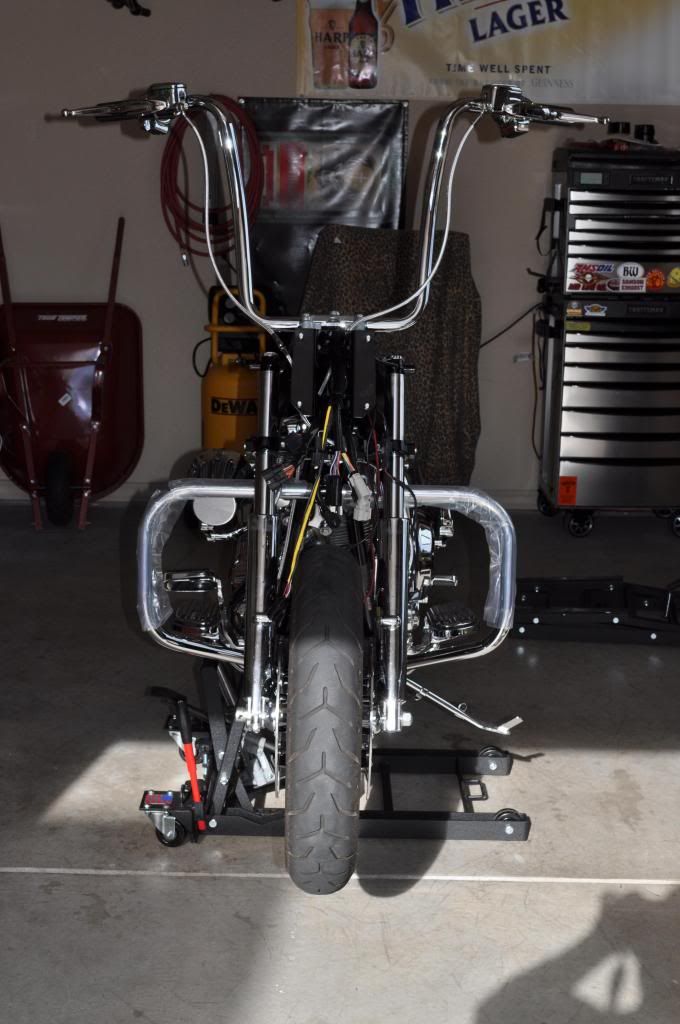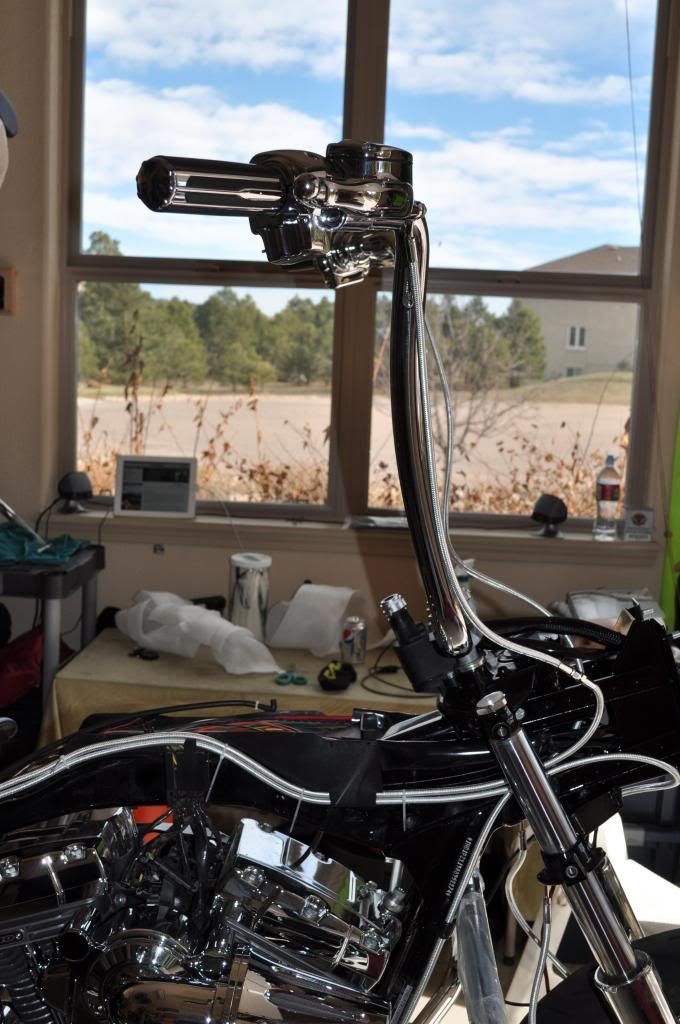 Connectors all connected again!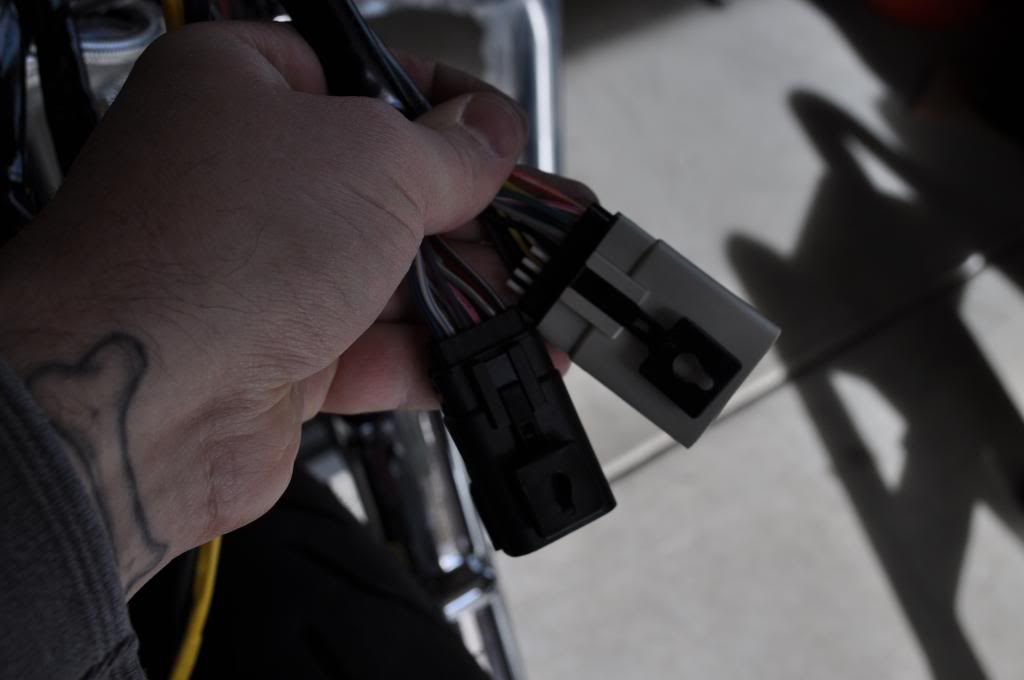 Braided Cable Sleeve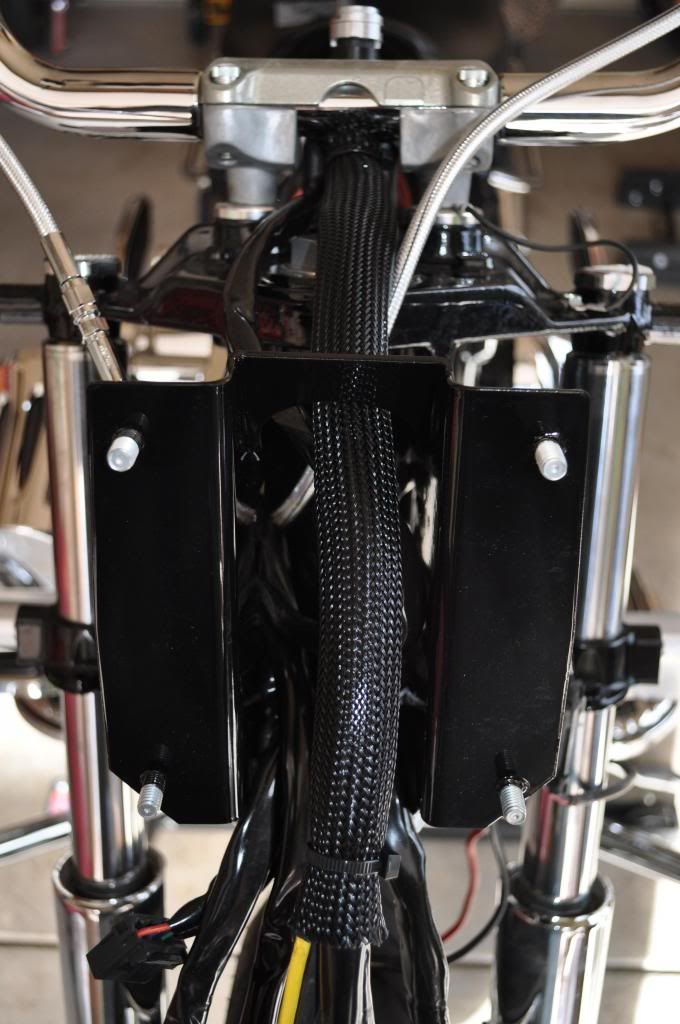 And lastly, under that ugly Street Glide, there is a bad-ass Road Glide!!!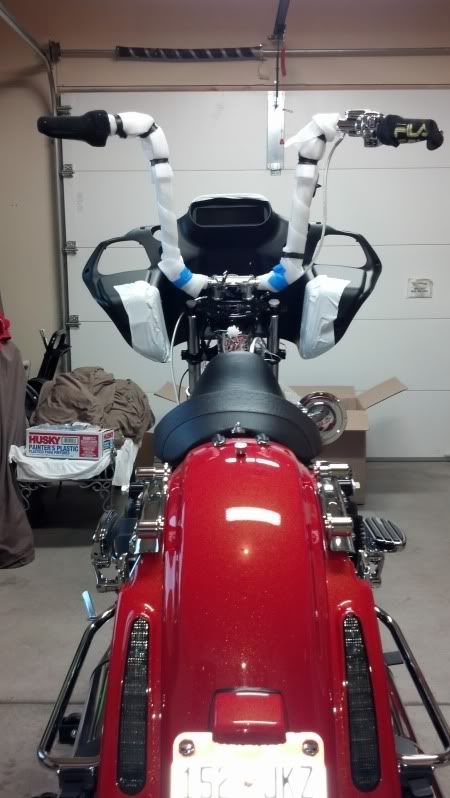 So...it's been a little while....
I've been talking closely with the new painter, and things are moving along very well.
I got to swing by his shop yesterday and bless his design for the flame pinstripes. They were perfectly done, IMHO. He's at a point now that it's just the tedious portions of the job, masking, spraying, buffing, etc. I know he's a perfectionist, so I have little doubt that the final product will be awesome. He's even still hopeful to have the parts done this weekend.
List of parts he's painting - some needed touchups from rock chips:
Outer
Inner
Nacelle Halves
Speedo/Tach Mount (monkey face - cause it looks like a monkey face!)
Glove Doors
Fork Sliders (x2 touchup)
Saddlebag latches (x2 touchup)
Front Fender
Yaffe Plate Frame
Here's a couple teasers of the paint and masked off flames. At this point, he still had to lay the inside edge of the pinstripes and mask the inside off as well, before shooting the stripes. The originals are not handpainted, so a handpainted job on these parts would have looked off.
Outer Fairing - bottom edge of the fairing is to the right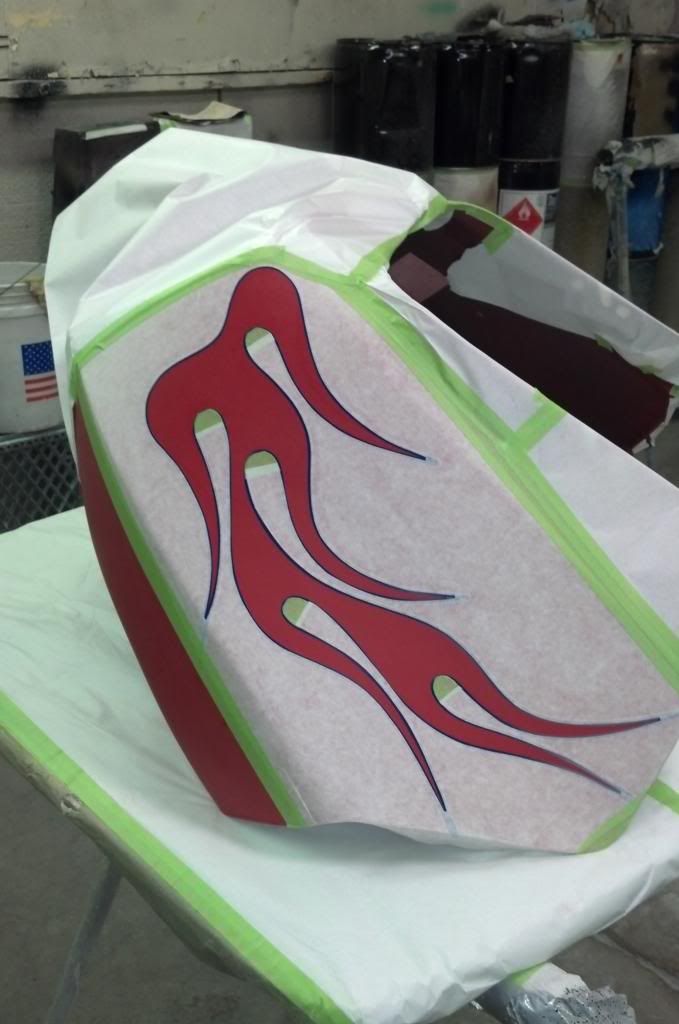 Klockwerks Slicer Fender:
Painted Bezel - going to look killer with the black LED lights!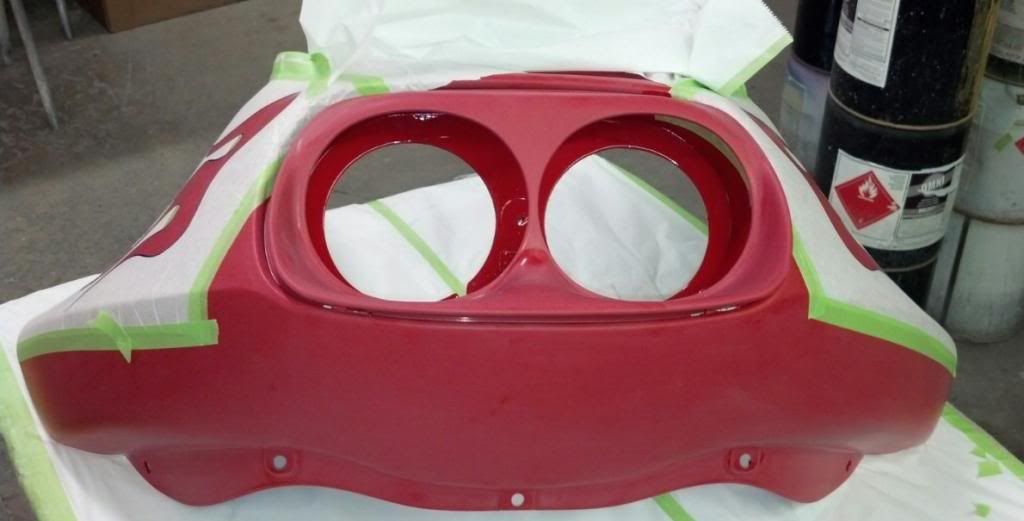 ---
Last edited by redbeard719; 12-28-2012 at

12:29 PM

.
Well.....the painted parts are done!!!
My painter called last night around 8:15 telling me that they were all buffed and polished. Today, he just had to address a few last items, and they were finished by noon.
Here's some decent shots of the paint, even though they're indoors. Outside, this paint pops like mad. The match is perfect, even on the flames.