Ummm Jesus loves you, but when legally possible make a U turn
This is the Goldwing F6B. It actually isn't that bad looking for an import. Helluva lot better than the Victory Vision.
Administrator
Join Date: Feb 2011
Location: South Florida
Posts: 11,569
More sporty than a regular wing, but that part between the upper fairing and the engine looks cheap ugly and plastic. I guess if you gave it an optional tour pack and a few other things, it would be ok, still nothing like a RG.
---
2010 FLTRX With Plenty of extras, goes by the name "Hardeshia"
To view links or images in signatures your post count must be 10 or greater. You currently have 0 posts.

I like the black engine, but not so sure about the concept. Would take some getting used to. Now, the Rune ( for those that remember that overpriced futuristic Gold Wing...) that was one sweet machine that took to boxer 6 engine and really did something innovative....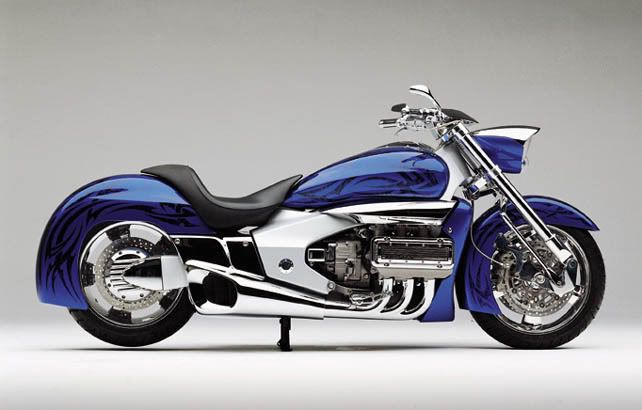 ---
Road Glides Rule!!!

2009 Vivid Black FLTR, Gold Flame collection, Cee Bailey 18" TRSSC Dome, BOOM speakers, Kury FB extensions, Heritage Style bars


To view links or images in signatures your post count must be 10 or greater. You currently have 0 posts.

Life Member
Join Date: Apr 2012
Location: Burlington, NC
Posts: 2,122
Quoted from Motorcycle.com

"A product of creative thinking or an amorous three-way between a Harley-Davidson Road Glide, DN-01 and Gold Wing, the F6B is certainly something new for Honda."

Imitation is truly the highest form of flattery.

Now it is better looking than the Victory Vision. That this is ugly as hell. It looks like Krusty the clown.
Not real sure about the looks of this bike. But hey......there are thousands of Road Glide owners that use to call them "ugly". And with 116bhp. I wouldnt mind takin a test ride.
---
2010 FLTRX Scarlet Red. Andrews 48h cams.Crane lifters.SE adj push rods. SE intake with PC/5. 2-1-2 Headpipe(no cat)w/Rinehart's. Chrome Front End w/1" Lowering Kit. HD Black/Chrome Impeller Wheels. Khrome Werks 12" Bobber Apes. Cee Baileys TRSSC 15" Dome.
IMO the biggest problem is the headlights. They should of gone the more traditional route or done something like the Road Glide's.
To me just looks like a Gold Wing without the big goofy trunk and gray haired old lady with matching helmet/headset on the back. (I think those come standard)
---


For a wounded man shall say to his assailant,
'If I live, I will kill you. If I die, You are forgiven.'
Such is the rule of honor.