Grey beard
Join Date: Oct 2010
Location: San Angelo, TX
Posts: 1,471
They look great.
Man I need to get some wheels for mine.
---
2011 RGU with more money then sence in it.
Oh and its black because blacks faster.
Grey beard
Join Date: Aug 2010
Location: Indianapolis/Jacksonville
Posts: 860
Quote:
Is that a 13 inch rotor?
The diameter of the rotor is 12 inches.
---
2011 Road Glide Ultra CVO, Slate/Black, Windvest 15, 110 cu in, SEPST, Thunderheader 2 into 1, TMan 555 Torqster cams, 99 hp, 115 torque
I have those in the contrast. After seeing the all chrome, I'm thinking I should've gone with chrome

Sent from my DROID RAZR using Motorcycle.com Free App
---

To view links or images in signatures your post count must be 10 or greater. You currently have 0 posts.
"Know Thyself"

Drinking beer and thinking about Shark Week!
[IMG]
http:/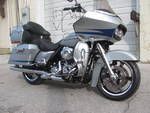 /i1050.photobucket.com/albums/s413/arkieglide/wheels7.jpg[/IMG]I felt the all chrome would be too much on my silver paint ,so I went with the Contrast chrome. real happy with the look on my paint job.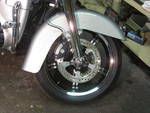 ---

To view links or images in signatures your post count must be 10 or greater. You currently have 0 posts.

2011 RG Ultra Brilliant Silver Pearl