Newbie
Join Date: Nov 2011
Posts: 26
thoughts about 21 inch wheels
---
Im spending tons of time online and reading here since wrecking my bike a few weeks ago,its pretty much all i can do.So Ive started looking for my parts I need,and it looks like I might need a front wheel.So i started thinking about a 21 then i had alot of questions.Does it change the ride of my bike i have a 16 now.what do i need to do to make the swap?I love the stability of my bike will it change?Has anyone heard of southern mc wheels and what do the think about them?Does any one have pics of a 21 with stock fender
Some people say that you must lower the front to bring it back to stock for the ride to be good. I put a 21" on and love the ride. I did not lower it. The only thing that really changes is parking lot speed maneuvering. Under 10mph you notice it. Other than that I think it's an improvement over stock. You can run it with a stock fender you only need to drill the back holes out a bit and tilt it. That easy. Here's a pic of mine.
And another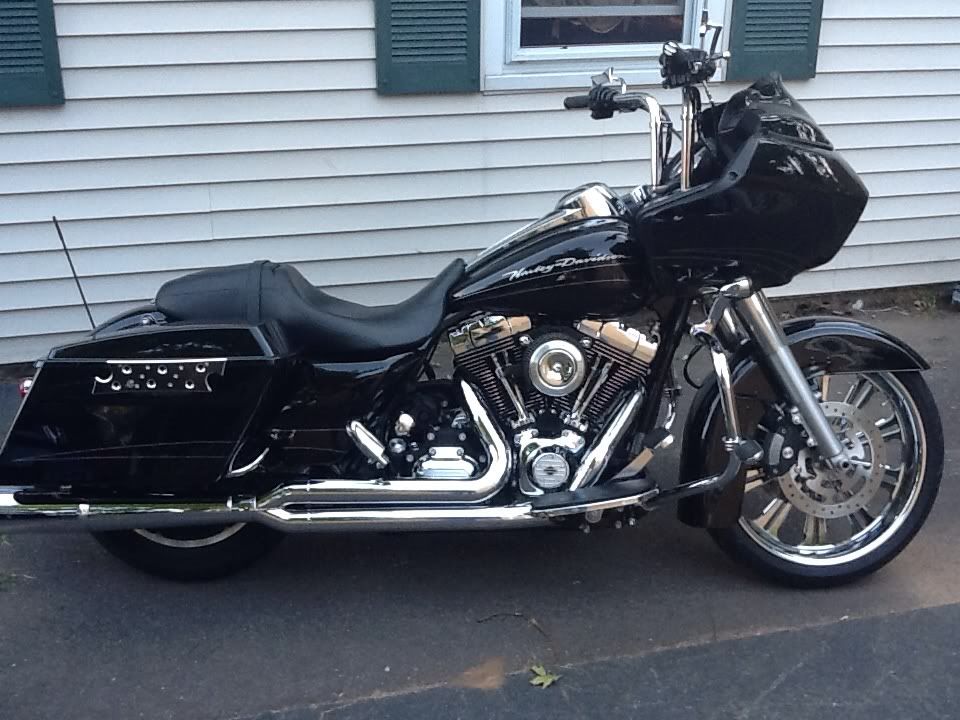 Hope this helps, ask questions if you need too. Everyone on here helped me make my decision and I'm very happy with it.
---
"A zest for living must include a willingness to die."
The ride will be a bit stiffer over stutter bumps, but overall I think they carve corners better (less sidewall flex). I haven't put my 21 back on my new bike yet and i miss the way it handled, I'll lower it an inch and install it once the snow flies. I too was very skeptical but I think it's a great move and you can't beat the look!
---
'13 FLTRU- Midnight Pearl

To view links or images in signatures your post count must be 10 or greater. You currently have 0 posts.

Had one on my Road King & loved it. Like laxinharley said, there is some change but nothing drastic or even enough to change how you ride it. You'll enjoy it.
---
'09 Road Glide
Administrator
Join Date: Feb 2011
Location: South Florida
Posts: 11,590
I love mine, handles great. I have thought about going back to a smaller diameter, but it had nothing to do with the handling, I just saw a few bikes with rear tires up front and think it would be something different.
---
2010 FLTRX With Plenty of extras, goes by the name "Hardeshia"
To view links or images in signatures your post count must be 10 or greater. You currently have 0 posts.

The fender fills very nicely with a 21 incher. I highly recommend it.
---
What if the Hokey-Pokey really is what it's all about?
Member
Join Date: Mar 2012
Location: Spokane Washington
Posts: 569
I really wish Harley made the agitator in a 21 I love that wheel.
Newbie
Join Date: Nov 2011
Posts: 26
thanks guys,I'm looking at doing my front end next weekend
Shark of the Month October 13
Join Date: Nov 2011
Location: Was northern Maine, now gulf coast of Florida
Posts: 5,282
Are you going to use the stock rotors or buy the matching design from whichever wheel company you use? Most of the time you'll need to use the wheel company's rotor bolts if you switch to their rotors. Most automatically include them, but don't forget to ask. Other than elongating the fender mount holes a little bit, it's a straight up swap. I'd highly recommend you consider doing the Progressive monotubes in the fork. Set it up to lower the front end 1" and that will pretty much get you back to where you started looks and handling wise, but the big gain is that the montubes transform the front end's ability to absorb stutter bumps and rough road surfaces in a corner. If you shop around they can be bought for around $260. (plus labor if not doing it yourself). Not absolutely necessary but you'll be very glad you did.
---
"Life should not be a journey to the grave with the intention of arriving safely in a pretty and well-preserved body, but rather to skid in broadside in a cloud of smoke, thoroughly used up, totally worn out, and loudly proclaiming "Wow! What a Ride!" - HST
Here's my 21". Love it.
---

To view links or images in signatures your post count must be 10 or greater. You currently have 0 posts.
[
2012 Road Glide Chrome Yeller - V & H Monster Rounds, SE Race Tuner, SE Heavy Breather, 10" Windvest, Sinister Industries Hot Rod Drag Bars, 21" Renegade Yukon Front Wheel