NY - VT - NH weekend ride
---
Rode close to 500 mile trip with Nat to warm up for SWII.
Rode all day, a few little stops along the way to stretch.
Stayed at the Merrill Farm Resort in North Conway NH.
The passage through VT - White Mountain National Forest (aka: Kancamagus highway route 112) is a lovely scenic road. Some nice twisties all along the route
White Mountain National Forest
Smallest HD shop ever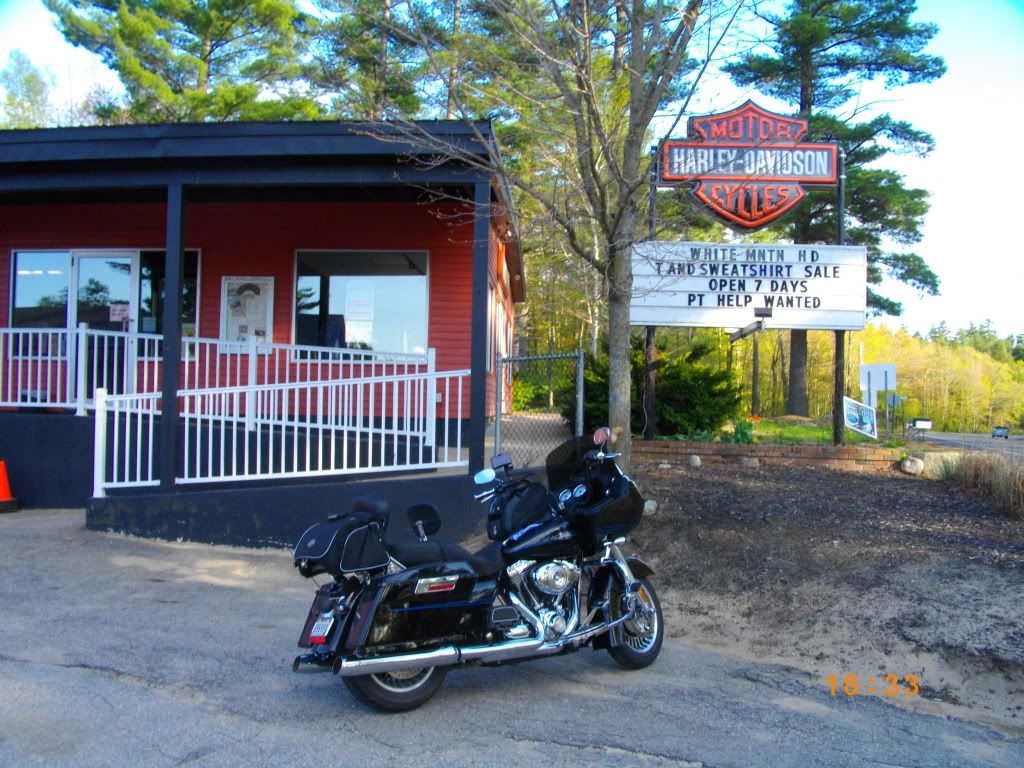 Looking forward to JULY!!
---
DreamRider
TRADED the RoadGlide FLTRXSE CVO 12' - Cobalt Blue -
Traitor for a 2016 CRF1000 DCT Grey. Still coming to SWVIII!!!
Always Dreaming about the next L O N G ride
---
Last edited by DreamRider; 05-08-2012 at

07:11 PM

. Reason: Changed title
been up there several times. its beautiful up there
---
09 Mirage Orange Pearl
Some people just need a high-five. In the head. With a chair
Nice pics. Rode the Kanc last year on a rental. Planning on taking my own over memorial day weekend this year.
---
2012 BBP RGC - KW Super Saver slip ons,HD stage 1 A/C,Cobra tuner, 10" Windvest, Sanchos wings, 11" Santees
Newbie
Join Date: Dec 2011
Posts: 42
Some of the best east coast riding i have done is the Kanc
We go out a couple times a year. You should go up thru Franconia Notch north of Lincoln, up to Littleton and back down 302 thru Bath, come across the western end of the kanc back to Lincoln.

I can go out there and ride 40 mph for a week and be happy. Supposed to go to Laconia for 2 days in June, I'm sure we'll go rode somewhere up thru N conway and Gorham.

Going out and ride Vermont Rt 10 from the Molly Stark Trail to Canada this summer, if I have to go alone.
Do the Kanc quite often - but it's easy for me being I live in NH. It is especially spectacular in the fall with the folliage. As Mike says - Franconia Notch and 302 are equally spectacular. Glad you had a great trip!
---
'12 RGU; 17" Carlini Evil Apes; RSD Venturi Speed 5 A/C; V&H Power Duals with Monster Rounds; SE Perf Tuner; Slipstream HD grips and footboards; 14" Windvest; Ironaces GPS mount; Tour-pack Spoiler and Rack.