Sturgis and Montana me and my new girl go West
---
Hey all.
I just got back from Sturgis this afternoon.
I'm still uploading pics.
I still haven't figured out a name for my new girl.
I'll get back to you on that.
if you want to look at last years trip just go to this link
http://www.harley-davidsonforums.com...s-go-west.html
Wow.....what a fantastic trip.
Friday July 26
Day 1 421ml 678km
http://goo.gl/maps/07T67
Pretty uneventful day.
I left home mid afternoon and made it to Portage IN just before dark.
I called it a early night as Saturday would be a big day.
Diner at Denys
Saturday July 27
Day 2 1025ml 1649km
https://maps.google.ca/maps?saddr=I-...sz=14&t=m&z=14
Iron Butt Saturday!!!
It's official....I got it in!!!!
Took about 18 hours.
Down to about 58f when I went through Chicago and didn't really warm up until Albert Lea.
Took about 5 tanks of gas to complete.
Here's a pic of my new girl at some gas stop north of Madison I think.
The rest is from a Rest Stop in Chamberlain SD and the Missouri River.
What a beautiful view from up there.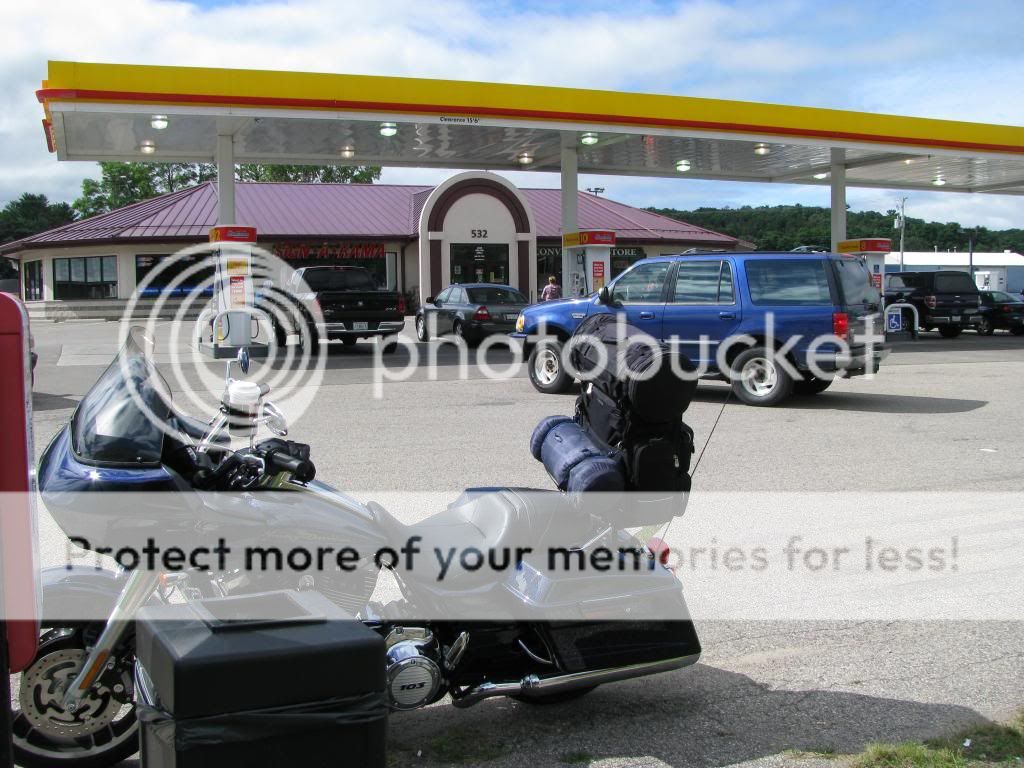 ---
Last edited by Kiley; 08-04-2013 at

06:56 PM

.
Grey beard
Join Date: Sep 2010
Location: Driftwood, Texas
Posts: 1,224
Keep the pics coming so us homebound folks can see how the fortunate travelers live!!!
---
Road Glides Rule!!!

2009 Vivid Black FLTR, Gold Flame collection, Cee Bailey 18" TRSSC Dome, BOOM speakers, Kury FB extensions, Heritage Style bars


To view links or images in signatures your post count must be 10 or greater. You currently have 0 posts.

Sunday July 28
Day 3 311ml 501 km
http://goo.gl/maps/9Cnxj
The plan was to get to Red Lodge MT but ran into weather late in the day.
Cody is a very pretty town but a little expensive.
some great pics of the area
Lunch in Sheridan rest stop
Pics brought back memories of my trip in that area 2 years back. Spent the night in Greybull.
---
2013 FLTRX , 107", 10.5 comp, T-Man 625 Cam, SE 110 Hillside Heads, 58mm S&S Throttle Hog, VP92, 2-1 Patriot SS Exh. PV, SE Heavy Breather, Madstad, 944's , Detach Tour Pac, Sirius Radio
2015 FXDL 2nd best HD on road
Quote:
Pics brought back memories of my trip in that area 2 years back. Spent the night in Greybull.
Me two only last year. I took 16 out of Buffalo to get to Cody. Next time I'll have to take 14 & 14A when I ride thru Bighorn Forest. Ran out of time last year. Great pics, keep em coming.
---
2009 FLTR MOP
"A Goverment should fear it's people not vice versa"
Hangaround
Join Date: Jun 2012
Location: Louisiana
Posts: 55
Great Pic's! I lived in Montana for 23 years and, your pictures brought back many memories of the times my late wife and I spent biking through the mountains. Spent a lot of time in Red Lodge, Cooke City, Cody and the list goes on. Keep the pictures coming.
---
USMC 71-79
2011 FLTRU, Power Vision, Jackpot 2/1/2 header, SE 255 cams, SE adj. pushrods, SE Ventilator Stage I a/c, RCX slip-ons, Heritage handlebars, 15" WindVest, B/R/T conversion kit and more chrome to come.
---
Last edited by siskokid; 08-04-2013 at

08:33 PM

.