Progress
---
Long story short...
Been in shape my whole life. When I was 4 years old I started begging my father for a motorcycle. He made a deal with me. If I started lifting weights and stuck to the workout plan he set for me, I would get a motorcycle when I turned 5. As I grew up I had to workout like most kids had to do homework or chores before they could go play with the other kids.He was obsessed with wanting me to be some kind of tough guy. He was a mean drunk and I ended up with some anger issues.
As soon as I was old enough to get a job and drive I started training in martial arts. It helped me with the anger and probably kept me out of prison. I trained on and off my whole life in different styles and on to earn this 6 years ago.
Shortly after some things changed in my life and I wasn't able to train much at all and went to a night shift job. I put on about 65 lbs. in a year. Then I started having a good bit of back pain. After a lot of therapy, injections. 3 different Dr.'s and a disco-gram they tell me I have 2 torn disk. 1 grade 4 and 1 grade 5 torn through all 3 layers. I also have arthritis in every joint running down my spine, 6 bulging disk and 2 cyst. They wanted to do surgery but I plan to put it off as long as I am able to work and ride. I got pretty depressed facing the fact that I would probably never train again and started drinking pretty heavily.
I went on a diet in Jan. and have lost 35 lbs. but was still drinking. It dawned on me that one night that I could get me a newer bike with the money I would save if I quit drinking. So I quit on D-Day June 6 and now I have this.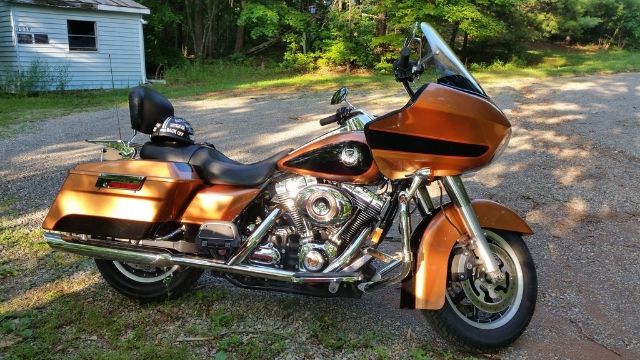 I'm not one to put my business out there but hope it will motivate somebody.
Moral of the story: Quit an expensive habit and buy a new bike with the money you save.
Great story! Congrats on your weight loss and journey to healthier living. You prove there's a payoff!
Hangaround
Join Date: Jun 2016
Location: Vinton, Virginia
Posts: 132
Quote:
Great story! Congrats on your weight loss and journey to healthier living. You prove there's a payoff!
Thanks houston. My back pain has in cut half since loosing the weight also. so it's a double pay off.
Awesome story! Howdy from Texas!
---
2016 RGS Black Quartz
Life Member
Join Date: Apr 2016
Location: Chicago
Posts: 5,106
Nice Bro - Glad you are back on track - Many a bad back mofo on this site - I had a Micro-Discectomy after my L4-L5-S1 Debacle from Motocross - I put off my surgery for 9 years and lived off injections and just about every kind of pain pill out there - I got tired of being a slave to those things and quit cold turkey in 2013 - HORRIBLE month but it got better every day

Remind me never to smart mouth you to avoid the round house........4 day nap and wake up in the Hosp with jaw wired shut trying to say "What The Fuck happened?"
---
- Just Because I Wander Means Not That I am Lost -
Life Member
Join Date: Mar 2014
Location: Southside of Indianapolis
Posts: 1,555
Sharp bike, well worth the effort!!!
---
2011 Road Glide Ultra
Member
Join Date: Jun 2013
Location: Cypress, TX
Posts: 565
Thanks for sharing and congrats on the new bike.
---
2019 Roadglide Ultra
Grey beard
Join Date: Apr 2015
Location: Eastern CT
Posts: 1,373
Congrats Hack, keep up the hard work you are putting in to getting yourself health again. Good luck.
---

To view links or images in signatures your post count must be 10 or greater. You currently have 0 posts.

2018 Ultra, Twisted Cherry
Life Member
Join Date: Apr 2015
Location: Washington
Posts: 2,387
Keep it up. Nothing clears my head like a quick ride.
Good story. Stick with what your doing. Your headed in the right direction. Great looking bike you have there. Alot of good information on this site and some good support to help you with your goals.
---
2013 Roadglide Custom - Candy Orange
Drago's Dragula True Duals, Thundermax Tuner
Daymaker LED Headlights, Supershox