Hangaround
Join Date: Jun 2013
Location: Phoenix Arizona
Posts: 114
torque wrench selection
---
I was wondering what torque wrenches you guys use. I need a inch-pounds clicker or digital, and another one in ft. pounds. I have a ft. pounds beam type, but that will not work if you cant watch the needle.

I have been checking Snap On for the inch pounds but they are kinda spendy. I have been seeing Proto brand on ebay, I know they make pretty good sockets, was wondering about them too.

Advice appreciated.
---
I never saw a wild thing feel sorry for itself.--DH Lawerence
I own Snap-On 3/8 and 1/4.

You would be amazed at how inaccurate torque wrenches can be! The best thing to do whatever wrench you get is to send them somewhere to be calibrated if you can. And TORQUE SLOWLY!!! You wouldn't believe how many mechanics DON'T torque correctly!

You've got to give the surface area of the entire thread area time to slide into it's final resting place so to speak!

I went back and read your post once more and a caveat of the beam type is to make sure the needle doesn't hang up on the gauge! I had that happen more than once!
---
Last edited by DC-3Mek; 08-25-2013 at

03:54 PM

.
I have a couple CDI brand torque wrenches. They are a good wrench and come with a calibration certificate. We also use them at work and they hold calibration very well. Advertised as a snap on company. Ordered a couple for my son on toolsource.com. Theres a few places online with good prices.
---
2013 Roadglide Custom - Candy Orange
Drago's Dragula True Duals, Thundermax Tuner
Daymaker LED Headlights, Supershox
---
CDI here...they make them for Snap-On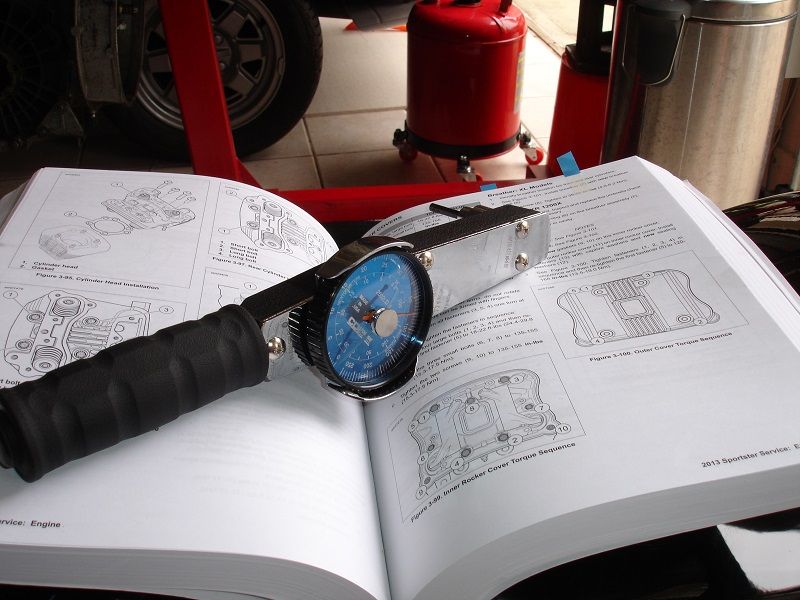 0-150 in-lbs : Here is the one I got -
http://www.grainger.com/Grainger/CDI...130816123910:s
This is one of those tools, specially the inch-lbs, where you can't cheap out...
---
Ride Safe! Wachuko - 2016 HD Softail Slim S / 2016 Triumph Thruxton R
2014 RK CVO Tribal Orange-Galatic Black (Gone) / 2013 HD Forty-Eight in Ember Red Sunglo (Gone)

To view links or images in signatures your post count must be 10 or greater. You currently have 0 posts.

---
Last edited by wachuko; 08-25-2013 at

05:51 PM

.
Check your pawn shops.... I picked up a 5-75ft ibs snap-on for $20. Caught up with the snap-on man and got it calibrated/ fixed up for $60. $300 clicker torque wrench for $80.
---
2012 Shark, Klock Wreks 8, 12 PYO Monkey Bars, 255se cam, D&D Boarzilla, Speed Cradle solo
RIP 2004 Deuce
---
Last edited by Chevys21; 08-26-2013 at

09:00 PM

.
I also have a CDI wrench, it's the Computorq model. It has 4 scales built in: ft-lb, in-lb, nm & kg.cm.
---

To view links or images in signatures your post count must be 10 or greater. You currently have 0 posts.

________________________________________________
VTR 107, VTR Stage II Heads, Reaper 574, PCV-AT, more to come .....
Life Member
Join Date: Jun 2012
Location: Pac NW
Posts: 4,099
Yo, often more than not- a mirror works(with light if nec)and on more places than you think, might try it to see if it works for you..

"but that will not work if you cant watch the needle".
Craftsman - I have three "clicker type"
---
2016 Road Glide Special - Black Quartz
Life Member
Join Date: Sep 2012
Location: Ooltewah, TN
Posts: 1,859
I have Armstrong 1/4 and 3/8 drive, micrometer type. They also came with a calibration certificate. Check with the buyer for maintenance where you work. Most companies get a big discount on items due to the large quantity of orders overall. Got 35% off sales price.
---
Red Pepper/Magnetic Grey CVO with KST black 14" apes and a quick detach TP.
If youre gonna use the torque wrenches everyday then id say buy the best ones you can afford. If youre gonna use them once in awhile in your garage after dinner or in your backyard workin on the scoot then a craftsman torque wrench will do just fine. Personally i wouldnt waste the money on the "best" ones if youre only gonna use it a couple times a year if that. Im sure you know already but remember regardless of which brand you buy make sure you store it properly when not in use. Keep it clean and always dial it back to zero when stored.
---
09 Mirage Orange Pearl
Some people just need a high-five. In the head. With a chair