Harley Davidson Nitrous Explosion Smokin HD Dyno Shooout
---
Look carefully, there's someone sitting on that bike!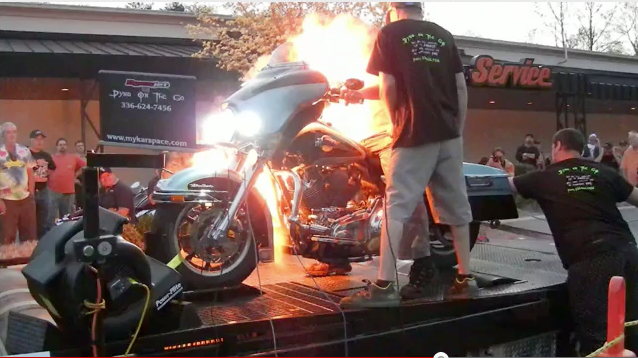 Nothing like SUPER SLOW MOW to relive the moment
---
DreamRider
TRADED the RoadGlide FLTRXSE CVO 12' - Cobalt Blue -
Traitor for a 2016 CRF1000 DCT Grey. Still coming to SWVIII!!!
Always Dreaming about the next L O N G ride
Member
Join Date: Feb 2010
Location: Southeastern Indiana
Posts: 720
Smell it?
---
I can smell that beard burning right now! Lucky man.
---
2009 w/MadStad Shield,Big Sucker, Rush Slip-ons, FuelPak & Progessive suspension.
I find it amazing that people feel the need to crowd around dynos, even after all the dyno fail videos on youtube. All it takes is for the vehicle to grab and its gonna launch.
---
2010 FLTRX - THE RED DRAGON
LANESPLITTINROADGLIDE ON INSTRAGRAM
KCCO - CHIVE ON!

Wow! I'd say he has some singed hair!!!
---
Be careful, STUPID doesnít care what direction it comes at you from!!!


To view links or images in signatures your post count must be 10 or greater. You currently have 0 posts.

That is Clark Hemrick from Hemrick performance. I was not there on that day, but heard about it. To say that Clark likes dyno shootouts would be an understatement. However at this time, I believe, he is dealing with a diagnosis of Cancer and has slowed down on everything including his Performance business.
---
2010 FLTRX Black Denim
2007 FLSTN Vivid Black