Member
Join Date: Mar 2013
Location: Central Iowa
Posts: 483
8" Klock Werks Flare Review
---
I know there are a million other threads with pics of the klock werks flare. I just wanted to post a quick write up because I don't think the 8" KW gets enough love...
To start, I like some wind in my face so I understand this shield isn't for everyone. I used the stock toenail windshield for an entire season and didn't mind it too much. I wanted to keep a similar look and go to the KW because I think it complements the shape of the fairing really well. Based on previous reviews and the number of people trading their 8" KW for something larger, i had very low expectations.
That said... I am impressed! The wind protections is noticeably better than the stock custom shield. I still get air in my face but seems less turbulent. I'm 6'3" and my seat is down and back a bit and I feel I have a nice pocket of wind protections. I just noticed the 8" gets dogged a little on here and just wanted to give it a shout out. I'm very pleased so far.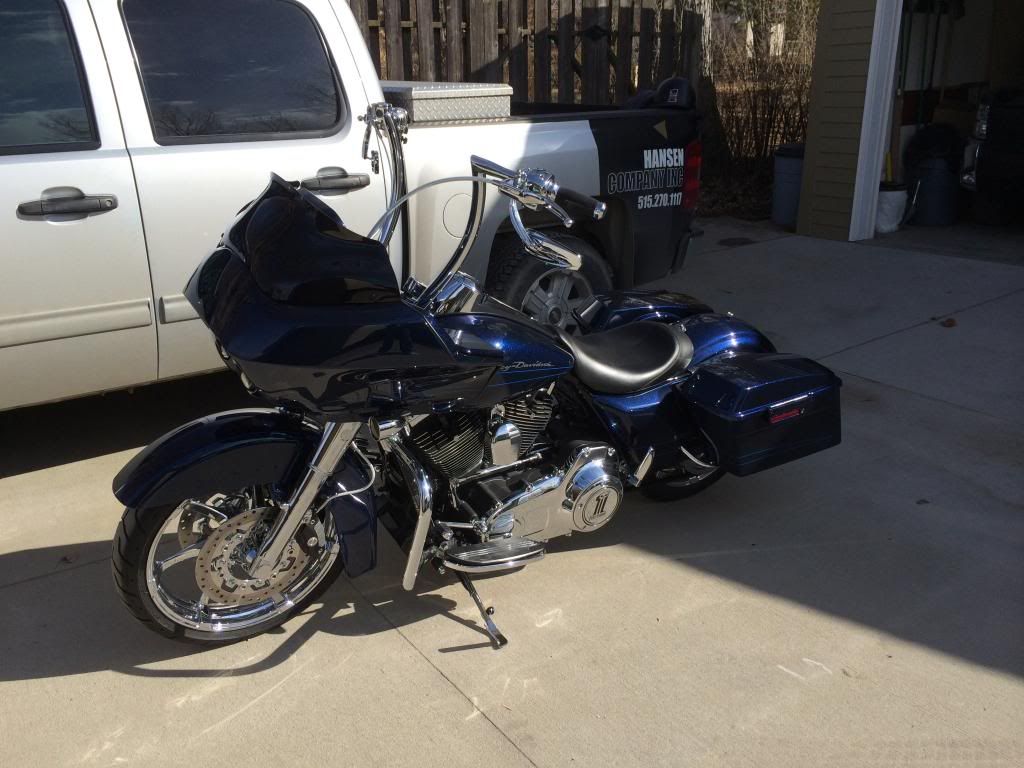 That's all I got.
---

To view links or images in signatures your post count must be 10 or greater. You currently have 0 posts.
2012 FLTRX, Agitator Wheels (19" & 18"), Chrome Forks/Bells/Flush Axle, SE Stage 1, D&D 2-1, Power Vision with FM Map, DG Buttcrack, Misc Chrome
Have had Roadglide since 2006. I just bought my first Klock Werks 8" . Haven't had a chance to ride yet. I'm 6'4" so I know what ya mean. I'm not running a 16" windshield.
---
Owns " One of those big wheel baggers" you can't ride
I love mine, and I'm also 6'4!
---
S&S 106 big bore, 585 cams, headwork, timken conversion, welded and trued crank, foundation done the rest is trivial and fun to change
Glad to hear. I have a 12", I took it off shortly after getting my bike and put the toe nail back on and rode it that way till fall and put the 12" back on. I have the 8" in the box ready to go on as soon as I get my bike out of storage. Can't wait to try it, best looking in my opinion. I to like some wind, I am 6' and have a new Danny Gray seat to put on and try out as well. Can't wait!

Nice looking bike!!
---
2018 RoadGlide Special, Stage 3, V&H High Outputs, CVO Seat, Factory 47 Signature Bars 12", CVO Grips, SE Extreme-Flow AC, SE Plug Wires, Klockwerks 9"
---
Bear, Prez, Kindred MC
13 FLTRX - Candy Orange - Daymakers, Custom Dynamics - LED turn signals, Kuryakyn Scythe mirrors, Iron Aces bracket, X-grip, floor board extensions, custom sundowner seat, black KW 8", PCV, auto tune, Stage 1 AC, Drago H-pipe, 4" Dragula mufflers.
Hangaround
Join Date: Jul 2013
Location: LexVegas, KY...home of fast wimmen & beautiful horses
Posts: 141
[QUOTE=GMONEY;1745161]Ditto on the KW. I dig my flare too. Those Carlini's really set the look off on your ride. Nice job!

X2 bike looks great
---
[SIGPIC[/SIGPIC]2013 Candy Orange RGC-Power Vison Tuner, De-Catted Head Pipe, Jackpot 4" Slip-Ons, Fuel Moto Billet A/C, Wild 1 502 Chubby's, Painted Inner, Color Matched Vented Lowers w/Boom Speakers, 12" Windvest..........
Just put mine on at the end of Feb and I live up next to Canada in upstate NY and ride year round...roads permitting and temps usually anything over 25 with dry roads. I'm 5'8 so I noticed a significant difference and love the looks of the KW on my RG, great fit!
---
To view links or images in signatures your post count must be 10 or greater. You currently have 0 posts.
Loved the look on mine but at 6'6'' I couldn't breath above 60 mph.....shook me like a bobble head , my neck was soare in no time
Nice to hear you taller guys like your 8" Flare too!
Im 5'6" and absolutely love my 8" Flare, especially when comparing it to the stock toenail shield.
I have a 10" windvest for long hauls, and could probably use a little taller one for better protection for me and the OL, but for the most part, the Flare stays on all the time, because i love everything about it!
---
'10 Red Custom:
check out my build thread for pix and mods
To view links or images in signatures your post count must be 10 or greater. You currently have 0 posts.