New handlebars
---
When choosing a set of new handlebars, how is one to choose what is comfortable vs not. I like the looks of Jafee's monkey bars in 8 or 10 inch but without sitting on a bike trying them out I am not sure after buying and installing them that i would be happy with the comfort factor. There are tons of different brands and styles to choose from. Any advice before I dive in? My RGC bars have me leaning forward and after riding for any length of time my back starts to say hello. Also if you have replaced your bars, could you provide a picture along with comments?
---
Dost thou love life? Then do not squander time, for that is the stuff life is made of.
Benjamin Franklin
IMO there are a couple of factors when selecting bars. First variable is your seat height. Second variable is your upper torso and arm length. The best way I read was to hold a broom stick in a confortable position out in front of you. While sitting on your seat have someone take a measurement. I would measure from your broom handled down to where the bars go under your speedo. The other thing is to look at how each bar measures the height. The last thing is that wild 1 bars have more pull back the PYO OEM bars. For me I've had 13" Cyclesmiths on a 08 SG and now I have 10" PYO on my 10 RG. The SG had HD solo brawler (two inches lower and back two inches than stock) and the RG has a Corbin Gunfighter seat ( about an inch lower and back an inch that stock).
The SG felt like 14" + bars and the RG feels like 12" bars.
---

To view links or images in signatures your post count must be 10 or greater. You currently have 0 posts.

2010 Road Glide Denim Black
ABS Cruise Factory Security, Black D&D 2 into 1
Firecap's Arc Amp 125.2, 4- Hertz 6 1/2" Speakers
PYO Bars, CVO Rear Fender, KW Wrapper Front Fender
"Burn Rubber Not Your Soul"
Take a look at this thread:
https://www.roadglide.org/showthread.php?t=3092
One way to measure out bars is to mock them up with pvc pipe according to the manufacturers measurements.
The other way is to have someone measure out what you feel is comfortable by placing your hands where you would like them.
---

To view links or images in signatures your post count must be 10 or greater. You currently have 0 posts.


Time - it devours the body while it develops the mind.
Newbie
Join Date: Apr 2010
Posts: 5
yaffe 10's perrrrrrffffeeecccttttttoooo IMHO
---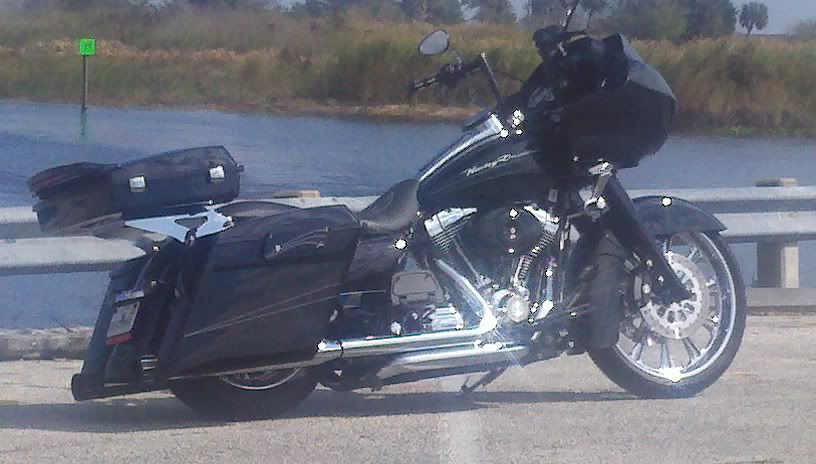 Once you change your bars, you will never ride stock again. It is a little expensive win you have to replace cables, but its worth it. I have changed to 8", 10", 12", over the years and now have 13" narrow body on my 2010 Fltrx. My advice would be don't go less than 12". That'll save you from numerous changes. You will not be sorry. Ride on!
Best thing to do, IMO, is buy your first set of bars, any mfg., then, after they don't work get another set, any mfr., then, after that doesn't work - well, you get the picture! Then have a garage sale for other riders to begin doing the same thing. I went for the lower priced Heritage bars first, that way I won't have as much invested when I move to the next set. But honestly, I did what MassHD did and also played around while riding on secluded interstates - i.e., if my hand/arm was here and I sat this way - how'd that feel? It's all subjective...

---
2009 Mirage Orange


To view links or images in signatures your post count must be 10 or greater. You currently have 0 posts.