Precision Billet?
---
Anyone running Precision Billet floorboards? Not exactly inexpensive! Was wondering how much vibration might come through the board to your feet. They look like a beautiful product but it would be an expensive mistake if they are not comfortable.
I thought the same thing about vibration. I ended up going with Arlen Ness floorboards...
---

To view links or images in signatures your post count must be 10 or greater. You currently have 0 posts.
2011 FLTRU VH Power Duals, VH Monster Rounds, SE Heavy Breather, SERT, Bad Dad rear fender, extended bags, PYO 10" Monkey Bars, KW flare, PM Hooligan's (21/18) Bad Dad wrap front fender, PM lowers, Progressive monotubes. Audio: Kenwood X998, SS 4.1000D, Biketronics BT7P1 and BT474(rear pods).
Administrator
Join Date: Sep 2010
Location: Brandenburg, Ky
Posts: 5,841
I cant speak from experience on their boards but I can tell you I have a newly installed set of boards from Roaring Toyz which are of similar style and I had no issues with any vibrations. We installed them right before SWIV and the trip was 3100 miles.
---
"All you touch & all you see is all your life will ever be"

05 RG 'Lymey'
11 RGU 'Clyde'
I can't speak specifically about their boards, but i vouch for the quality of their products and Andrew's customer service. Both are top notch.

I'm currently running one of their billet air cleaners, (the 'Toxic'). It's a beautiful piece and very well made.
---
To view links or images in signatures your post count must be 10 or greater. You currently have 0 posts.
Thanks all, I appreciate your thoughts and comments.
I've been wondering the same thing man. I am thinking about getting those Defender floorboards because they look really sick but I'm not sure if they would be a great ride and only for show.
Hey this is Andrew from the shop. First of all thanks for the kind words. Also i personally run the defender floorboards. After you get used to the hole in the center they are great boards. I enjoy the look and feel of them. If anyone is near arizona and ever wants to try one of our products let us know and we can get you setup with a demo set.
I forgot about this thread so it's about time I updated it with my personal thoughts. I've gone full tilt into PB with their Darkside edition and loving it. Got the floorboards (they are a work of art) and they ride fine - no noticeable or unpleasant vibration. Followed that by ordering floorboards for the passenger. Having some mod work done to the HD floorboard support so I can retain the separate passenger adjustable peg. Upped the ante by getting the foot brake, shifter and air cleaner as well as the mirrors. I'm nearly fully darksided! I am waiting on the shift linkage to arrive and I think Mrs is getting me a few more odds and sods as well to put under the tree. I'll post pics as soon as I have everything installed. All parts are quality, fit and finish is superb. Finally, dropped my 11" Madstad off with an engraver to have "Darkside" engraved on the lower portion of the screen - in Gothic script. If it looks good, I'll have my 13" done as well. Very tempted to have the jacket design from Pink Floyd's Dark side of the Moon album added as well. If you have considered PB's product but have concerns, feel free to PM me. Not affiliated, yada, yada, yada, just a happy customer.
---

To view links or images in signatures your post count must be 10 or greater. You currently have 0 posts.
My mods: 12 Buky Malos, Buky engine guard, BR Customs bag guards, Custom Dynamics driving lights, running/directional lights, DayMakers, Precision Billet Darkside rider and passenger floorboards, foot brake, shifter, Willie G lic plate bolts as glovebox knobs, GADS products, saddlebag gun safe, Zumo 665, Iron Aces mount, Madstad 11" and 13" shields, Ohlins #6.
Administrator
Join Date: Jan 2011
Location: Calgary Alberta Canada
Posts: 1,763
I also have some Precision Billet pieces.
I asked for and they shipped me blank Ignition, front brake reservoir and saddlebag latches. Workmanship on the pieces was excellent.
Here they are with the wood inlay.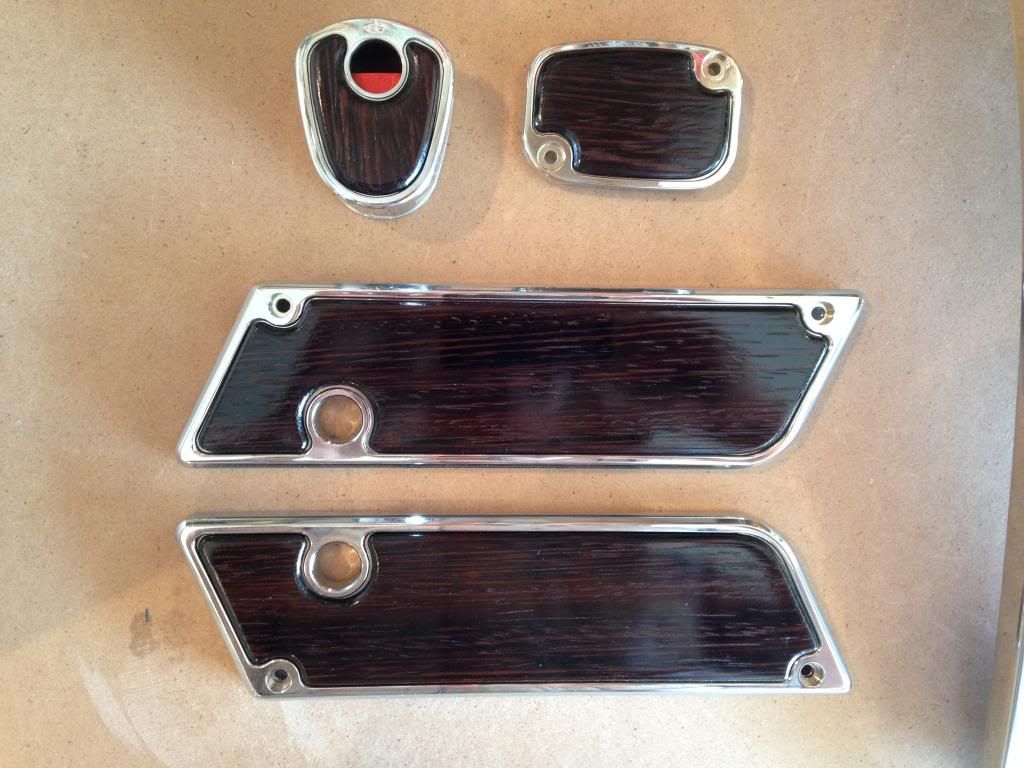 Hers is how they look on the bike!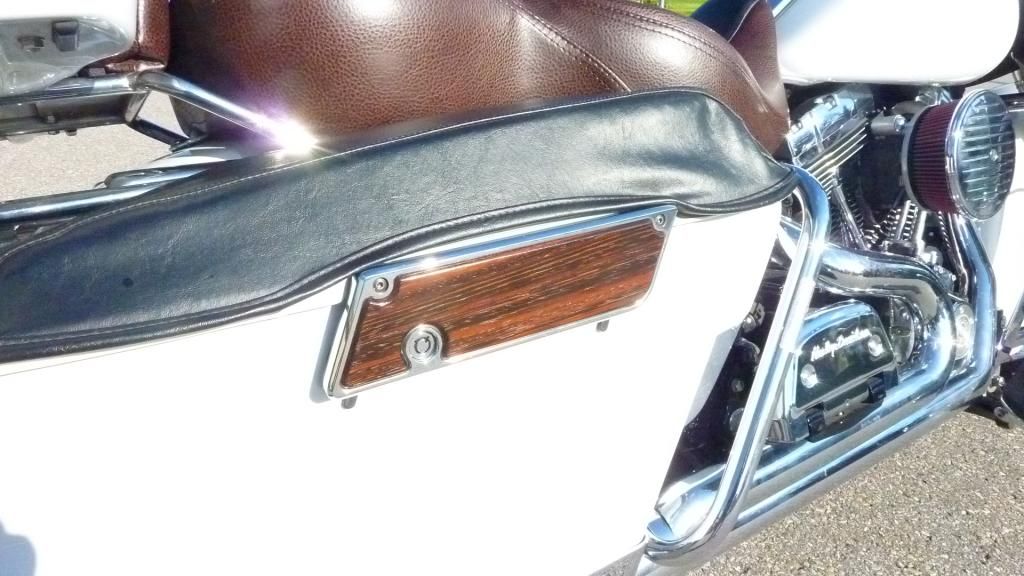 Calgarglide
---

To view links or images in signatures your post count must be 10 or greater. You currently have 0 posts.

2019 FLTRU, Tyggr
2016 FLTRU, Ruby, moved on to a new owner
2012 Road King Police, rain bike/teaching aid/will only go in circles
2011 Suzuki WeeStrom, Great Pumpkin, gravel rider.
2008 FLTRI, Miss Louise, moved on to greener pastures