Newbie
Join Date: May 2013
Posts: 2
Flip blades - floorboard mounted highway pegs
---
Hello,
I've tried a few different highway pegs that mount to the engine guard but nothing seems to fit me perfectly. Problems I have with them are either they are too far away or they stick out too far on the sides. No splits here!

I'm thinking about trying some sort system which attaches to the floorboards.

Anyone try any of these types?

Thanks
Flip blades
---
I have been on a bike with them, and liked the placement. My only concern is that the ones I rode with were fixed into place once flipped out. I did not find a way to retract them while moving. ??? Had to stop and fidget with them to go back in. Could have just been this paticular set, but not sure.
Administrator
Join Date: Jan 2011
Location: Calgary Alberta Canada
Posts: 1,763
Dukk has a set of these and really likes them. I will pm him to respond.

Calgaryglide
---

To view links or images in signatures your post count must be 10 or greater. You currently have 0 posts.

2019 FLTRU, Tyggr
2016 FLTRU, Ruby, moved on to a new owner
2012 Road King Police, rain bike/teaching aid/will only go in circles
2011 Suzuki WeeStrom, Great Pumpkin, gravel rider.
2008 FLTRI, Miss Louise, moved on to greener pastures
I have them on my 05 and find them comfortable. My inseam is 33" and seat sits me back 1", that worked out well for me. Only dislike is you must remember to retract them before coming to a stop because you will likely catch your boot when putting feet down.
---

To view links or images in signatures your post count must be 10 or greater. You currently have 0 posts.

2005 RG 98cu in
USMC 1968-1972
Grey beard
Join Date: Dec 2010
Location: Winchester VA
Posts: 1,125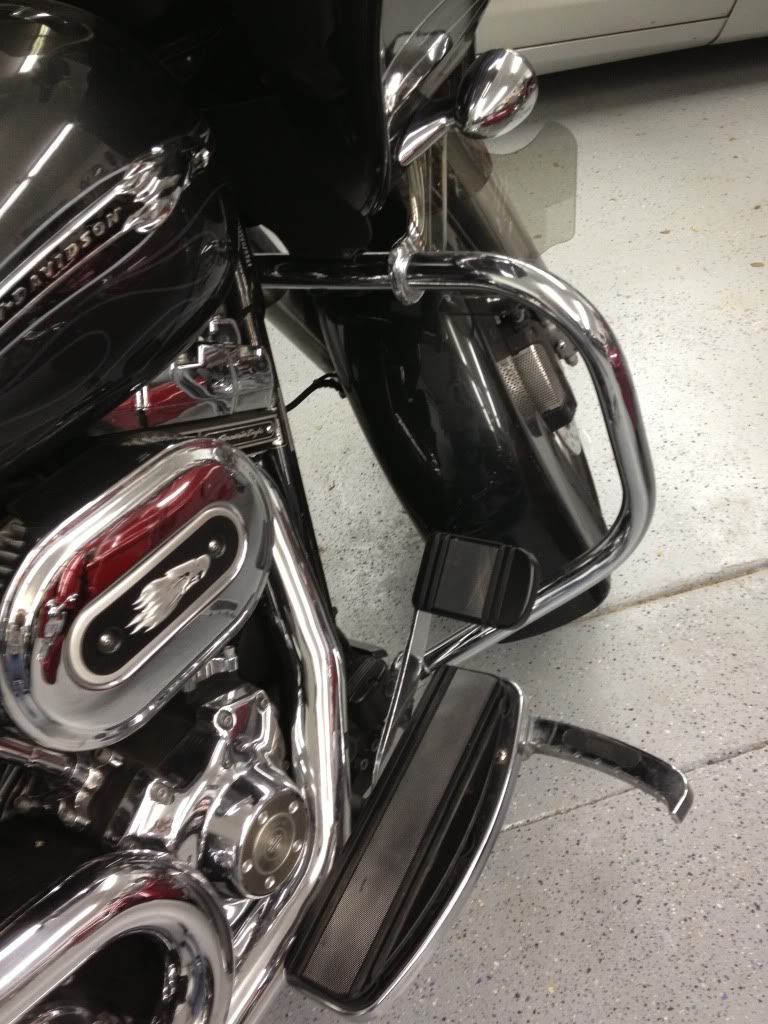 I have them and the work great for me. I'm 5'10
Remember to fold them in when laying it into the corners.
---

To view links or images in signatures your post count must be 10 or greater. You currently have 0 posts.

2009 Black pearl 110ci,D&D exhaust, titanium gauges, Bright ass lights tailight, madstad windshiled, jac-knife highway pegs, progressive monotones, Ness Deep Cut Hot Legs etc..etc..etc...
Member
Join Date: Aug 2010
Location: Last Best Place- Montana
Posts: 316
I picked up a set of IMT Jac-knife pegs from Iron Aces Speed Shop. Those people are great to deal with. I'm 5'8" and they fit me perfectly. You do have to fold them in when you stop but now its second nature. Easy to install too.
---
2005 FLTRI Pearl Yellow
2011 FLTRX Sedona Orange
2015 FLTRS Superior Blue
If you have lowers on your bike, check first.
The ones that I was looking at could not be
used with factory lower fairings.
---
'13 FLTRU
I found this thread through a search and it's exactly what I was looking for. Here are my questions if anyone can help...
Are the easily deployed while riding it do they have to be deployed at a stop?
Do they fold back in easily?
Do they diminish any cornering ability due to the extra metal under the floor board?
Thanks in advance. I'm looking to remove the engine guard but still want some sort of highway peg.
Sent from
Motorcycle.com Free App
Life Member
Join Date: Sep 2012
Location: Ooltewah, TN
Posts: 1,863
http://www.kuryakyn.com/products/3813/flip-blades
I have these on and use them quite a bit. They fold upward if they make contact similar to the way the floorboards do.
They cannot be extended/retracted while riding.
The right ride gets very warm in the summer though.
Even with the factory "heat shields".
Requires minimal drilling to install.
There are models for stock or swept boards with reduced reach available as well.
---
Red Pepper/Magnetic Grey CVO with KST black 14" apes and a quick detach TP.
---
Last edited by zemo1017; 09-29-2013 at

02:27 PM

.
Hmmmm... The only thing that holds me up is the fact that I can't extend them while riding. I'd prefer something that I could kick out with my foot.
Either that or something to rest my heel on. I saw a heel rest on eBay but a review here for that item was terrible.
Sent from
Motorcycle.com Free App