Trans-Canada Hwy (Hwy 17) to SW IV
---
I've been looking at traveling the Trans-Canada Hwy (Hwy 17) as a portion of my trip to SW IV. The section I am most interested in is between Sault St. Marie and Ottawa.

I was just wondering if anyone could offer some first hand advice. You know, must see, skip entirely...info.

tj
Life Member
Join Date: Feb 2010
Location: Ontario, Canada
Posts: 2,017
hope this helps
---
Hwy# 17 is a decent road. Nice riding with sweeping curves, hills and valleys through thick forests and occasional rock cuts. Some of it from the Soo is four lanes for a bit. Most of it is two lanes with lots of truck passing lanes. It connects to the Trans Canada Hwy #1 through Ontario from the 17/417 connecting from 40 in Quebec on the eastern most portion of our HUGE provence so traffic is pretty steady. Construction along the way can sure slow things down. Services aren't bad with lots of gas opportunities but if you fill up in Sault Saint Marie you'll need gas before Sudbury. There's a truck stop in Nairne Center that has fuel for you and the bike. Sudbury has a HD shop called "The Shoppe" if you need a new t-shirt along the way. North Bay and Pembroke are the next "bigger" centers you'll pass through that have all the big city amenities.
The biggest thing you have to watch for is critters at night, early morning and early evening. Mid day not so bad but depending on the time of year there may be lots of turtles crossing the road. They don't look both ways so watch for em jumping out at ya. Those and MOOSE
bears
and deer
If you have time, Manitoulin is a nice place to tour around. Lost of twisties and vistas of Lake Huron. If so inclined a ferry boat runs across to Tobermory every 5 hours or so. I think its a three hour crossing.
Not much for tourism along the way BUT some of the little towns (several) have cool little gift shops featuring local artists stuff. Depends what your into.
Best advice is don't ride in the dark and be very cautious early morning. Always scanning the road ahead for critters because they're big!
hope this helps,
enjoy the ride!
---
2005 FLTRi
Black Pearl
Live to Ride ~ Ride to Live
---
Last edited by hotrodad; 08-27-2013 at

07:46 PM

.
Hotrodad,

This helps a lot. Thank you for taking the time for the detailed reply. I'm thinking that this sounds like a great road to plan around; although, I do worry about those turtles suddenly darting out in front of me.

Thanks again.

tj
Life Member
Join Date: Mar 2010
Location: Montreal, Quebec, Canada
Posts: 5,038
Sudbury is a nice town Pop; 160 000+
If your timing brings you there it's a nice place to call it a day for the next leg of your ride.
Ottawa (our Nations Capital) Pop: 880 000+
Is 5 hours away from Sudbury and this could also be a nice stop as well - This would put you at 7 and a half hours from your final leg into Maine.
Here's a little Motorcycle Link that Ontario provides to promote motorcycle touring across it's province. Might be some interesting things to view here.
http://www.gorideontario.com/en/motorcycle
I'd avoid night riding anywhere near the border south or north of Sault St. Marie all the way to Sudbury. Very dense forest which does not allow for good views through the foliage at what might pop out!
Here's what the roads on the 17 look like and you must avoid my GF parking spot she found there on Aug.8th 2013 coming back from Sturgis/SWIII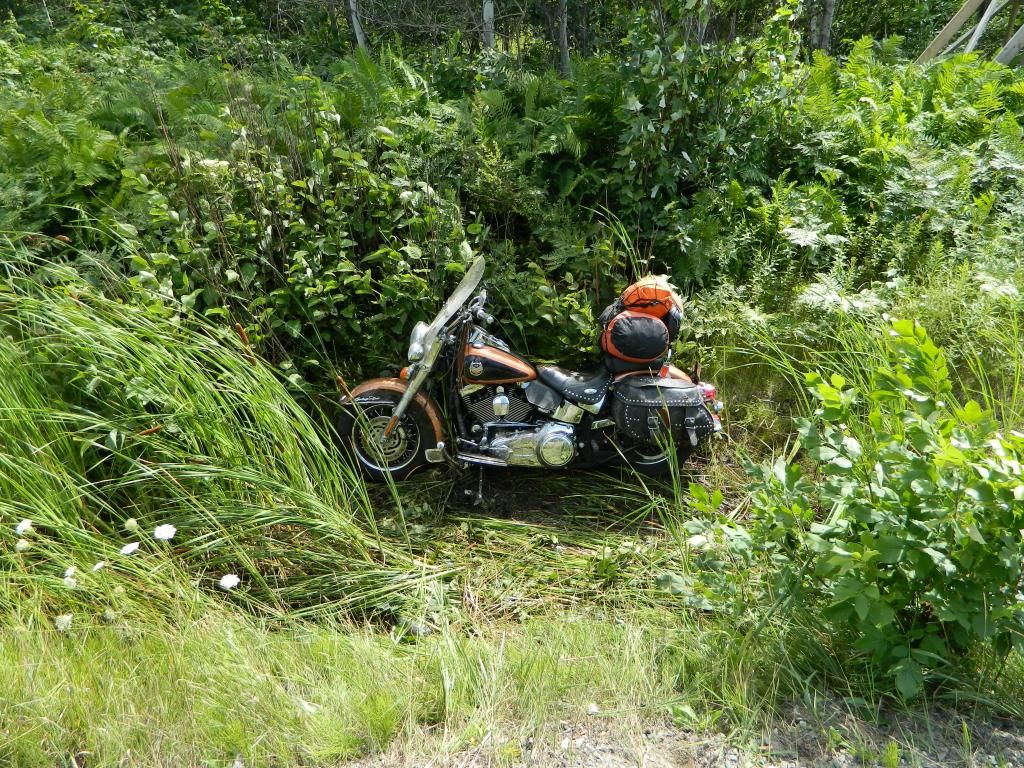 ---
DreamRider
TRADED the RoadGlide FLTRXSE CVO 12' - Cobalt Blue -
Traitor for a 2016 CRF1000 DCT Grey. Still coming to SWVIII!!!
Always Dreaming about the next L O N G ride
Member
Join Date: Jan 2010
Location: Saint Petersburg, FL
Posts: 643
I rode from Ottawa to Sault Ste. Marie on 17 in a day. It rained most of the day. I took that route because it was shorter than going around in the US side of the Great Lakes. As I recall, it was just a road. There was nothing special enough to jog my memory. Customs went through my bag when I came back into the States. They were looking for prescription drugs.
I think you should consider the Gypsy Tour instead. Hutmo always puts together a fun route and time.
---
2017 FLTRXS, Givi V56 Topcase, Windvest 10", National Cycle Hand Deflectors, Rapid Transit Tank Bag. My last bike was 2014 Triumph Trophy SE. Before that: 2010 FLTRX.
To view links or images in signatures your post count must be 10 or greater. You currently have 0 posts.

Peter,

Thank you for taking the time to respond. I had read about Nan's decision to park beyond the pavement shoulder; but I didn't realize that it was in the same area. I am happy to see that she is doing so well and ready to get back in the saddle already. Very gutsy.

Tim,

Thank you very much for your input. I really did enjoy meeting everyone on the Gypsy Tour this year. Its still pretty early but it seems like a lot of the fun of the trip is exploring various options. It may sound corny but we should really appreciate how lucky we are to have so many choices in life.

Besides I really started getting concerned. Here it is less than a year to SW IV and I don't think Chris has posted one final detail for the Gypsy Tour next year. No interesting stops, no hotels, no final tour route. Tick tock.......Tick tock.

tj
Shark of the Month October 13
Join Date: Nov 2011
Location: Was northern Maine, now gulf coast of Florida
Posts: 6,632
Ok, OK, if you must have details this early, I'll devulge one fact about Hutmo's Gypsy Tour for SW4, but you must promise to keep it a secret!

..... It's gonna end in Shelbourne, N.H. where the fun will continue for another 4 days!!!
---
"Life should not be a journey to the grave with the intention of arriving safely in a pretty and well-preserved body, but rather to skid in broadside in a cloud of smoke, thoroughly used up, totally worn out, and loudly proclaiming "Wow! What a Ride!" - HST
Ah, something firm to work with.

Oh crap... Does that qualify for Romper Room?

tj
Prospect
Join Date: Mar 2012
Location: Mpls MN.
Posts: 273
Had two moose pop out of the woods early afternoon last fall. on 17 between Sault St. Marie and Sudbury. Those moose can take up a chunk of road.
Roadglidetouring,

Thanks for the warning. It sounds like you can't let your guard down at all, no matter what time it is.

tj