Heated Grip Help
---
So what am I missing here ? The heated grips should only be functional if the ignition is on , but the diagram shows both the ACC power(5) and the B+ power(3) being connected. So if the switch on the Left(2) is ON the circuit is completed via the B+ even if the ignition is off and no power on the ACC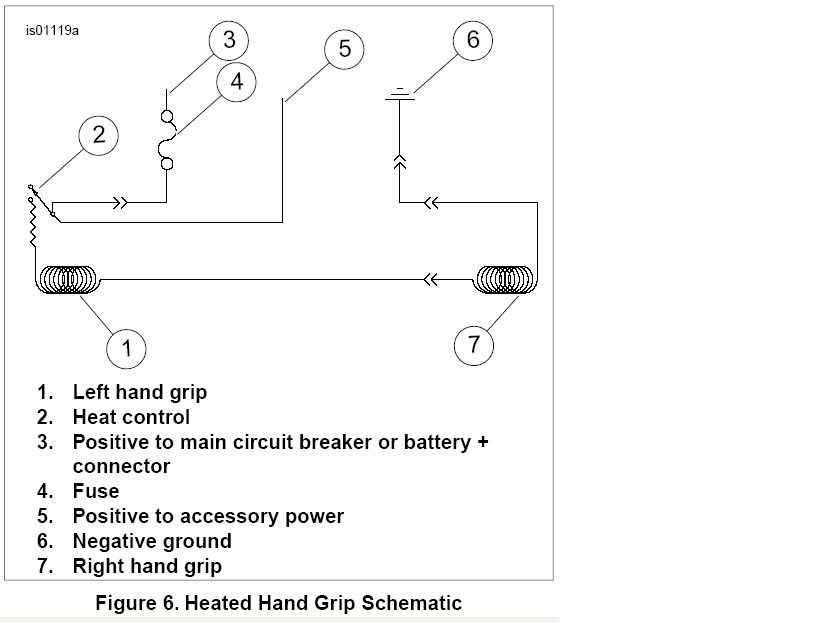 It looks like there should be a relay controlled by the ignition power to allow batt power to flow as long as the relay is energized. Otherwise it appears you'll get power from both sources.
---

To view links or images in signatures your post count must be 10 or greater. You currently have 0 posts.
2010 Scarlet Red RGC, ABS, cruise,XM radio,vented lowers, Pro Pipe, SE intake , Thundermax Auto-tune, Arc Audio 6.5's,
Road Zeppelin seat, 16" WindVest, KingTourPak w/ detachable kit, Works Performance Steel Tracker shocks.
PGR member
Newbie
Join Date: Mar 2011
Location: Edmonton, Alberta, Canada
Posts: 2
Were you able to get your heated grips completed?
heated grips
---
I did not fix them I removed them.

There was a short in the wiring, and the grips were always on.

Almost melted the grips , did burn my hands.

The shown circuit still makes no sense to me.
I noticed mine on a couple of times when I was out in the garage listening to the radio. Gotta remember to shut them off before you switch over to acc.
Kind of strange to say the least. Mine dont work that well. They dont get hot enough and stop working all together sometimes.
I was curious if you knew or found where the short was?