Viair mounting location idea
---
Hi everyone. I just got my air shock kit. I've been reading threads about mounting location. Why doesn't anyone mount the compressor under the engine. It fits perfectly between the engine and trans with the head on the left side pointing toward the rear, without hanging down. The hose can run up next to the shift rod between the engine case and inner primary case. Your thoughts?
IMO there's pretty good chances of picking up debris under the engine. If you don't have ABS you can mount it under the right side cover. All I had to do was trim a piece of the empty plastic box where the ABS module would be and it fits perfectly.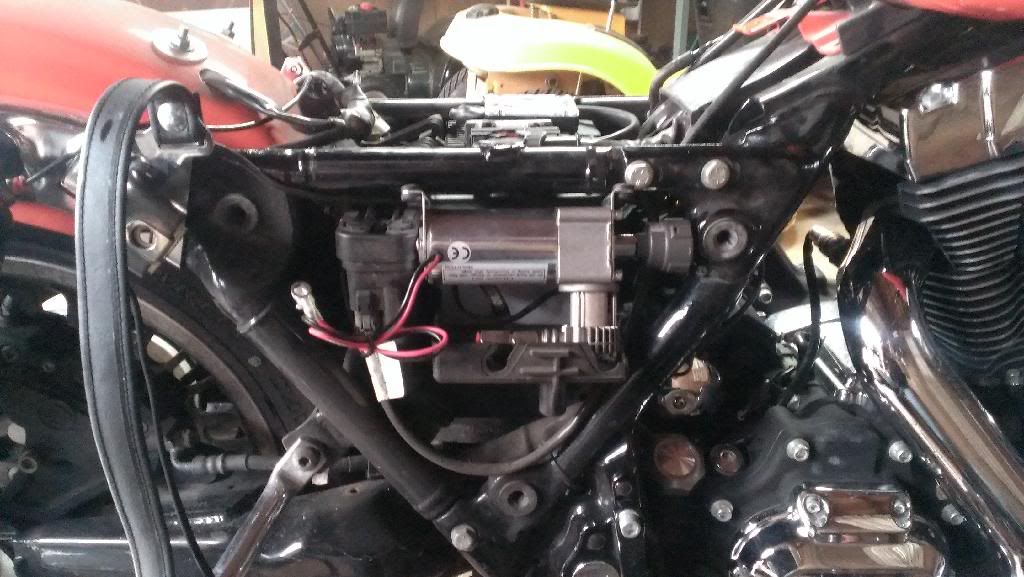 ---
09 Mirage Orange Pearl
Some people just need a high-five. In the head. With a chair
Its an Ultra. It actually will tuck up between the engine and trans nice, shielded by the pans with room around it for air to circulate.
Hey if it fits i say go for it. Just make sure the air lines aren't near anything too hot
---
09 Mirage Orange Pearl
Some people just need a high-five. In the head. With a chair
Mine is between the tank and the battery under the seat.
---

To view links or images in signatures your post count must be 10 or greater. You currently have 0 posts.


2012 CVO Skunk - Jackpot header, Jackpot Pro-Touring, Power Vision, Ohlins all around, KlockWerks Shield and RSD Clarity line
Ill check that area this weekend. Im going to pull the seat and start looking. Thanks
Dirtyair had some really nice mounting brackets, this is the one i used on the rear strut bar..it can go towards the front also I'd you don't have extended bags to hide it.
Hangaround
Join Date: Apr 2013
Posts: 112
The one I offer for 09-13 touring models. $60.00 powder coated black shipped to your door. All steel and tig welded. Made in USA.
Hangaround
Join Date: Apr 2013
Posts: 112
Mines mounted like smokeyjoes it wasn't easy to get it in there but that's where arrnott suggested to put it. I took out the air temp gauge and mounted my air pressure gauge in the dash and it looks stock
---
2012 FLTRU vivid black