Lowering front 2", any issues?
---
Guy's I have a 2011 RGC with 8500 miles on it,I just bit the bullet and installed a 21" wheel and the two inch "drop in" lowering kit from progressive and went back with 20wt fork oil. I kept the stock 12" RGC shocks on the rear, Bike actually sets pretty level with stock rear wheel. Call me crazy but I rode the bike about 20 miles over some of the roughest roads I know of around here even hit a couple of 2" deep pot holes and tall speed bumps to try and determine if I'm going to have fender clearance issues. Of course I didn't hit these at hwy speed but fast enough to rattle you teeth. So far so good, no witness marks on the fender. I've done all this and a lot more to the softail but I know nothing about the Road Glide yet....

Just curious who else has dropped the front 2" and what issues you've incurred, if any?
I used the same front setup on my 08, the only complaint I have is the rougher ride. It doesnt have the unnerving brake dive anymore though. I have never hit the front fender, I doubt it has enough travel. Keep in mind the kickstand angle will be different. Eventually I will upgrade to the -2 monotubes.
I have Arnot rear air ride, so I cant comment on the stock rear shocks.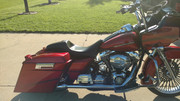 Newbie
Join Date: May 2019
Location: Haywood, KY
Posts: 11
Thanks for the info James.
Nice Scooter!
Member
Join Date: Mar 2013
Location: slc ut.
Posts: 496
you will be fine -I have same setup with 32000 miles-2 trips to Canada-the cartridge does not sag like stock front end-I had dented a front fender with stock setup-2011 cvo
Member
Join Date: Sep 2015
Location: alabama
Posts: 411
20170320_083720 (3).jpg
I have a 21 inch with a wrap fender, and 12" air assisted progressive shocks in the rear. Rides pretty good. No issues.
---
To view links or images in signatures your post count must be 10 or greater. You currently have 0 posts.
Newbie
Join Date: May 2019
Location: Haywood, KY
Posts: 11
Thanks guy's!
I got the new 18" rear on today and it sets a little higher in the back now. Was level with the stock rear on it. I may have to go with some progressive 11.5"shocks???