Sirius Radio
---
Earlier this winter I saw a mount for the older star mate radio that mounted around the speedometer and tach. Due to having CRS I can't remember the website. Has anybody seen one?
Sent from
Motorcycle.com Free App
I was looking at that earlier today. Had to wait to get home to look at my radio to see if will work. If it looks like it will I'll call monday.
Sent from
Motorcycle.com Free App
Life Member
Join Date: Sep 2009
Location: West TN
Posts: 2,084
What I did was to mount the SIRIUS Radio Docking Port.
I put it on the right handlebar control using the Harley CB Microphone mounting bracket (76313-98).
SIRIUS antenna is inside the Fairing and routed the FM signal to the radio's antenna using the FM modulator.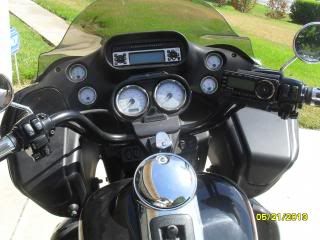 ---
yaS wa'DIch la'Hom Ho'neH jorDe' vestai-VamPyr
IKRV Hurgh HaP, Ring of Fire Fleet, Order of the Bat'Leth
Vietnam Veteran, PGR, Widow's Son, "lIgh tlhab" (Ride Free)

To view links or images in signatures your post count must be 10 or greater. You currently have 0 posts.