soldering vs butt connectors
---
I understand that soldering is a more efficient way of bonding 2 wires together rather than using butt connectors to mend 2 wires together, but for those that cant solder, using butt connectors would be the only obvious choice.

But, I was wondering, does it make a big difference, and is it okay, if I wanted to solder the wires from the amp harnesses front and rear output speaker harness to the front pods opposite end red and black wires?

Should I do it or no?
Practice soldering, you can master it on the first wire. then heat shrink the connections.
On my boat stereo after the heat shrink was tight I put a little liquid tape on the ends. never had any issues.

Sent from my SAMSUNG-SM-G891A using Tapatalk
Butt connectors are as good as the pliers used to crimp them.
If you crimp them correctly, then seal them they work fine.
No need to solder a bunch of speaker wires up when they end up connecting to the speaker with a slip on spade connector.
Good crimp pliers
Shitcrimp pliers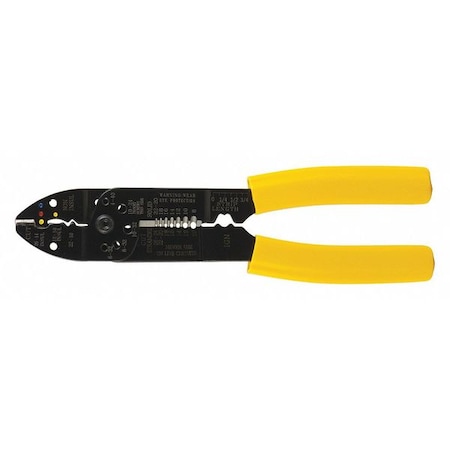 ---
To view links or images in signatures your post count must be 10 or greater. You currently have 0 posts.
Member
Join Date: Aug 2013
Location: Upstate NY
Posts: 735
I would not recommend soldering the wires from the amp to the speaker. As already stated, crimp connectors work just fine. Secondly, a good solder job is fine but an average or poor solder job will fail pretty quick. The insulated crimp on connectors are a buck or two more than the cheapo exposed connectors.

Also remember you're going to have to tune the amp. If you use a multi-meter to tune or a DD-1 distortion meter you will need somewhere to connect the meter leads. I use the male end of spade connectors on the amp end for just that reason. It's also easier if you ever swap speakers or decide to move wires around for whatever reason in the future.
---
Freedom isn't free, remember to thank a vet.
2018 CVO RG lava orange, 117 Stage 3, 14" F47 and a few chrome extras. Boom crap gone.
2016 RG Special Cosmic Blue, 120ST with Dragos 2:1 and TTS tuner, FBI drop seat kit and JNR air ride. Stock audio long gone.
Prospect
Join Date: Jul 2015
Location: Siler City, NC
Posts: 265
The StaKon type (Klein) crimping pliers are definitely the way to go. I have used those with butt connectors then slide shrink wrap over and seal with no problems at all. Soldering probably ultimate if you can do it ok.
---
2016 Road Glide Ultra
---
Last edited by dreeves; 02-02-2019 at

11:13 PM

. Reason: Clarification
Wait. I have been using "Shitcrimp" pliers??? Nobody ever tells me these things. It's like condoms. If somebody would have told me about these things, I would have two more bikes in my garage!!!
butt connecting the wires will do fine. theres quality butt connectors that can be heat shrunk to seal them which is what I would recommend using regardless of location of the wires. and yes use a quality crimping tool
---
09 Mirage Orange Pearl
Some people just need a high-five. In the head. With a chair
I soldered the speaker connections on my boat also because they kept falling off. but I have been soldering since I was a kid I just cant stop.

Sent from my SAMSUNG-SM-G891A using Tapatalk
If you are going to heat shrink the connectors and space is limited, or you just want a nice tight splice, these uninsulated connectors are fine. Cost less too. You can also hit them with solder after crimping. Just heat the connector and feed the solder into the center hole.
And you can get the splices with heat shrink already on them. Just crimp and heat. But they can get a little costly if you need more than a few.
And you can get what are called step down splices. They come in handy when splicing on lighter wire to existing heavy circuits. Like when adding LED's to older incandescent scooters.
---
To view links or images in signatures your post count must be 10 or greater. You currently have 0 posts.
---
Last edited by Thermodyne; 02-03-2019 at

01:26 PM

.
Of all the ways there are to crimp splice secondary wire, there is one that you should avoid.
These things are junk.
They are no better than twist and tape.
---
To view links or images in signatures your post count must be 10 or greater. You currently have 0 posts.