Newbie
Join Date: Jul 2012
Posts: 30
Newbie
Join Date: Jul 2012
Posts: 30
Started off with an Alpine CDA-9886 and Hawg Wired adapter. Only bummer is the white trim around the deck, but I think my buddy has a black one from another Alpine deck I can swap.
I installed some Polk MM651's in the fairing using some Hawg Wired speaker rings. These are badass, way better quality than my Dragonfly rings I installed in my '10 FLHX. I also used some Hogtunes metal speaker grills.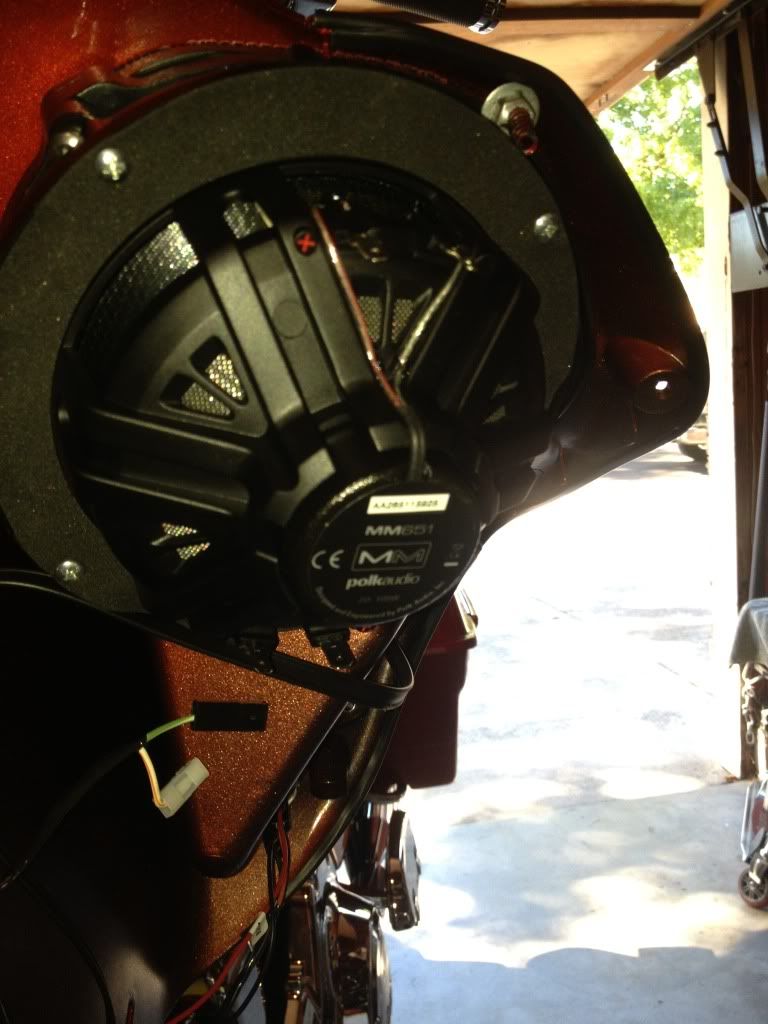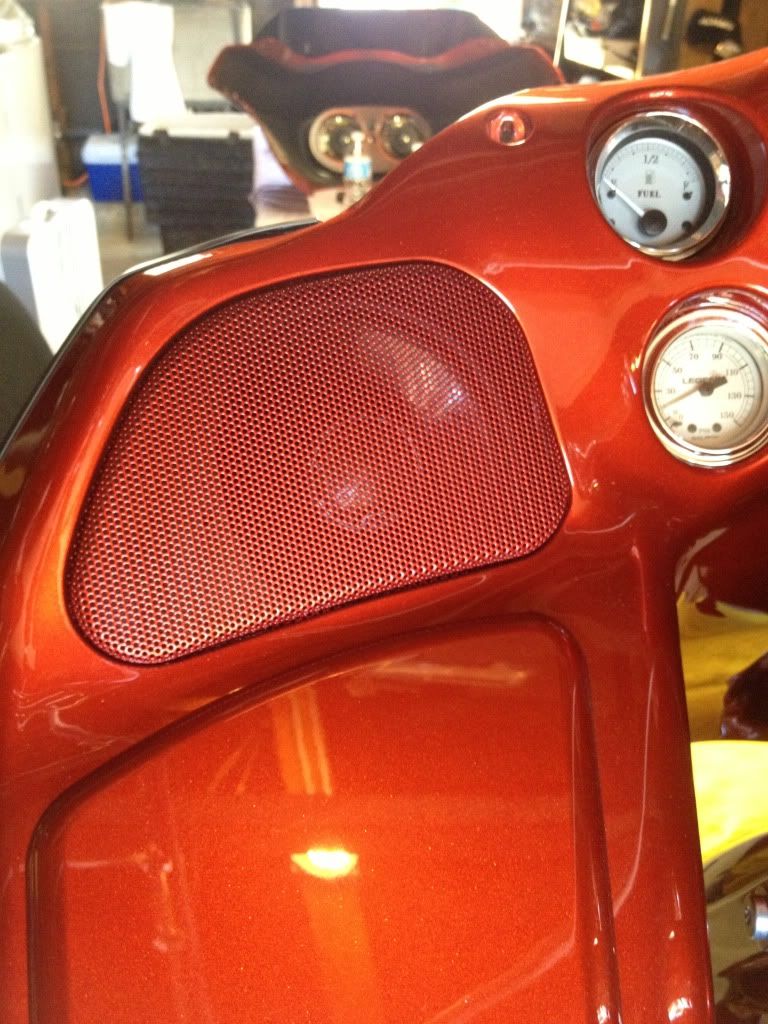 In the rear I used the Yaffe version of the Cycle Sounds lids. Basically these are garbage. The quality leaves a lot to be desired. And the Headache Eliminator Kit does not eliminate any headaches without modifications, which I figured out AFTER the install.
-Two slots need to be ground with a Dremel cutting wheel and the insert bent a little to allow them to bite the plastic lid and keep from spinning.
-The screw holes do not line up properly so a couple are at an angle
-The gasket material is weaker than the stock HD material, so the bag latches don't snap closed as securely.
-The lid strap does not fit properly
-The speaker grills themselves aren't made very well and bend easily (unlike the Hogtunes grills in front)
My other issue is that I used TS-A9665R's instead of TS-D6902R's and I can't change them out without a lot of work. I'm leaving them in there for now.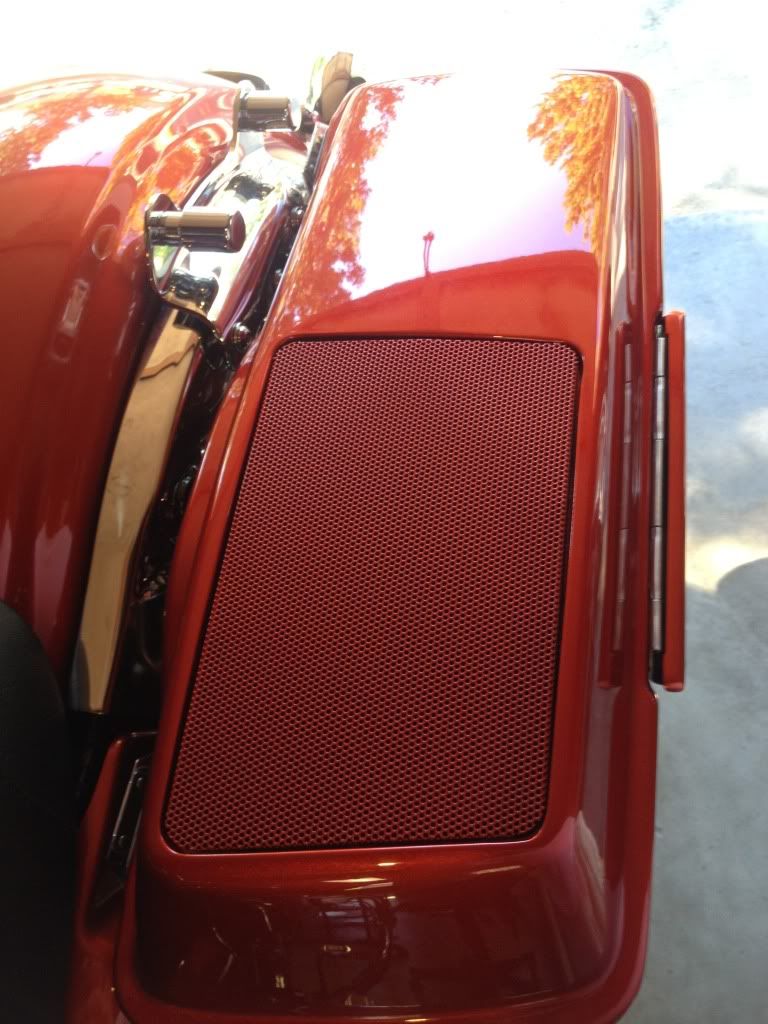 Other items I'm working on:
-I'm installing a Bluetooth module so I can stream Pandora and Spotify to the Alpine deck. I will not be installing a microphone. I do not take calls when I'm riding, I ride to get away from phone calls among other things.
-MM651's in color-matched lower fairings. I'll be running the wiring through the crash bar
-I'm mounting a PN4.520D on the left side of the fairing using a home-made bracket. Additionally I'm making a bracket for the right side that can either fit a PN4.520D or two smaller amps. Right now I'll install a PN2.350D to run the 6x9's, but there's enough room to later mount a PBR300X2 to run a pair of speakers in my tour pak.
-I'm trying to decide whether to install some HID lights, or just wait until I can buy the Daymakers
More pics to come...
More pics of my pile of junk to be installed: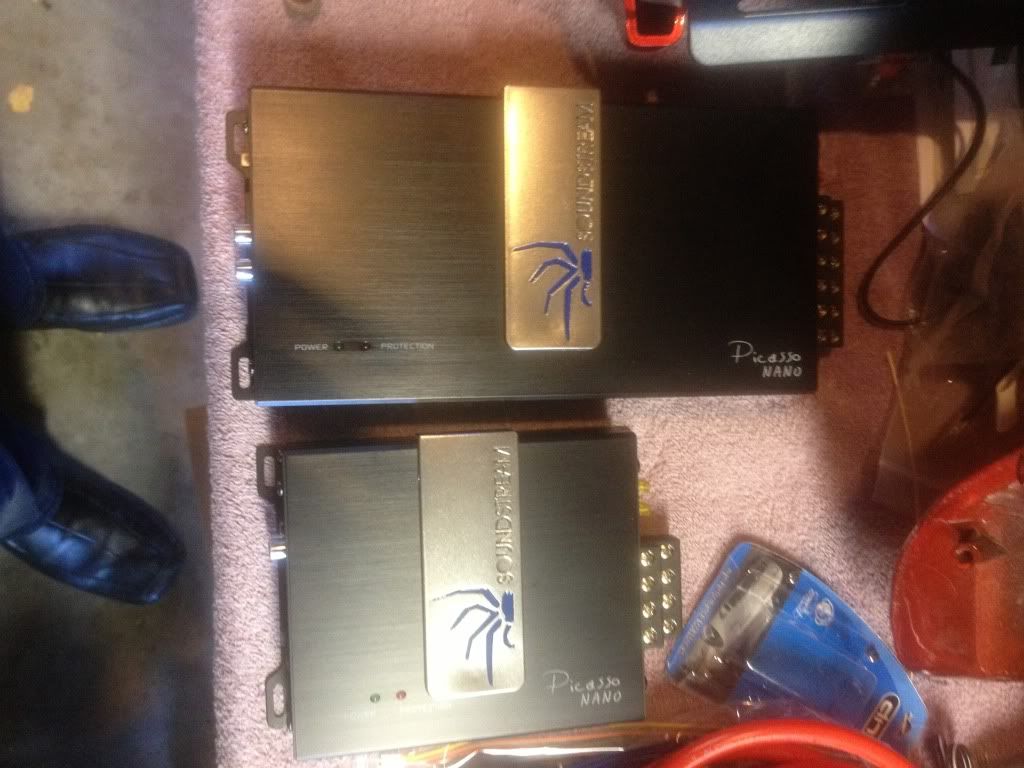 Wow looks great. You went all out curious to hear your thoughts on the amps.
LOOKS like a fun project
---
2010 FLTRX- r o a d g l i d e

To view links or images in signatures your post count must be 10 or greater. You currently have 0 posts.

Newbie
Join Date: Jul 2012
Posts: 30
Let us know if your happy with how it ROCKS
when your done!
---
2012 CVO RGC/Renegade Lincoln Phantom 21-17/RWD Fender/-2 Mono Front -1 Burly Rear/Bad Dad Side Covers/Andrews 54H Cams/HQ Black Ops Lifters/Heavy Breather/Cometic .030 HG/Barnett +1 Clutch/Aim 480lb Spring/ClutchWiz/Hayden M6/D&D Fat Cat 2-1 w/UPB & Ghost Pipe/TTS MasterTune 2/Wiz's Tune/Alpine CDE-HD149BT Head Unit/Alpine PDX-M6 Amp/Hertz HCX 690/Hertz HSK 165 XL/Biketronics Module/Cycles Sounds Lids
Newbie
Join Date: Jul 2012
Posts: 30
So I went and purchased some aluminum, and had a sheet metal shop match the bend and angles on the stock bracket, and reverse the angles for the right side:
My plan is to put the 4.520 on the left side, and use a 2.350 for the 6x9's in the bag. Then, later on when I order speaker pods I'll run Tour Pak speakers off the PBR300x2. My Tour Pak is detachable, so the remote turn-on for the Fosgate will come from my accessory switch:
Newbie
Join Date: Jul 2012
Posts: 30
Now I need to start making a template and trimming. I'm not going to add the "ear" sticking out of the HD amp, I'm going to move the amp back. But I need to make sure I get the clearance correct: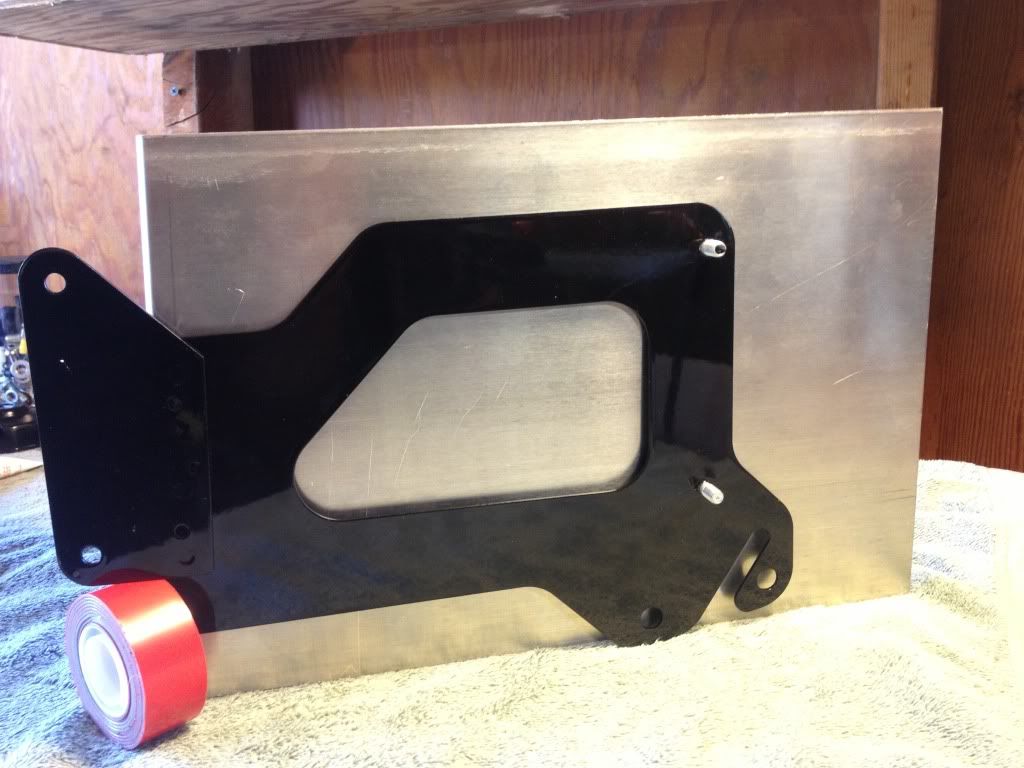 I plan to mount the power distribution blocks and maybe the MM651 Crossovers to the front part of the bracket: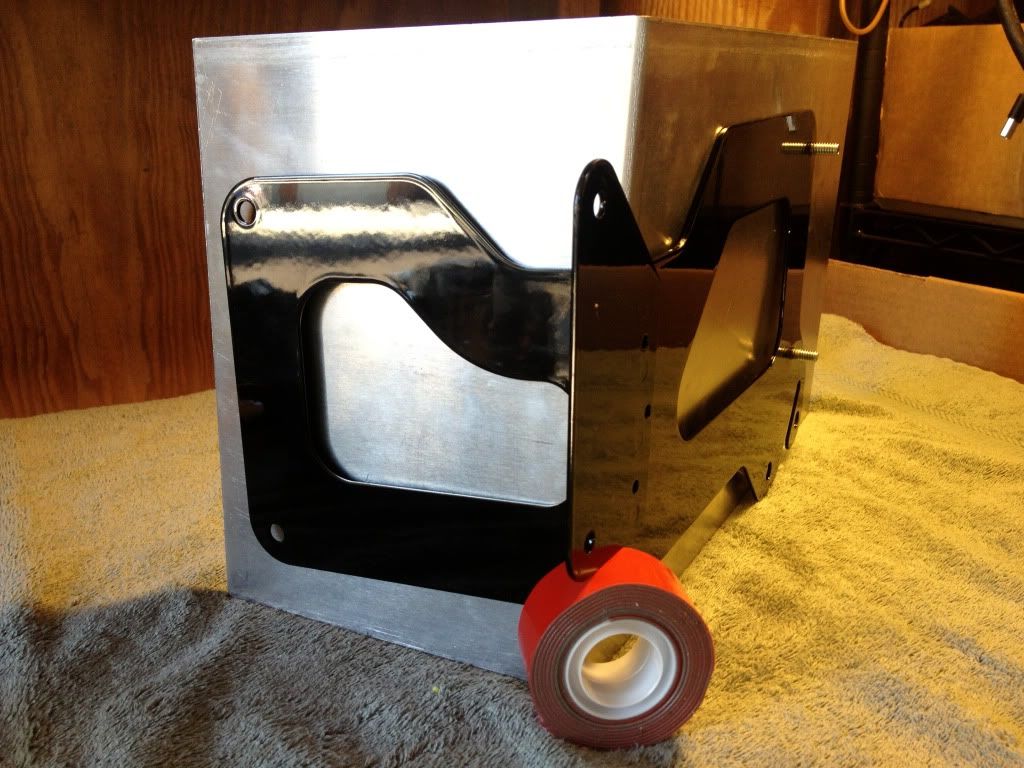 Newbie
Join Date: Jul 2012
Posts: 30
Thanks for the positive comments. Hopefully I'll make some good progress this weekend.
Member
Join Date: Feb 2012
Location: Frederick, CO
Posts: 664