Bad dyno?
---
I took my bike in to have it dyno'ed and tuned because I just don't feel like I'm getting the power I paid for. Out of respect for all parties involved, I'm not getting on here to flame or bitch, so I'm gonna leave off some details. I had a factory decatted headpipe and a slip on muffler and the bike was pulling 87hp and 104 torque. After I upgraded the exhaust, I had a dyno'ed again and it dropped to 84hp and 95 torque, after being tuned and running a correct AFR.

Obviously, I left disappointed and pissed off. Here is my concern now after further review of the dyno chart. The first dyno, hp and torque are equal at 5252rpms. The second dyno chart, hp and torque are equal at around 4750rpms. Based on the formula of how hp is calculated, the second dyno is mathematically impossible. HP and Torque are always equal at 5252, right?

So, did I get a bad dyno? Is there anyway to translate the second dyno? Something just ain't right.

Thoughts?
Good news is the last dyno sheet looks to be tuned ( lower peak tq) the first dyno sheet is not. However the 5250 thing is nothing more than a click of the mouse. ( force scaling) IF you look on the first sheet you will see the numbers are the same on both sides on the sheet at the same point, however the other is not
Now on new tune he started the pull very late. Odd ?? Hope you dont mind I re posted the sheets ,.. the twisting my head side ways to look was bugging me.
So understand that a peak number is one point and not the curve. You did not state if you changed other items with the next shop. I know that these are not the same shop( graph set up is a pain and no one swaps them around once set up) and that in itself can throw a wrench into them mix. The runs are over a year apart.. I have no dog in the fight but I am a tuner so I can explain what you have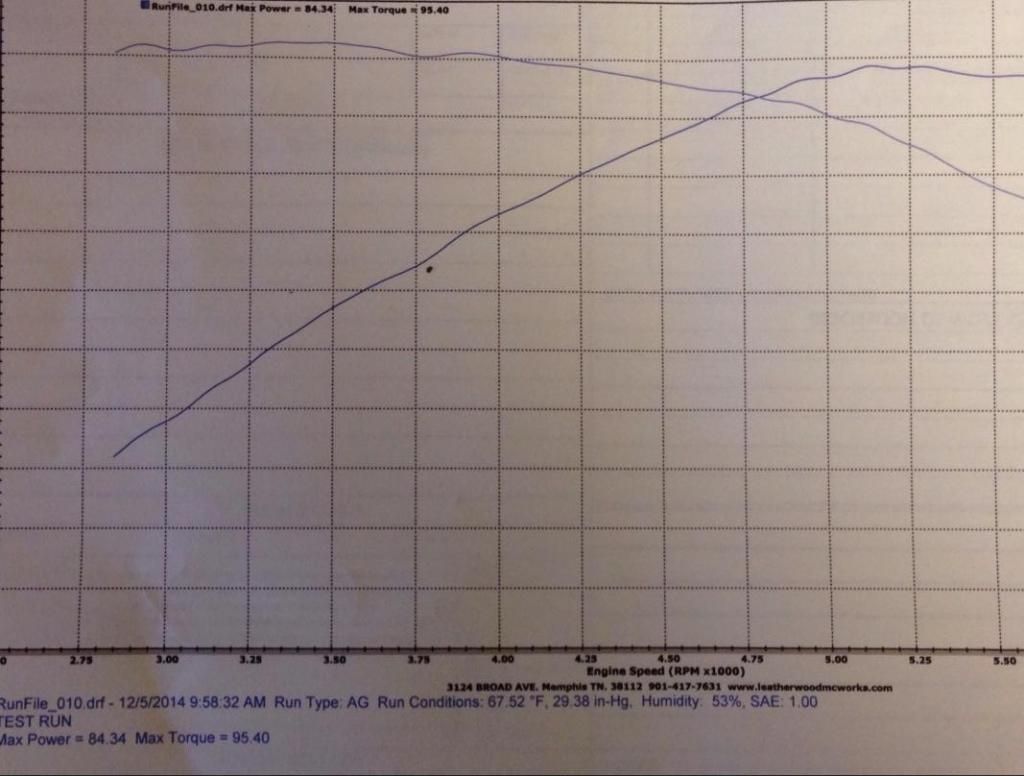 This sheet is an example of how you would want to see testing back to back at the same shop. If that is not done you still need the runs to start and stop in the same area.. But dyno to dyno may give you a slight increase or decrease in power, engine temp, tire pressure what gear the pulls was made in. Not to mention air weather that day. SAE or STD all of this gets throw into the mix and some of the data you chopped off so its a guess if both are SAE pulls.
---

To view links or images in signatures your post count must be 10 or greater. You currently have 0 posts.
2012 FLTRX 124 S&S
---
Last edited by 124shark; 12-06-2014 at

09:13 AM

.
HP = Torq times RPM divided by 5252 is formula to calculate HP.
knowing any 2 values in red you can calculate the 3rd.
Items to watch closely when comparing dyno reports are:
RPM: all data point must be compared at same RPM.
Scaling of HP and Torq axis will effect where graph line cross.
Correction factor, did the dyno operator change between runs.
If not all conditions should be the same.
Altitude, Humdity, Temperature, Fuel Temp, ect.
Dyno accuracy: +/- 1 - 3 % would not be alarming.

Hope this helps.
---

To view links or images in signatures your post count must be 10 or greater. You currently have 0 posts.

....................... My girls ......................................
Nothing changed from the first pull to the second pull other than the exhaust. The first run was made at the local harley dealer, the second at an independent. I've emailed both vendors (engine and exhaust) to ask what they think the issue could be, I haven't received a reply, but it is the weekend. I just don't want to come in slinging mud if its possible the dyno pull was either done or recorded incorrectly. Without revealing too terribly much, I've seen the exact set up pulling 100+ hp and 105+ torque by other members here on the forum.

I know all parties involved check this forum often and I don't want to be seen as dissing on their products when the issue could be on my end somehow? Make sense?
Life Member
Join Date: Dec 2010
Location: GA.
Posts: 8,055
Not looking at the paper work, can you tell any difference by the seat of the pants?
---
2010 FLTRX , Stage 1, 13" Madstad, Mono tubes, SuperShox, Heritage style bars. Alpine CDE-HD149BT,Soundstream Picasso Nano Series PN4.520 , 5X7 and 6.5 Infinity Kappa speakers
If I have to explain ,you wouldn't under stand anyway.
I think so. Hate to say I think, but this whole project has kinda consumed me since last February building, tinkering, changing, tuning, re-tuning, auto-tuning, etc. I feel like it is running stronger since the pipe change, but maybe I'm just trying to convince myself?? The throttle lag it had is now gone since the tune but I haven't had much opportunity to ride with this crazy weather. I realize the dyno chart isn't nothing but paper and its all just bragging rights ultimately, I just wanna know if I'm getting what I paid for or not.
Life Member
Join Date: Jun 2011
Location: East Central Iowa
Posts: 3,042
2 different dynos.........no 2 are the same, and the results are HIGHLY variable just between operators, not to mention fuel in the tank, weather, engine temperature, tire pressure etc. It's tough enough to get back to back runs to match on the same dyno, when you change location, dyno and operators just to name the simple ones, it's a whole new ball game
---
2015 RGU CVO........under continuous change......
Stock cams 100 hp?.. That's is not going to happen. How about a list of the build then and now
---

To view links or images in signatures your post count must be 10 or greater. You currently have 0 posts.
2012 FLTRX 124 S&S
Well I don't guess listing the build could do anything but help right?

2010 Road Glide Custom
Fuel Moto 107 Big Bore Kit
Woods 777 cams
Screaming Eagle Ventilator intake
Dragos Dragula 2 into 1
Power Vision Tuner
Stock Heads
Looks like neither one was tuned worth a crap .
The decat and freedom performance sheet looks like it was just a base .
And the 2-1 run was started in the late rpms . If dosent look very good either .
Your first exhaust and a good tune , would make the most peak numbers. The 2-1 will come in quicker but fall off quicker .