Stella: Seductive Elegance
---
Here is my build thread. It will be slow from time to time, but I am a picture whore. I hope you all enjoy.
October 12, 2012 Stella came home.
We were inseparable from day one!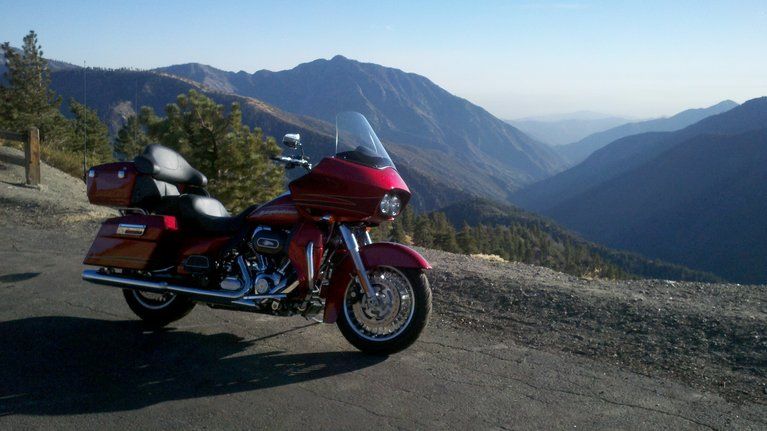 Some pictures of both my bikes together.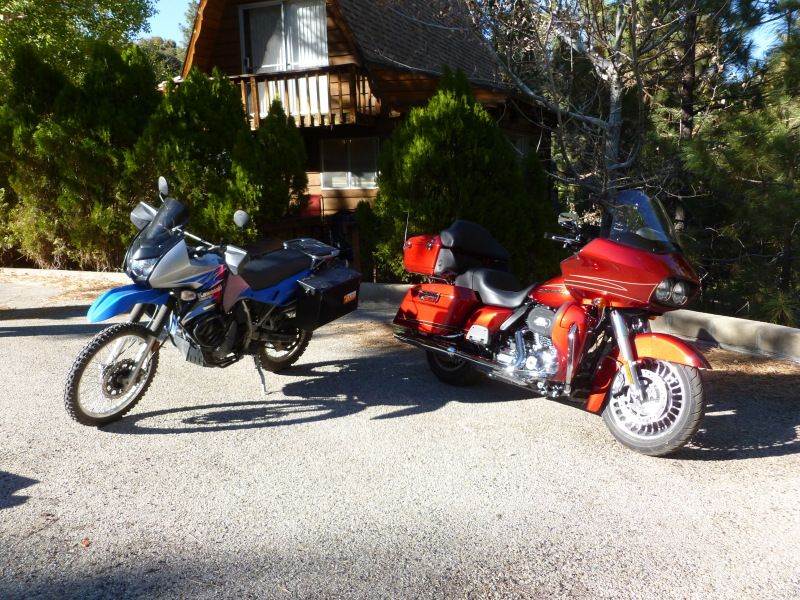 Just before the 1,000 mile service on the 11th day of ownership, I got under the clothing for a peek!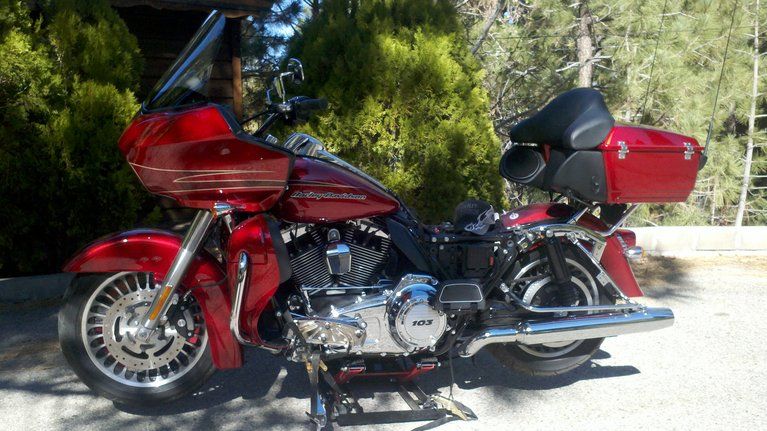 As of 10-25-2012: 1200 miles. Mods include Screamin Eagle Ventilator A/C.
---
Kevin K.
Nice looking bike, good luck with the build and can't wait to see what you got going on in your shark tank (garage).
---
The World ends when you're dead. Until then,
you got more punishment in store. Stand it
like a man....and give some back
Good looking bike man.
---
"A zest for living must include a willingness to die."
I love the color! Can't wait to see what you do to it.
Life Member
Join Date: Sep 2012
Location: Ooltewah, TN
Posts: 1,859
Great looking ride. Can't wait to see what you do with it from here on out.
---
Red Pepper/Magnetic Grey CVO with KST black 14" apes and a quick detach TP.
October 26th 2012, the mods begin!
Quick Detach Tour pack and Wind Splitter screen.
Pulling things apart. The instructions provided with the kit are straight forward and easy to follow. Tour pack wiring is disconnected here.
Tour Pack removed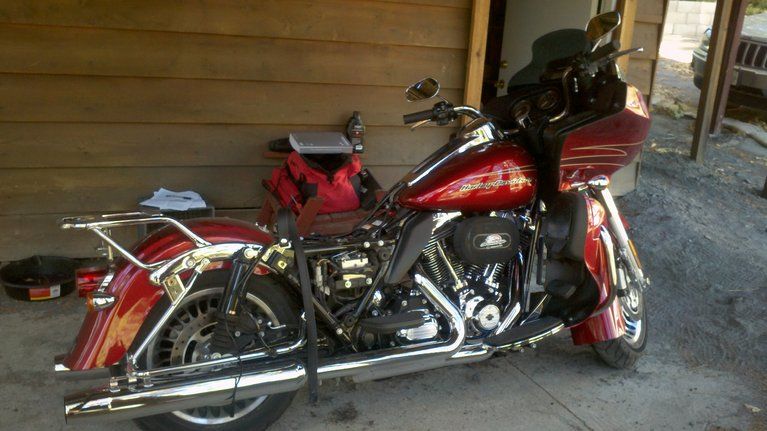 Subframe covers removed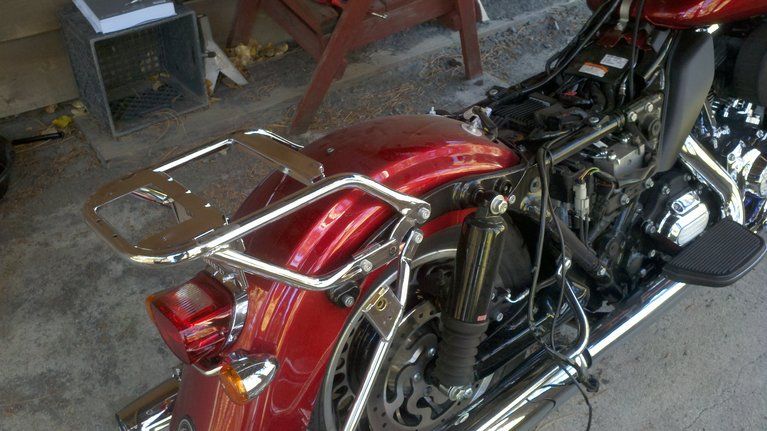 Stock tour pack framing removed
---
Kevin K.
You can really get a good visual of the attitude of the bike from here.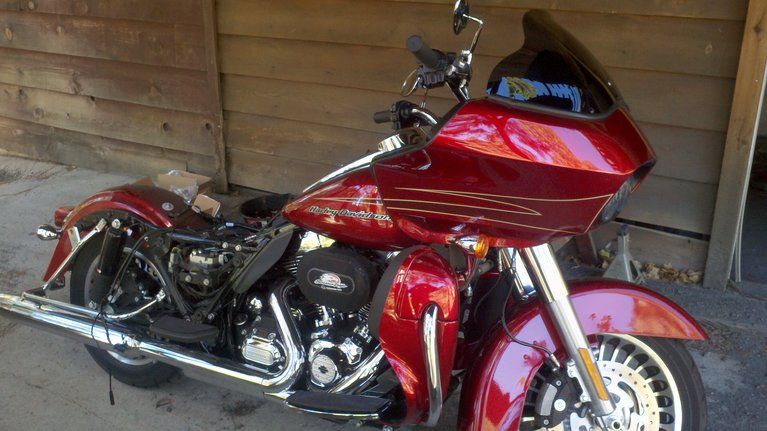 New plate holder, sub-frame covers and Pack docks installed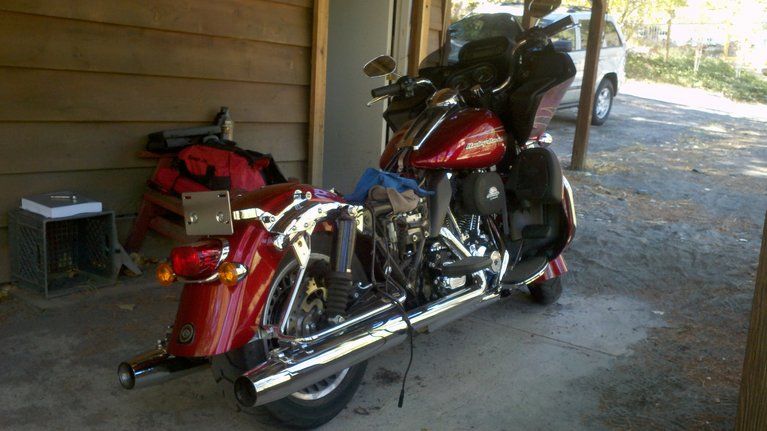 And everything back together.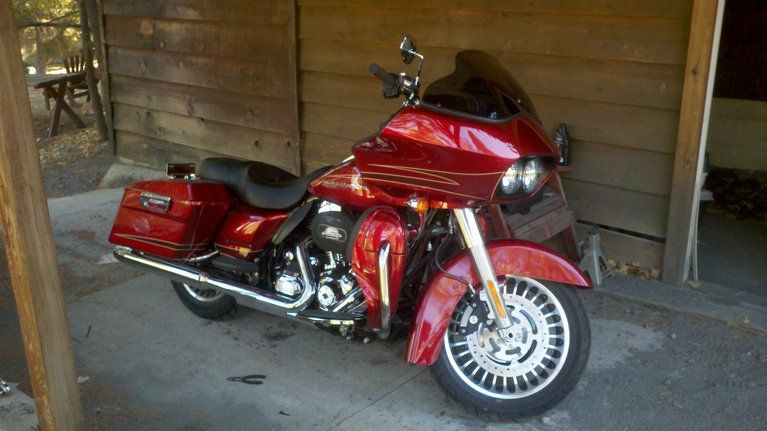 I took my time and it took a good chunk of the day. After getting the docks and new frame on, the TP went on and off a few times so I could get the wiring squared away. I don't know what Harley is thinking but they provided like two different connectors, but the second seemed like it was only half there. I ended up cutting the plug from the main harness and splicing the provided Duetsch plug on. Hardest part was manning up to cut the wires! From there I stuffed the extra wiring under the seat and a side cover. Managed to get the antenna wires tucked away nicely. Will most likely have to fine tune some things.
And what kind of install would it be without a test run!
That concludes the mods for now. I couldn't be happier with the results! Now the question is, Do I start blacking it out or keep the Chrome? Pictures I have seen of the Ember Red with blacked out components look great, but the chrome is growing on me.
---
Kevin K.
Lookin good!
---
Be careful, STUPID doesnít care what direction it comes at you from!!!


To view links or images in signatures your post count must be 10 or greater. You currently have 0 posts.

my personal opinion is for chrome
---
Cool Blue FLTRU
Grey beard
Join Date: Jun 2012
Location: western Montana,USA
Posts: 1,430
everything going on my bike form here out is black...either would work very well with your red.Beautiful bike,keep the pics coming! red is my favorite color after black.

I'm going with black on mine cause I chromed out my other bike.
---

To view links or images in signatures your post count must be 10 or greater. You currently have 0 posts.
2012 FLTRU-Thunderheader,T-max,tuned induction,progressive monotubes,Madstad 16 clear
2002 FXD-T-header+too many mods to list