Newbie
Join Date: Sep 2015
Posts: 22
It fell over & off the road ...what should I do?
---
This is my first post
I have a 2011 Merlot Sunglo Road Glide Ultra. On Labor Day, while on a run, the bike went over on me. A lady in front of me went down, I went to the right to miss her and I stopped a few inches from the white line on the side of the road. The problem was that there was an 18" drop off just past the white line. In other words, there was no shoulder. I put my right foot down, but unless I was wearing an 18" Gene Simmons boot, I stood no chance of holding up the bike. It tip over on to some rocks & dirt. As the bike was going down, the centrifugal force threw me off. We got the bike back on the road & I completed the run.
The damage is mainly the fairing and the right saddle bag. The scraps in the fairing & saddle bag is deep, as if cutting into the plastic. To repair it, it will take some kind of filler and sanding it. It is not a scratch in the paint, it is more serious than that. My main concern is the stripping on the saddle bag. This is going to require two additional colors of paint. My question is can this be fixed? Or will the fairing & saddle bag have to be replaced? I know that it is hard to tell just looking at the stupid picks.
Another idea I had is to have it painted all one color. I am thinking of an all-black metal flake, similar to the Merlot Sunglo flake but only black. If I take off the body work and take it to a shop, what is a ball park to have it prep & painted? Could that be cheaper than trying to match the paint & fix the strips? I can fix all the other damage such as the highway bar that holds on the lower fairings and the highway pegs. The gas tank, seat, front & rear fender, and tour pak did not get a scratch on it. If possible, if I could find it, I could replace the saddle bag & outer fairing cover and be done with it. But most 2011 FLTRU that are totaled would most likely have a damaged fairing.
Other less serious damage is the inner fairing did get scratched a little, but I think the best thing is to fill in the scratches & paint it the same color as the rest of the bike. That would probably be cheaper than replacing the inner fairing. The grip end cap got scraped as did the front brake lever. But those are no big deal.
Yes, I do have full coverage and the motorcycle does have a loan on it from the bank. I am seeking opinions and ideas on what to do. My main question that I need opinions on is should I have the damaged areas repainted Merlot Sunglo or remove all the body parts and it painted? Last question, does Harley sell fairings & saddle bags that pre-painted to match the rest of the bike?
Thanks, Shimaze
Right side faring
Right saddle bag
Looking back at the turn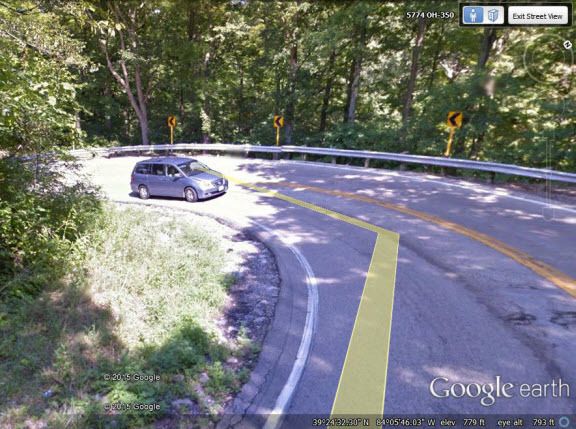 Where the bike fell over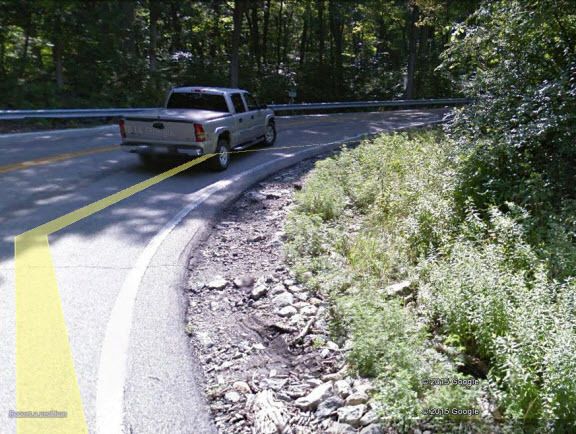 Administrator
Join Date: Apr 2010
Location: Bama
Posts: 9,403
Main issue is if the insurance is involved what will they want done , and how much do you have to put in the kitty ..They will not pay for a new paint job for the entire bike .. How much for painting is a loaded question .Yes Harley sells painted bags and fairings

Welcome

JtB
---
So Many Highways So Little Time
2011 Ultra
If it was me, I'd call the insurance company and let them assess the damage and go from there. Are you capable of doing the work yourself? Find out how much the insurance company will give you.
---
09 Mirage Orange Pearl
Some people just need a high-five. In the head. With a chair
I would call the insurance company and then take from there a new outer is about 600 and then a bag so total damages is over a grand without the labor. Custom paint the sky is the limit depends on color graphics etc just paint can get real expensive
Sent from
Motorcycle.com Free App
---
2012 Fltrx BBP with some black stuff
If you play your cards right, they will paint the entire bike if the color can't be matched properly. With the age, it will be almost impossible for a painter to get a perfect match. Try kindness, I love my bike, with your adjuster. If that doesn't work, ask for another adjuster and get your painter to talk in your behalf also.
Administrator
Join Date: Jan 2011
Location: Calgary Alberta Canada
Posts: 1,751
Repair/re-paint or replace?
---
2 ways to go, insurance and no insurance.

1. Insurance, they will most likely have the local dealer order replacement saddlebag and outer fairing. Go over everything on the right side of the bike with a fine tooth comb. You and the adjuster should inspect every surface that could have come in contact with the ground; engine guard, foot board, exhaust, bag guard, saddlebag, saddlebag lid, grips, front brake lever. Inspect all parts for the most minor of damage. If it is only the painted parts, it will be much cheaper for the Insurance co to just buy them and have them installed at the dealer - your deductible.

2. No insurance. Again, inspect everything. If it is just the paint work, and there is no broken/cracked plastic then a re-paint is easy.
Ride it until winter, take all the parts off yourself and take them to a painter, pick your color, put your money down and wait. The most reputable bike painter anywhere will take 3-5 weeks longer than they tell you, they just do. Expect to be quoted between 2K and 4K for vivid black depending on what type of finish you want. If you want show quality that takes labor and labor costs in hours of polishing, polishing, polishing. If you want crazy graphics or over the top air brushing, the sky is the limit on cost.

I have paid as little as 2k for a paint job and 5K for a paint job. I like the 2k paint job the best. I waited almost 7 months for the 5k paint job.


Calgaryglide
---

To view links or images in signatures your post count must be 10 or greater. You currently have 0 posts.

2019 FLTRU, Tyggr
2016 FLTRU, Ruby, moved on to a new owner
2012 Road King Police, rain bike/teaching aid/will only go in circles
2011 Suzuki WeeStrom, Great Pumpkin, gravel rider.
2008 FLTRI, Miss Louise, moved on to greener pastures
It all depends on what your insurance deductible is and do you want your insurance rate to increase.
Go to your HD dealer and have a estimate done they will charge you a hour labor to do the estimate but if you have the bike repaired there it they will include the estimate price in the repair bill.
The HD dealer is not a body shop and they will not do paint repair!!! The HD dealer will order all new painted parts from the MOCO and anything that even has a scratch will be replaced by new parts.
You can fix the bike yourself if you want you can either find used parts and pay for the paint work or you can order painted parts from a HD dealer and install them yourself, I found that it is cheaper to order the painted parts from HD because you get a quality paint job and the pinstriping is on the replacement part in the right place.
Call Jon (PC Pain) @ Horny Toad HD and tell him you are a forum member so you get the discount price on the parts. I got a new painted HD outer fairing from Jon for around $350 so the cost of parts isn't bad with the discount.
You can also turn in the insurance claim then buy the parts from Jon at a discount and do the labor then you can pocket the left over money or spend the extra money on upgrades.
---

To view links or images in signatures your post count must be 10 or greater. You currently have 0 posts.
08 FLTR candy red sunglo,with 2015 103 HO, V&H Dresser Duals with Monster Rounds, Power Vision tuner, Willy Shiny Wheels and Forks and a bunch of other stuff.
Member
Join Date: Aug 2011
Location: south jersey
Posts: 365
vivid black shows every swirl and scratch. I know. colors hide them a little better.you have insurance.use it. that's what its for less your deductible. yep it sucks but shit happens.no one got hurt. have it fixed right and continue to enjoy her.
---

To view links or images in signatures your post count must be 10 or greater. You currently have 0 posts.

To view links or images in signatures your post count must be 10 or greater. You currently have 0 posts.
2011 RG ULTRA.
I RIDE. I FISH. HENCE THE THE ROD HOLDERS MOUNTED.
NOTHING LIKE DOING BOTH WHAT I ENJOY IN THE SAME DAY.
New parts
---
The insurance company will want an estimate from the dealership, at least mine did, for the parts to be replaced. Then an adjuster will look at it before cutting a check to the dealer. My bike was newer so the paint matched from the factory. You can have them send the parts primed and have your own painter match the paint. You will probably have to pay the difference if it goes any higher. My dealer has recommended paint shops in the area.
Hangaround
Join Date: Mar 2014
Location: New Hampshire
Posts: 143
Any chance you could go through her insurance since your accident was a result of her accident. Long shot but might be worth an ask...