Discussion Starter
•
#1
•
Got bike back together yesterday but, I'm not real happy with how I had to run the brake line. Right now, it runs behind the forks, around the right side fork shroud, then up to the lever (spiraling as it goes up which looks ugly to me). It moves quite a bit during lock to lock turning, causing it to hit the inner fairing and such. I used a rubber coated cable holder on the top fork shroud bolt to help keep the hose from rubbing on the inner fairing. How do you have yours routed?
(and NO that's not cocaine on the glove box!!!! It's baby powder that has fallen out of the bars after pulling wires)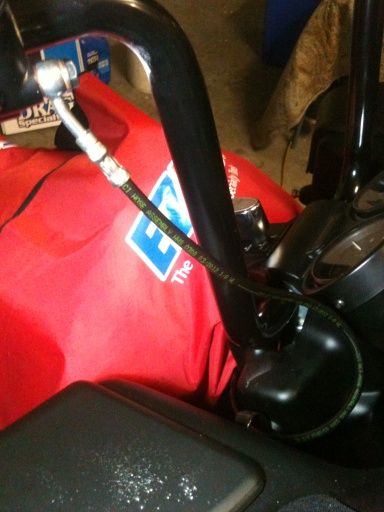 The clutch cable (+6) looks more natural (I believe it is pretty close to stock location) but it doesn't quite line up at the clutch perch. I tried using the little plastic cable holder that attaches cable to side of gauge housing but the cable doesn't like to be restricted like that and rips the cable holder out of the housing.