Discussion Starter
•
#1
•
What does your Fuel Filter look like?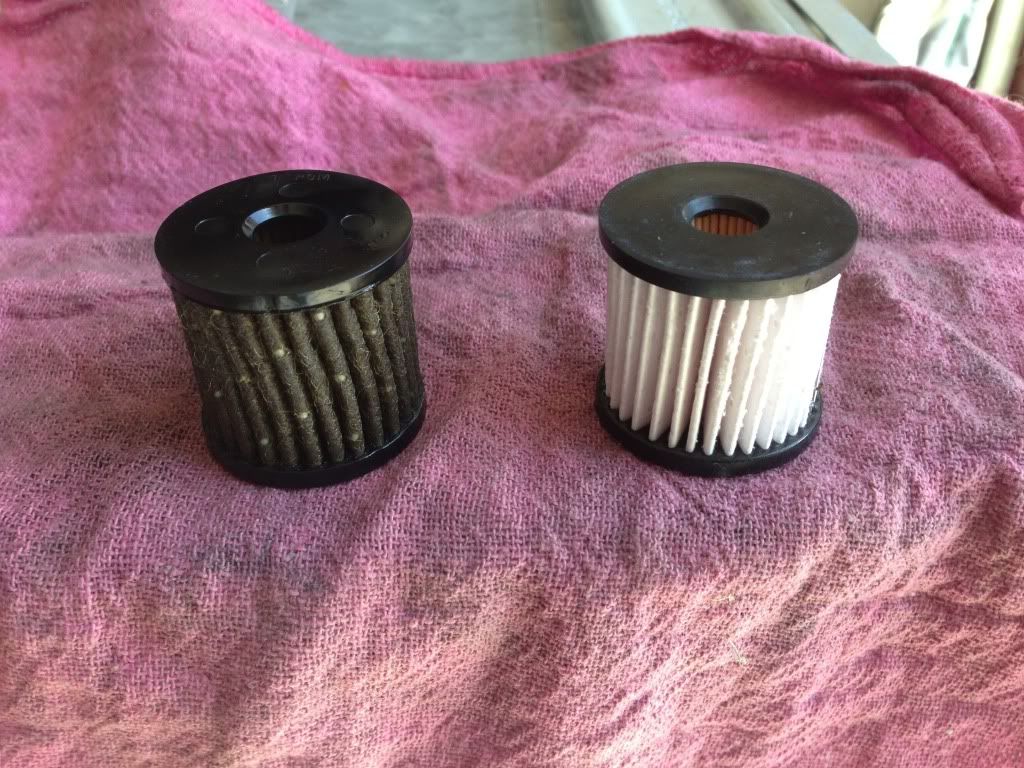 Does it look like the one on the left? Or the one on the right?
Don't know? Don't feel bad, it is not something you can just inspect.
Here is a video I used as a guide to replacing my fuel filter.
http://www.youtube.com/watch?v=SYOsc7NBhBo

PULL THE MAIN FUSE BEFORE YOU START THIS!!!
A few issues I ran across.
First, removing the cam lock ring on the tank. The guy in the video made a really cool tool to remove the ring. I used a simpler method which involved a Blunt Object and a
Dead Blow Hammer.
Here is a picture I swiped from another forum that shows exactly how I did it. I just did not label my "blunt object". If it gets stubborn coming off, move around and hit different tabs. Going on, reverse it. Hit a few tabs to get them all seated, then you can just hit the most convenient tab to drive it all the way on. I used a
Dead Blow Hammer
as that tends to reduce the hammer rebound (keeps you from dinging the tank).
Caution: Put a towel between the blunt object and the tank to avoid scratches.
Second issue. I did NOT remove the hoses or wires, but did the replacement with the top plate hanging out of the tank. It worked, but I would recommend removing it. If you do not, you are working in Gasoline, and over a big hole in the tank. I would NOT recommend putting a rag in the tank to catch anything that falls, unless you are trying to make the World's Fastest Molotov Cocktail. Just be VERY CAREFUL not to drop anything in the tank. The only thing I removed was the retaining U-Clip on the filter. Getting the whole Top Plate assembly in and out of the tank was an adventure. Just be patient, you can get it far enough out to replace the filter. Just be advised, you are working over and in Gasoline (see Molotov Cocktail warning above).
Third issue. Putting the filter housing back together was not easy, I had to force the two pieces together. The new filter holes were tight, and they have to be pushed together. There is only one way they align, there is a SMALL tab that lines them up, don't break it. Use firm pressure, do not push too hard lest ye break something (think Top Plate replacement $$$)
The problem that I was having was rough idle, and poor performance off idle. Pulling away from a stoplight was becoming an adventure, even on level pavement. The filter above has, at least, 42,000 miles on it. I never replaced it until now. Once I got the new filter in, the bike idles much better, and off-idle performance is vastly improved.