·
Shark of the Month October 13
In order to prepare you for your trip to SW 4 in Maine, and to ensure you have a great time while you're here, we'll publish a new factoid about Maine every week until SW 4. Most will be much shorter than this one.
Factoid #1:
Maine is the largest of the six New England states, nearly equaling the land mass of the other 5 states combined. Maine contains 17 million acres of forestland, 6,000 lakes and ponds, 32,000 miles of rivers and streams, 2,000 islands, half-a-million acres of national and state parks and just 1.3 million people.
The southern 1/3 of the state, from the Capital City of Augusta to it's largest city, Portland, and areas south to the NH border is the most developed, is the highest populated, and has a per capita income that is significantly higher than the rest of Maine. The face of southern Maine has changed dramatically because of these factors. This portion of the state has been inundated with folks who have retired here from all parts of the country, but mostly from the cities of the northeast, or have moved here and still travel to Boston to work every day.
The rest of Maine is what most Mainers consider to be the one TRUE Maine. It is well known and accepted as fact, (at least by those liviing north of Augusta), that there are two Maines - the one that has become little more than an outgrowth of Boston, and the rest of the state. In the true Maine you won't be considered a "Mainah" because you moved here, bought a house, and have put down roots. You'll still be considered as "from away" ... which is a polite term for describing you as some city dweller or flatlander that has moved to Maine and seems real nice, but probably still can't be trusted with the location of your favorite trout hole. Around these parts you aren't considered to be a native unless you can produce both of your great-grandparents' Maine birth certificates!
Factoid #2 - Maine is the only state in the United States that is bordered by only one other state. It's the United State's most northeastern state and is bordered by New Hampshire on the west and south, Quebec, Canada on the north, New Brunswick, Canada on the northeast and the Atlantic Ocean to the east / south east.
Factoid #2A - Bonus factoid. Maine's most northern county is Aroostook County and it is the biggest county in the state. It is so large (6,453 square miles) that it actually covers an area greater than the combined size of the states of Connecticut and Rhode Island.
Factoid #3 - How many people live here? Maine's current population is 1.33 million people spread over 33,215 square miles for a population density of 42 people per square mile. Most of Maine's population is located in the southern 1/3 of the state, in the Portland area. Maine is the most sparsely populated state east of the Mississippi.
Factoid #4 - Maine's coast line is over 5,500 miles long and has over 2,000 islands. Maine has a reputation for it's excellent shellfish, and leads the country by a large margin in the amount of American lobster landed each year. 2012 reports indicate that 126,091,174 pounds of lobster with a value of $338,942,522 were landed, which are the highest lobster landings and value recorded since DMR and National Marine Fisheries Service began keeping records.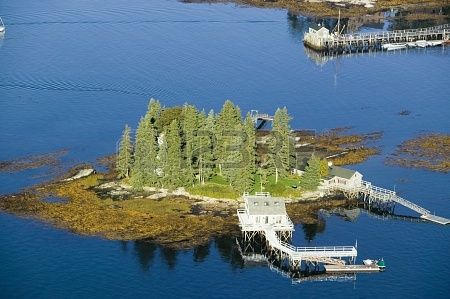 Factoid #6 - Lobster Facts - There is a lot of misinformation and ol' wives tales associated with lobsters. They are NOT red when they come out of he water! They are a dark green, green/brown when alive. They turn red when cooked. I lived in Illinois for about 7-8 years. When we first moved there we were asked so many questions about lobsters that we thought we'd have some lobsters and steamer clams flown in and invite 4 couples from work that we socialized with occassionally. When I started to boil the water on an outdoor gas burner, one of the wives announced that she'd like to go inside (from the deck) because she didn't think she could stand the screaming from the lobster when you put them into the water. I assured her that I had cooked hundreds of lobsters and had yet to have a single one make any noise, never mind scream! She was convinced 100% that based on what someone had told her that they would scream. They didn't, but they tasted awful good!
This link has everything you ever wanted to know about lobsters, and more:
http://maine-lobster.com/lobster-facts
A live lobster ready for the pot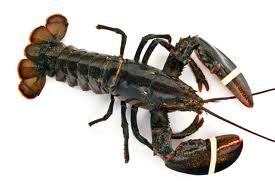 Three rare color mutations of live lobsters - mottled, blue and 2 tone
2 tone - the rarest of all. 1 in 50 million. This one was caught in Maine this August
Factoid #6 - Madawaska, Maine is one of the 4 official sites of the U.S. Four Corners Motorcycle Tour, along with Key West, FL., Blaine, Washington, and San Yisidro, CA. The premise of the four corners tour is that you must ride to all four destinations within a 21 day period. Here's the link to more info in case anyone wants to tie this into your trip to Maine for SW4, or for some future date.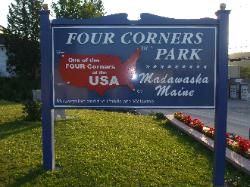 Factoid #7 - Maine is known as "The Lighthouse State". Here's some information regarding it's rich history of lighthouses:
A History of Guiding Sailors to Safety
Carved by glaciers thousands of years ago, Maine's coastline is a jumble of points, passages, bays, inlets, coves, and fjord-like fingers of land reaching into a sea dotted by hundreds of little islands, ledges and shoals. To navigate these unusually complicated and dangerous waters, mariners needed help. Beginning in 1794, an array of lighthouses was established to help them find their way.
The lighthouses stood atop dangerous isles and ledges, warning skippers to beware. They guided vessels to navigable water channels and marked the mouths of rivers. During the most terrible storms and the foggiest nights, they stood against the elements, fixed points of light and hope helping sailors of all sorts to chart a safe course to their destinations.
Maine is known as "The Lighthouse State" for good reasons. By the turn of the 20th century, at least 70 lighthouses guarded its craggy seacoast, its deepest rivers and even one lake. A mariner could sail up and down the coast and always have a lighthouse in sight. Sixty-five of these beacons still stand. There are more lighthouses here than in any other states but Michigan and New York, and more coastal lighthouses than anywhere in the nation! Maine is a great place to see the distinctive towers and explore their rich history.
The lighthouses became much more than directional aids. In their remote and often spectacular settings, they developed a distinctive look that continues to appeal to admirers of beauty and proportion and also to those who enjoy Yankee ingenuity, along with its occasional quirks. With some science and luck and quite a few mistakes, they came to have a luminous, effective technology.
Somehow Maine lighthouses attracted a cadre of keepers who, with their families and other assistants, were remarkable not only for their dedication to the job but for their many acts of bravery and heroism as well as some misbehavior and even madness.
This image is of the "Portland Head Light", a historic lighthouse in Cape Elizabeth, Maine. The light station sits on a head of land at the entrance of the primary shipping channel into Portland Harbor, which is within Casco Bay in the Gulf of Maine. Completed in 1791, it is the oldest lighthouse in the state of Maine.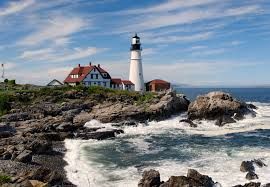 Go to "52 Factoids about Maine Part 2" thread to continue ......