Discussion Starter
•
#1
•
Ive seen a ton of discussions around hard vs soft lowers. Brand X vs. Harley and such. I on the other hand don't care for either. The soft lowers seem to be too bland, with a center piece that restricts airflow, and can only be used up to a certain temp or you will cook in the seat. The hard lowers (to me) are just too bulky and add to the fugg-ness. They are nice for storage and/or adding sound, but im a cheap ba$tard and just needed the protection from the elements. It also had to be something I could stand to look at.
I've found an alternative so I can ride all year, through some of the worst that sweet mother nature can throw my way, and still keep the lower half from taking a beating. All done with materials most of you have (or have had and gotten rid of). I had all this stuff, and the project only took about an hr.
Homemade chops.
Materials:
Old vest
Velcro from prev project (new pack under $5.00). I'd have bought black if I didn't already have this.
Thread (sewing machine)
Two strands of leather (about 3' each). The leather shop, craft store or fabric store has them for a couple bucks each or by the ft. I used what came out of the vest.
I started by taking the strands of leather out of the sides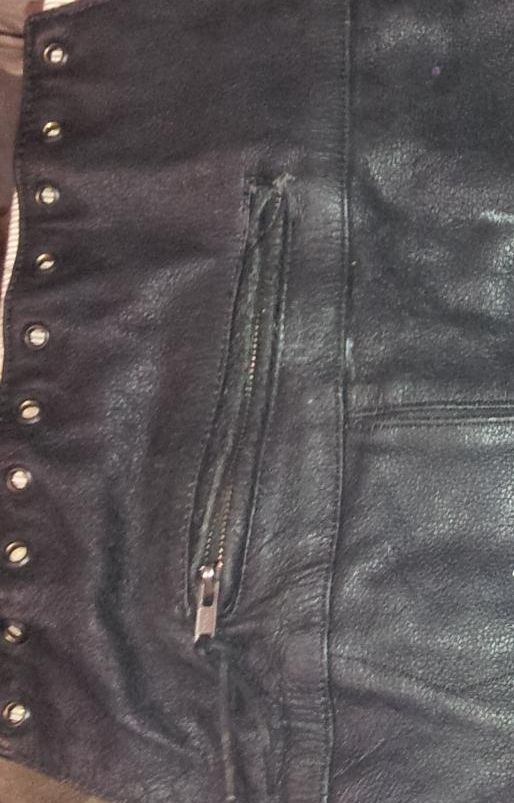 I eyeball measured the length and cut the shoulders to go over the crash bar, between the frame and the faring mounts.
Cut 6 strips of Velcro (both sides) about 3" – 4" long. Now this can vary depending on the size vest, how it fits in the cavity of the crash bar, or if you have any cables to go around. Trimming of ends can be done later.
Sew two strips under the flap that goes over the crash bar at the top, and the opposing side of the Velcro to the vest where the flap will lay.
Stitch 3 of the strips along the button side of the vest and one more at the bottom. Be sure the Velcro is facing the same direction, so when you go around the bars faces will come together (experience talking).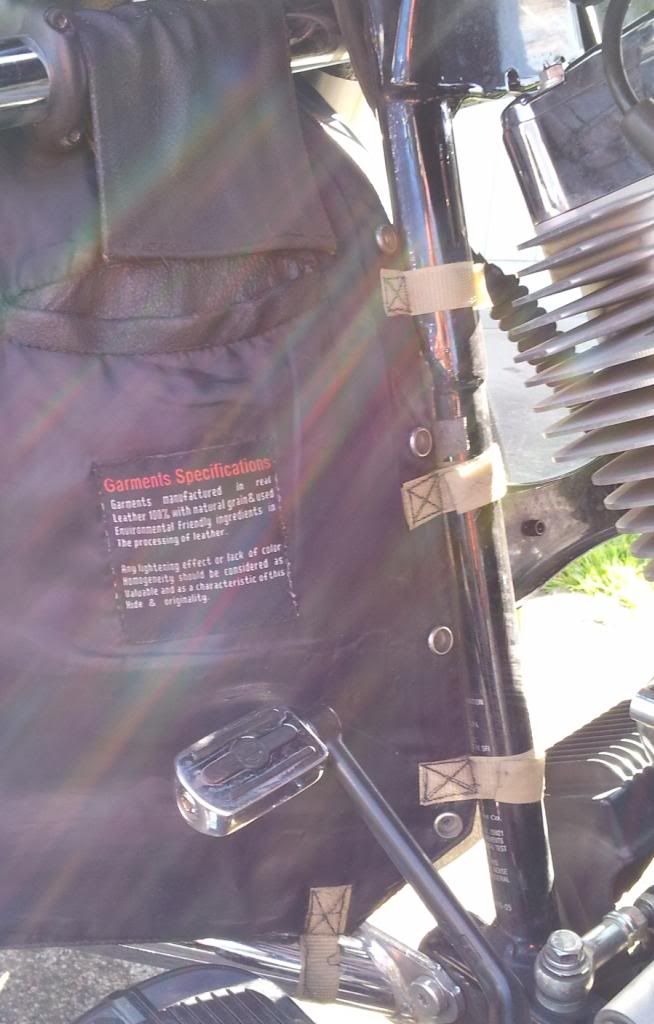 The outside edge is all ready to go (and this is only if the vest came with the adjustable sides). I started at the top and zig zagged my way down. Keep tension on the chop while threading it through each existing hole and back around the bar.