Discussion Starter
•
#1
•
Not really a build, but rather a slow money burn of upgrades and such on my 2012 Big Blue Pearl FLTRX. If admins don't think this is a "build", kill it or move it - I don't care.
I brought her home in July of 2012, with just a 12" HD windscreen and comfortable grips: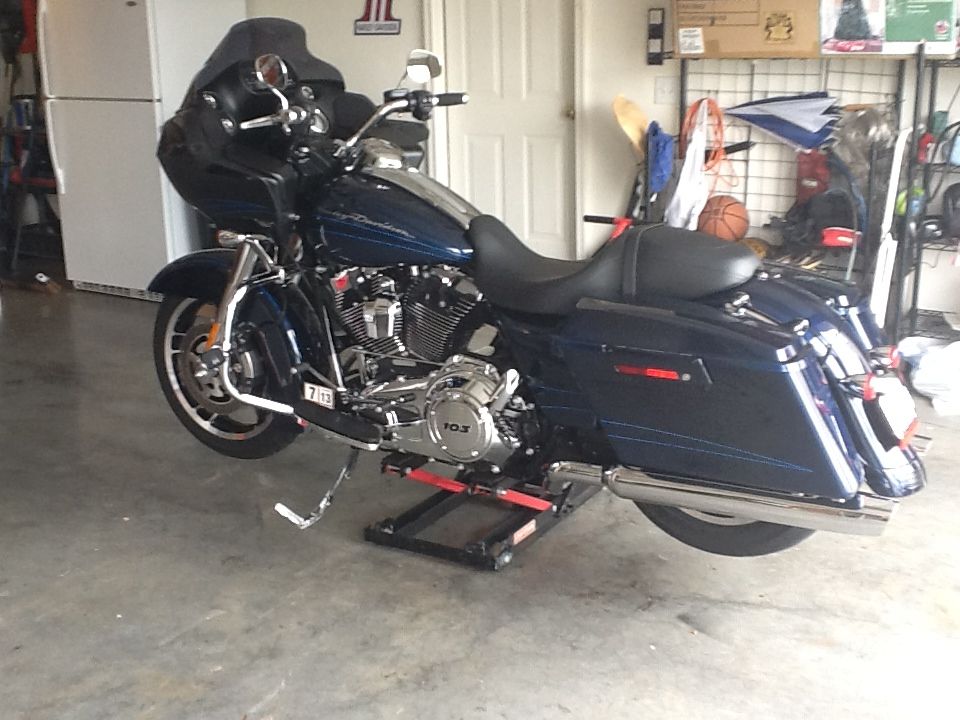 I figured I would just ride the dickens out of this bike and forgo all the upgrades. Then I found this forum.
Curse you all!!!!
A little buffeting control was warranted, so I installed some painted lowers and wind deflectors in late July. Also installed a 4 point dock and special passenger backrest for my wife and iPod interface with the saddlebag mount (not visible):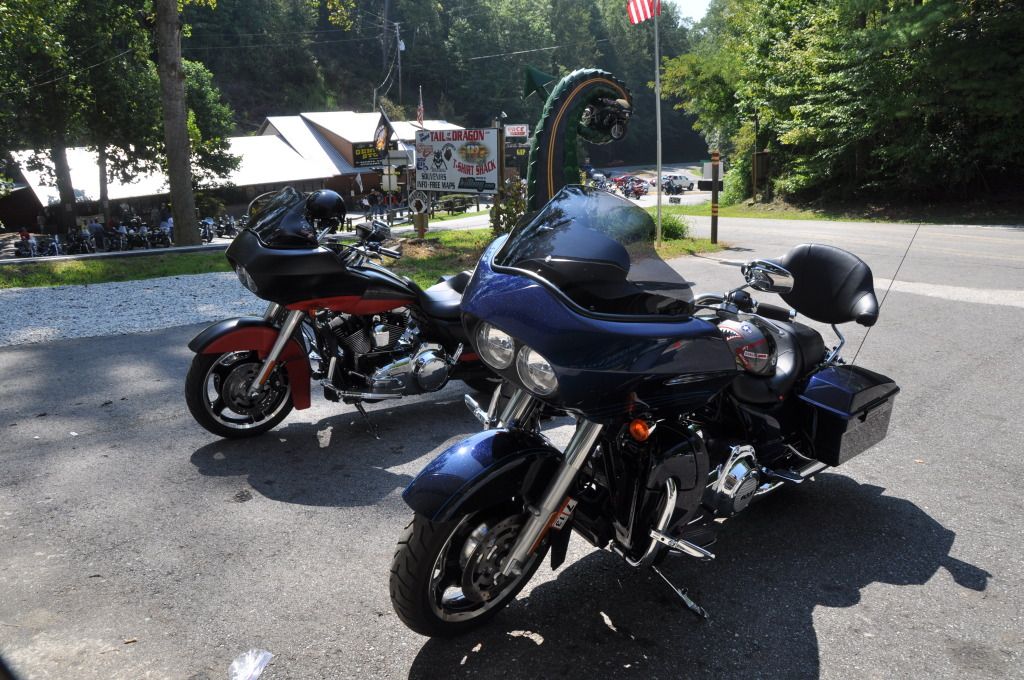 Rode it 5K miles in a couple months, and made the mistake of popping into a dealership on a trip. They happend to have some contrast cut mirrors and levers. They look so cool, so why not: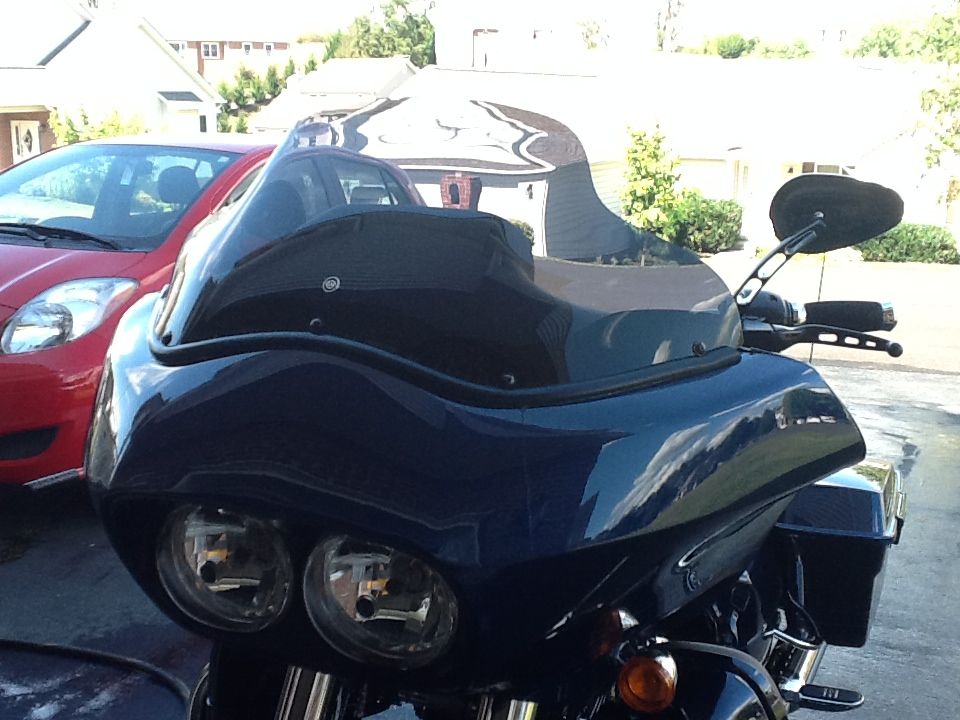 The stock speakers sucked, so I installed the BOOM version one of those late summer weekends, along with the curved license plate frame.
Then the DayMakers came out, and I just had to have them:
Then winter hit in SW Virginia. I'm talking full bore cold wind, rain, ice and snow winter - without a break. Bike sat in the garage from early November onward. By late January, I was going stir crazy. I needed to tinker on my bike. It all started with the idea of simply adding a GPS for those long summer trips. It would up meandering to include:
Edge Cut Shifter Pegs
Edge Cut Heel/Toe Shifter
Edge Cut Shift Linkage
Billet Black Rear Brake Lever
Satin Black Road Glide Handlebar
Edge Cut Grips
Zumo 665 with XM
Black Zumo Handlebar Mount
Non-Ultra Overlay
Navigation Interface Unit
Hidden Antenna
Edge Cut Cowbells
Black Lower Fork Sliders
Progressive Monotube Front Suspension
Progressive 11.5" 444 Shocks
Rush True Duals
Rush Big Louie Slipons
Arlen Ness 1" Lower Jiffy Stand
Power Vision Tuner and Stage 1 AC from Fuel Moto
Painted-over the stock chrome football AC with Flat Black
And now it looks like this: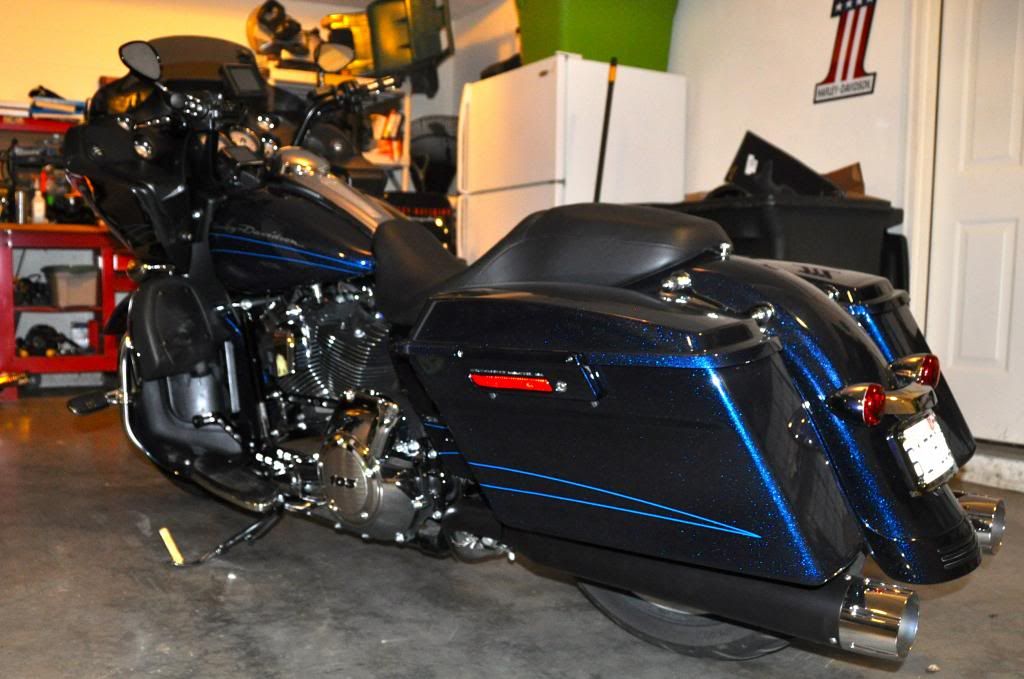 I have a spreadsheet where I keep track of my upgrade expenses and plans. It makes me sick to my stomach when I look at the total spent and left to spend.
Are we daft?
I plan to ride the tires off it this summer, without upgrading anything.
Yeah, sure.
I do know the Progressive suspension rides rough as a cob out of the box. I sure hope I can get it dialed-in to run smoother. It shouldn't clunk on the rebound in front and bounce my ass off the seat when the rear hits a bump....
I do have some notions of future upgrades. They include:
Upgrade the speakers. For sure four speakers in the fairing and two in the lowers - with a couple amps driving them. Perhaps add a couple amplified speaks to the bags, as well. More is always better, right?
Contrast Cut wheels. I'm thinking wider in the front, rather than bigger in diameter. I like the low/fat look. That will likely need to be a winter mod.
Extended bags and CVO style rear.
CVO gauges with blue backlights all around.
Engine mods - need to research and decide how I want to go. Something that sounds modified, runs strong, but is as close to bulletproof as possible.