Discussion Starter
•
#1
•
Santa was nice enough to get me new handle bars for X-mas and it took me awhile to get them put on because of work. Now they are finnaly installed and here is my review.
My girl friend got these bars from Dennis Kirk for about $199. Not teriibly expensive, but more than some of the options out there. They are the Ergo Back Bars, stated by KW to give more pull back options and a more relaxed wrist position.
The quality is amazing. Powder coat is nice and thick, very shiny. The notches for the FBW were perfectly cut, no burs or fitment issues. The interior of the bars were smooth with no burrs, and wire slid into them easy. The bars are alot wider than the OEM, and the wrist position is very different. Almost strait like a drag bar, but very comfortable.
Install was easy, no fitment issues at all. No intructions came with the bars, but who reads them anyways. Only con I had was the packaging... very cheaply done, and could be easily damaged if the brown truck guy is not careful. Luckly mine arrived with no issues.
As for fit, The bars moved my wrist position almost completely strait as in drag bar style. Very comfortable compared to OEM which hurt my wrist alot after hours of riding. The bars brought my hand height to just at shoulder level. Now I pulled the bars way back because I like to lay back when I ride.... If you were to mount the bars more up right, you would have your hands about where you would with 8-10 inch mini apes, depending on your seating position. Where I have them mounted moved be back about 3 inches which was a perfect fit for me. Overall very comfortable. I could not be happier with these bars. I did a ton of reasearch and I wanted something different but with good comfort for me.... I got all of this and then some.
I took a bunch of pics, before and after... so I will let the pics speak for themselves. Please feel free to ask any questions.
BEFORE:
AFTER: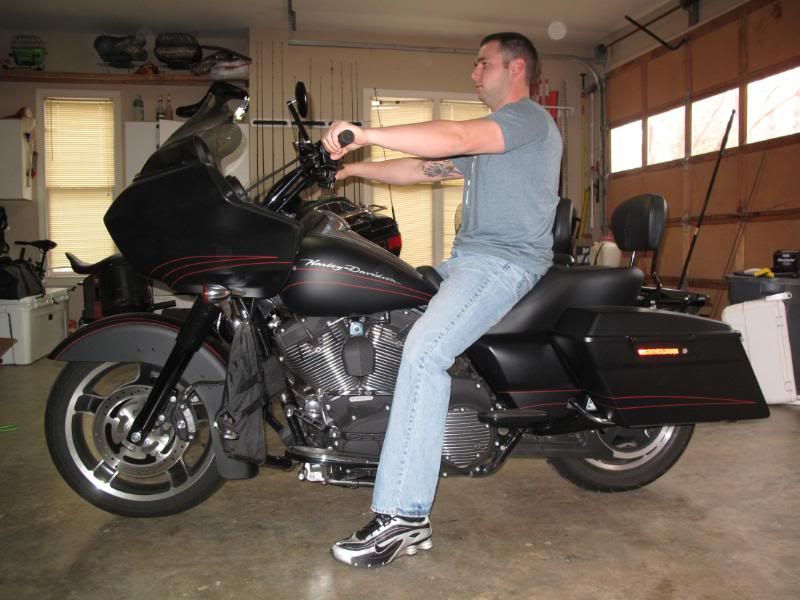 ANOTHER AFTER SHOT: