Discussion Starter
•
#1
•
Long story short...
Been in shape my whole life. When I was 4 years old I started begging my father for a motorcycle. He made a deal with me. If I started lifting weights and stuck to the workout plan he set for me, I would get a motorcycle when I turned 5. As I grew up I had to workout like most kids had to do homework or chores before they could go play with the other kids.He was obsessed with wanting me to be some kind of tough guy. He was a mean drunk and I ended up with some anger issues.
As soon as I was old enough to get a job and drive I started training in martial arts. It helped me with the anger and probably kept me out of prison. I trained on and off my whole life in different styles and on to earn this 6 years ago.
Shortly after some things changed in my life and I wasn't able to train much at all and went to a night shift job. I put on about 65 lbs. in a year. Then I started having a good bit of back pain. After a lot of therapy, injections. 3 different Dr.'s and a disco-gram they tell me I have 2 torn disk. 1 grade 4 and 1 grade 5 torn through all 3 layers. I also have arthritis in every joint running down my spine, 6 bulging disk and 2 cyst. They wanted to do surgery but I plan to put it off as long as I am able to work and ride. I got pretty depressed facing the fact that I would probably never train again and started drinking pretty heavily.
I went on a diet in Jan. and have lost 35 lbs. but was still drinking. It dawned on me that one night that I could get me a newer bike with the money I would save if I quit drinking. So I quit on D-Day June 6 and now I have this.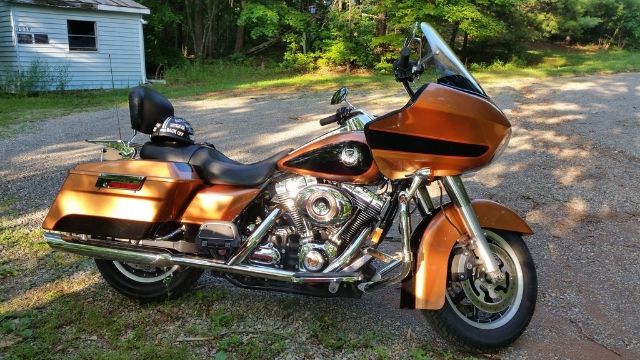 I'm not one to put my business out there but hope it will motivate somebody.
Moral of the story: Quit an expensive habit and buy a new bike with the money you save.:wink: