After waiting 5 months overseas I finally took possesion of my Big Blue Pearl 2013 RGC with ABS/Security and cruise. Many thanks to Quaid Harley in Temecula,CA for participating in the Overseas Sales Program.
The day I brought it home.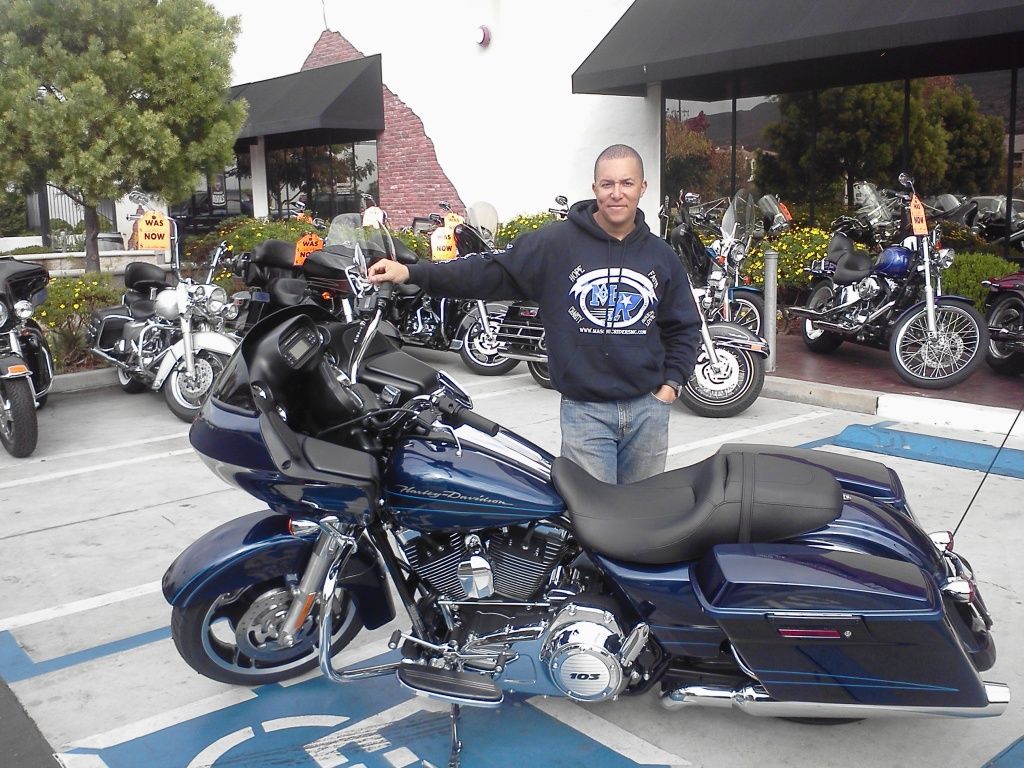 As it sits now.
Aftermarket parts list:
-Klockwerks 8 inch flare in black
-Fuel Moto PCV
-Bassani Power Curve Duals
-Jim Nasi custom CFR mufflers
-Progressive Monotubes 2" Under
-Arnott air ride with 12" shocks
-American Suspension single-sided chrome lower legs
-Bad Dad Summit stretch rear fender
-Bad Dad 4" stretch saddlebags
-Dirty Bird stretch side covers
-Pin stripe change to silver
-Hell's Foundary crash bar delete brackets
-Alloy Art chrome front blinkers
-Custom Dynamics 12" plasma rods
-Biketronics load equalizer
-Coastal Moto Legacy 21/17 in chrome with Metzler tires
-Matching 13" Rotor
-FatBaggersInc. Low profile dash
-Arlen Ness Micro Mini mirrors
-Arlen Ness lowered kickstand
-Performance Machine Chrome
--Rider boards
--Passenger pegs
--Grips
--Brake lever
--Shift lever
--6 piston front brake caliper
--PM light glide white underbody led light kit
--Carl Broussard timing cover
--Danny Gray Speedcradle and pillion
--Jim Nasi smooth derby cover.
--JL audio XD400/4 Amplifier
--Hertz HCX 165 6.5 speakers
--Hertz HCX 690 6x9 speakers
--Hawg Wired paint matched front grills
--Hog tunes speaker lids
--Paint matched bag latches
-Harley Parts
--Paint matched Ventilator air cleaner with K&N filter
--Chrome docking hardware with caps
--Paint matched Smooth nostalgic horn cover
--Painted Inner Fairing
--Paint matched cowbells
--Paint matched strut covers
--Painted Headlight Bezel
--Standard height passenger backrest and pad
--Rolling Tourbag
--Black Daymakers
--Air wing Luggage Rack
--Bridge Kit
--Chrome slotted shift linkage
--IPod controller wired into left glovebox
2014
--Gauge color change to blue
--Color matched monkey bars
--Chrome hand controls
--Hertz HSK 165XL Components
--Cams (TW 222 or S&S 510)