Discussion Starter
•
#1
•
Well we got back about this time last week from our first trip to Laconia and the northeast. Though the weather forecasts sucked all week and rain chances bounced from 20% to 100% and back about every 6 hours we got pretty lucky and only rode in rain about 3 times, only getting really wet once. Strangely enough the one day we thought we had the least chance of getting wet was the day we got the wettest BUT....
The one thing we hoped to do but looked like we had the least chance of doing was riding up Mt. Washington on Thursday. The one constant in the forecast was it was gonna be in the 40's at the top with 40 mph wind, equaling a 10 degree windchill. We figured no way. Gman and Workman decided to come down from Maine anyway as the forecast in general looked good or as good as it'd been.
Thursday morning I woke up to an eerie yellow glow coming from under the hotel curtains. I peeked out and it was a beautiful sunny morning with blue skies!! We met Gman and Workman for breakfast and decided to make the Ride to the Sky! I snapped a few pics.....
When we got to Mt. Washington we stopped in a little staging area before we headed up....
The road was closed that Thursday to just bikes and the vans that took the faint of heart to the top. You have to pay $16 dollars a bike for the ride to the top
Although its only about 8 miles to the top you have to go so slow and the incline is so steep we stopped around the 5 miles mark to look around and let the bikes cool off....
Livetoglide, Me, Gman and Workman....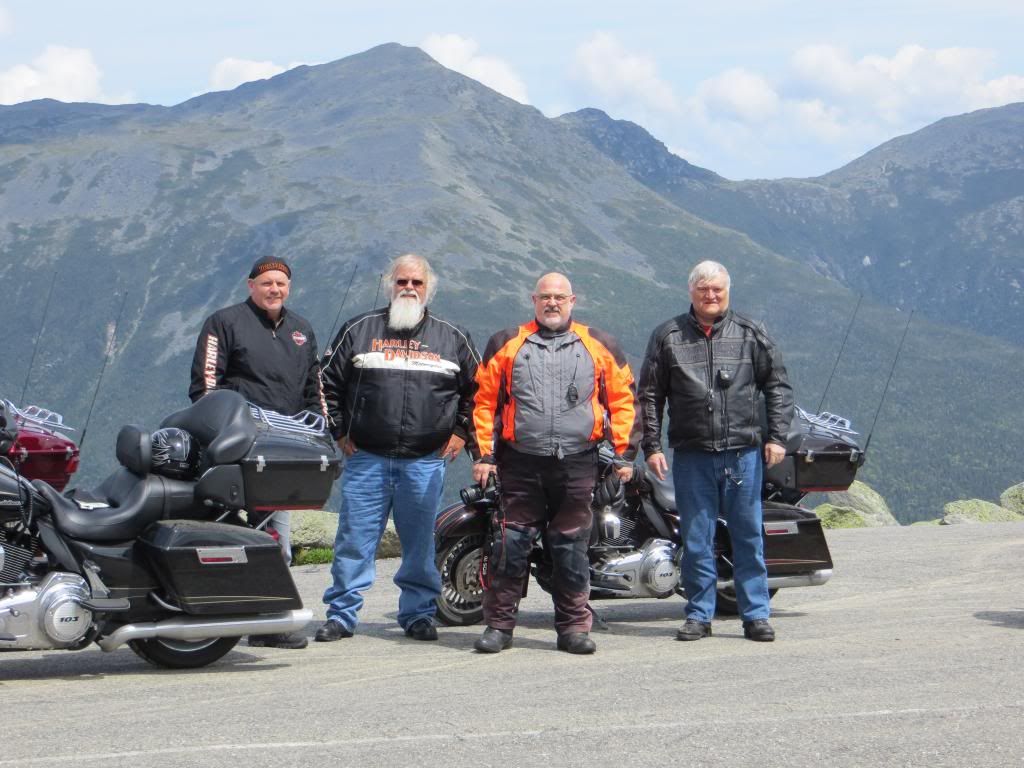 >>>>