This was hardly a road trip but.....last weekend Frankie & I went up to Georgetown Indiana to grab a bite at a roadside stand that sells of all things...Greek food! Pretty darn good greek food might I add!
While waiting on our food we saw a SERG roll by that I thought I recognized from the forum. Ya dont see too many sporting 18 in apes! We could hear the bike stopping to turn around. It was Silverbullet and his girl.
We chatted for a bit and they invited us to Bike Night at Beef O' Bradys where her band was going to be playing on Wed night.
So last night we headed to Bike Nite. Some of the folks there referred to our bikes as Skittles...lol Frankies RG is a rotten Skittle I guess
We of course were the only RGs there. One lady there that we talked to has a tour glide but she didnt ride it.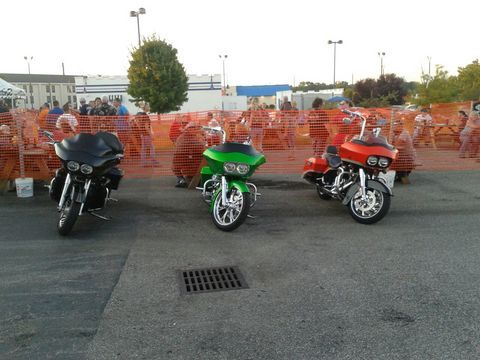 Thats just one of the great things about this forum....you meet some cool folks. Thanks for the invite Kevin, we'll definitely be back.