Old Nerd Guy set up a great BBQ M&G for us at Bogarts in St Louis. I have to say we had an awesome time and sure got our bellies full!
Frankie and I along with a friend of ours headed out early Saturday morning in route to Dales HD in Mt Vernon to meet with pacfan & his wife.
From there pacfan lead us to Frieze HD in O'Fallon. They had the demo truck there and of course I couldn't pass up the opportunity to take a pic of Lymey in front of the truck.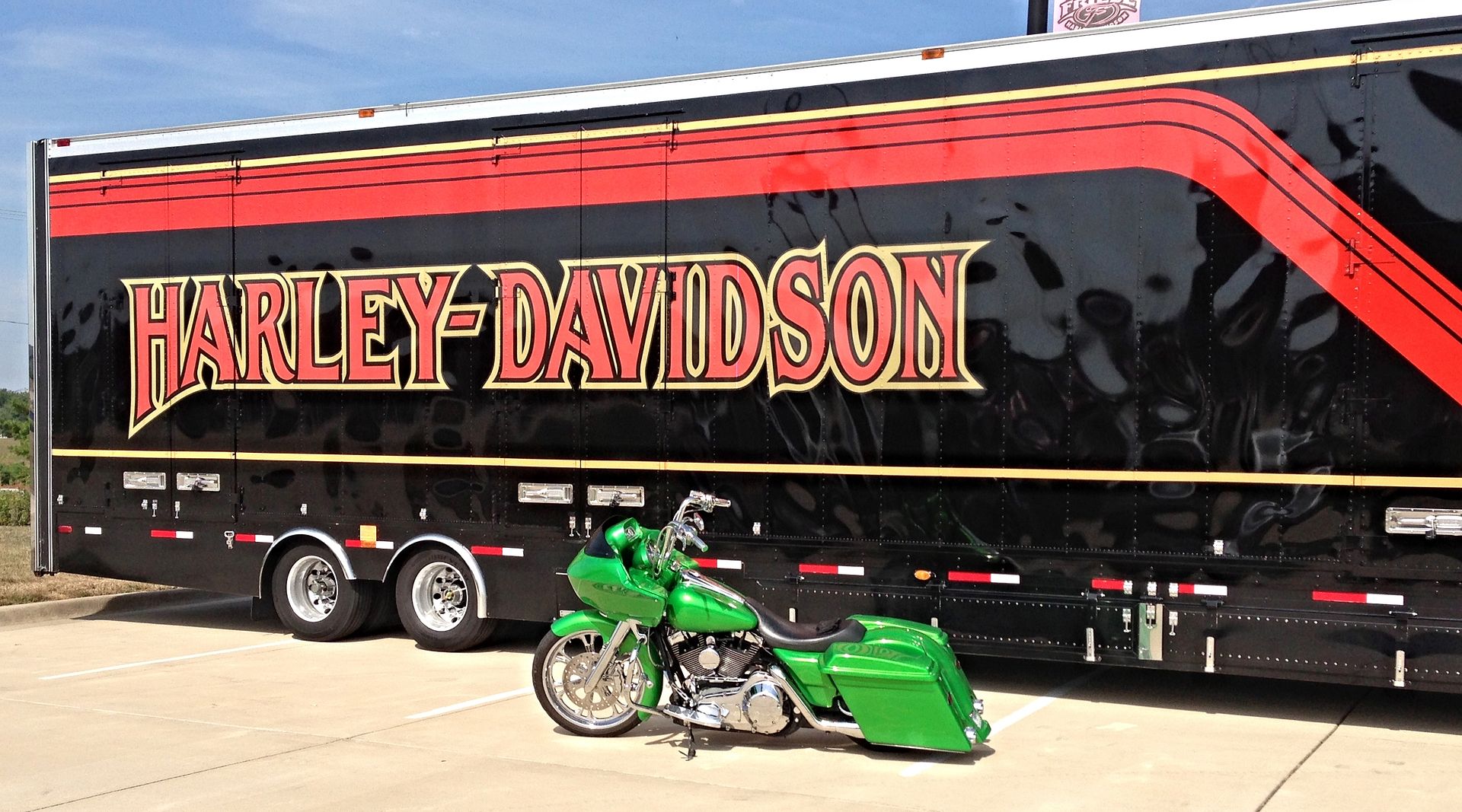 From there we headed on over to St Louis to meet the rest of the crew. Traffic of course SUCKED! But we made it without Frankies road rage kicking in too much.
As we were waiting in line at Bogarts, we started chatting up the doorman/executive chef. ONG explained that he brought us there to try out the BBQ since Oklahoma Joes was our favorite and we mentioned to him that we rode 250 miles just to try it. A few minutes later, he hands Frankie a small bowl full of chicken wings. Those were some tasty wings for sure! And yes, he shared...lol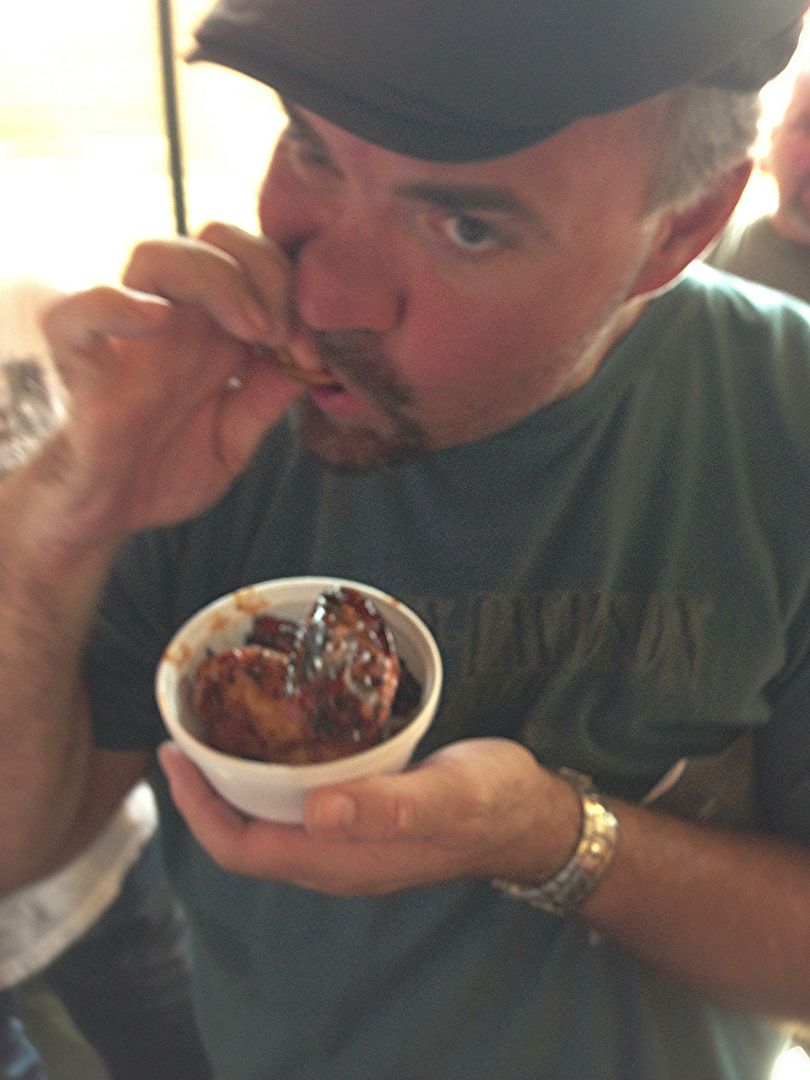 As we got up to the counter to order, I had to decide on what sides to get. I saw they had pickles as a side so I said 'give me the pickles. No more than a few seconds after I said that, the doorman again handed us a small sample of pickles! Those, I LOVED! They are rightly called Fire & Ice pickles. Sweet, tart & spicy. I wished I had went back in to see if they sold them by the jar.
The guy at the register had a sign taped to his shirt....of course I got a full rack of ribs...lol Everyone that worked there was great and made sure they all talked to us and thanked us for coming in.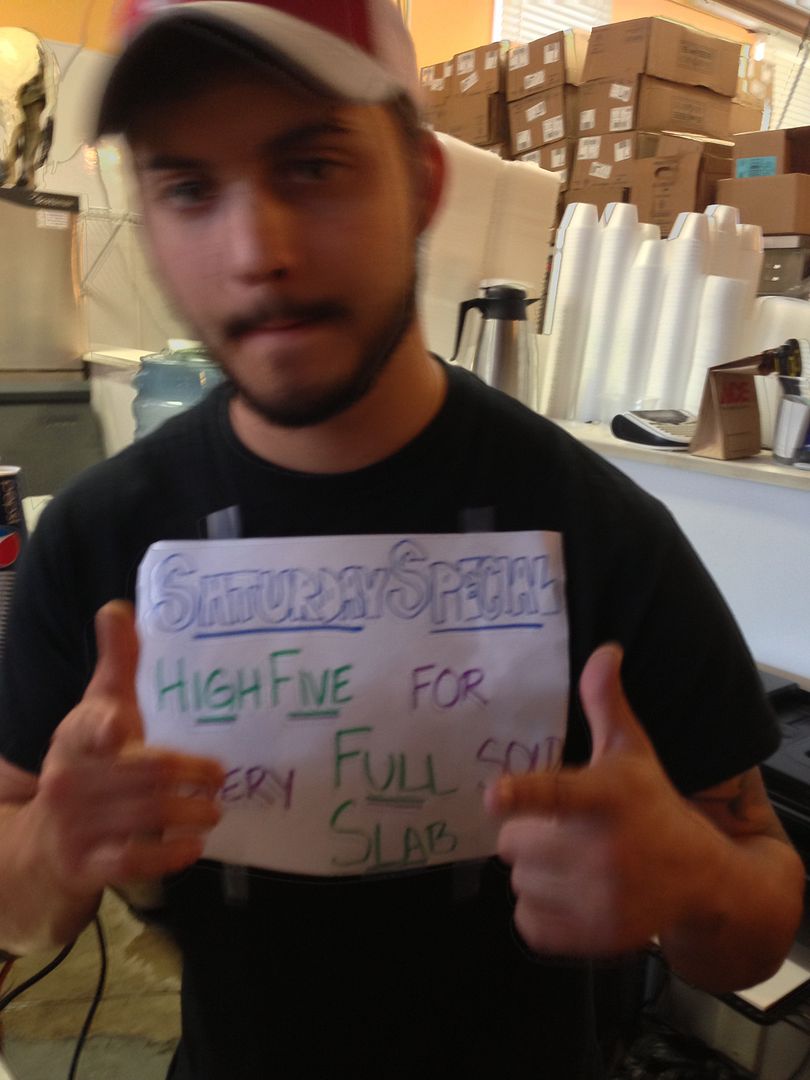 THE RIBS!
Keep in mind, these are laying across my lap! They were huge and pretty darn delish. Not as good in my opinion as OK Joes but still, very yummy!
We also explained to the door man that we had some folks coming from Kansas (Big Jack & his crew. One of which rode all the way on a new Sporty 72! Hows that for dedication...lol) Anyways, apparently chef welcomed the Kansas group with a sample of ribs! And I think Arkieglide got a sample of something too. I cant remember what they got.
Because of the limited seating, we opted to go back out where the bikes were parked and sit on the fence ledge in the shade.