Discussion Starter
•
#1
•
I traded my 09 Roadie off on a 2013 Midnight Pearl RGU last fall because I simply fell in love with the color and was toying with adding a tourpak for trips and not happy with the motor build that was in my old one. I bought the bike with intentions of deleting the trunk and running stripped down most of the time. Usually living in the midwest I like to work on my bikes in January, but a job change and move to Iowa from Kansas City didn't allow me to start work until a few weeks ago. Here she goes:
As it came into the shop, I added a Dragula 2:1 w/ghost pipe, TMax tuner, Woods air cleaner, and 13" Madstad last season, as well as a couple knick nacks from the stealer. 2400 miles at this time.
Ripped off tourpak, inner/outer fairing, rear fender, and fitted up 16x1.25 Carlini Flyin' Apes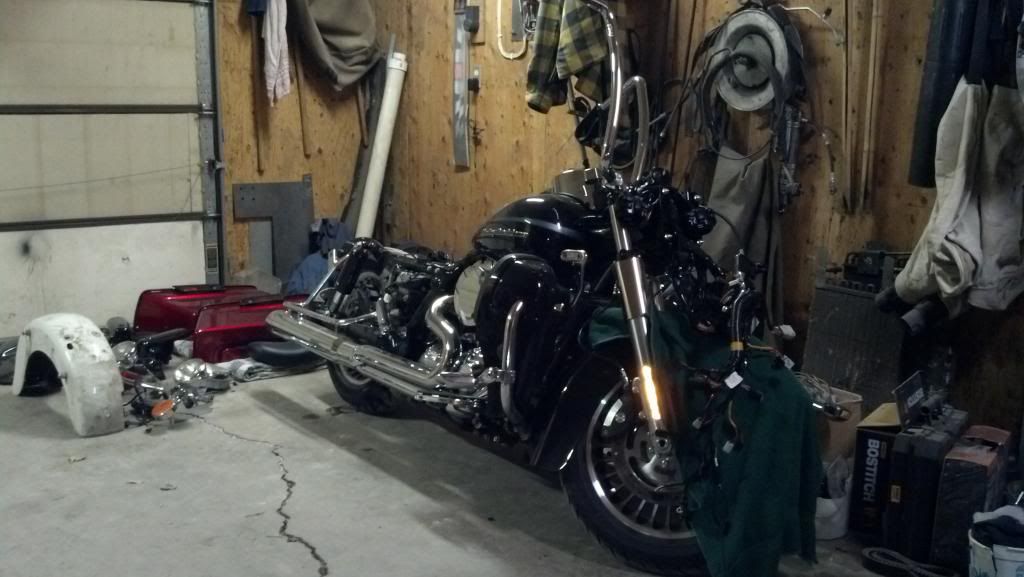 I bought a RGC rear fender off eBay, and fitted a Russ Wernimont Designs steel fender extension to it. This will be welded and smoothed into one piece, and will have Custom Dynamics LED cluster setup with curved plate bracket. Don't mind the farm bags, they're in paint right now to go on another bike!