I have been chasing an oil leak for a little while, and it appeared that it was coming from the oil pan gasket. Jacked he up, removed the rear tire, and drained my fluids. I broke off a bolt, you know the one thats hrd to get to, above the frame cross member? Yeah, PITA. Tried everything and could not get the bolt out, so I ended up having to drill and tap it. the only problem was no room.
So, I laid her on her side resting on the crash bars, that was still not enough, so I had to jack it up while on her side. Uggh, so nervous.
The sad part is, the gasket looked fine, I bought a new one and installed it, but I am now thinking its leaking from the inner primary seal. - That is another project for another day. . . . . I will find out for sure after a good ride tomorrow.
Finally got it drilled out and tapped, and back together tonight.
Anyway here are some pics.
On its side:
Then raised so I could get in there to drill: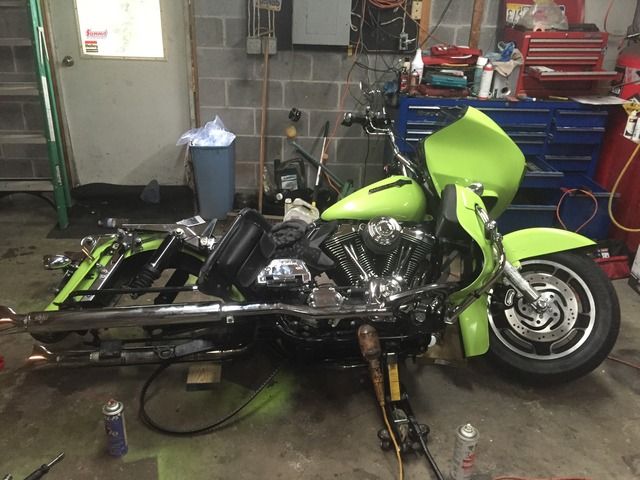 This is what I had to deal with, the bolt could only be accessed through this hole: