Just a little thread to document my west coast trip for this year.
What a day. Had lunch with my kids before I left. Picked up my riding buddy Jack and his daughter Brianna and started out for Vancouver Island.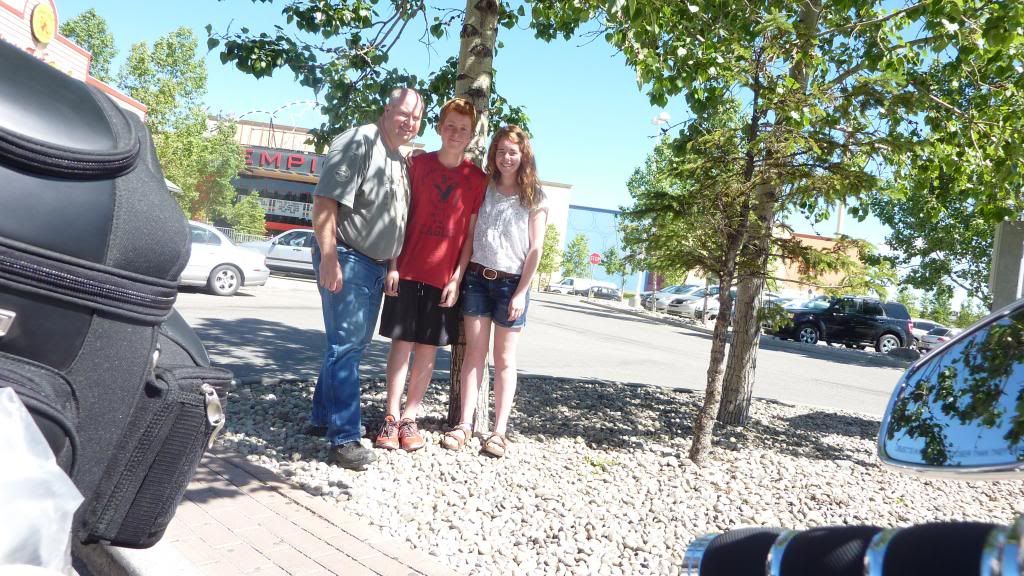 Jack's daughter and mine go to the same school, this was supposed to be a father daughter trip for all of us but unfortunately things came up for my daughter that she could not be away and miss.
First Casualty of the day, Jack's spare helmet fell off the back of his bike about 40 miles west of Calgary after a particularly rough bridge deck. I think I may even have video of this with my drift camera. Needless to say it happened very fast at 65mph and was a really pucker moment for me when his full face was bouncing and skidding toward me, albeit at a reducing rate of speed, the damn thing was just so unpredictable in what it was going to do. Locked up the brake for a fraction of a second to let it pass by, then pulled over, gathered my nerves, made sure my shorts were dry and then walked back down the hill to find the helmet.
It took about 10 minutes but I did find it, scarred up a bit. I shoved my left hand through and rode on to meet up with Jack and Brianna at the next rest stop about 4 miles up the road. It was the first place they could stop out of traffic. Ol' Jack was worried that his full face had wiped me out. He was calling my phone to see if I was OK (bluetooth in the helmet) but I had turned it off early and forgot to turn it back on.
The helmet was left behind in the trash receptacle at the rest area. It bounced so much that Jack nor I would trust it again.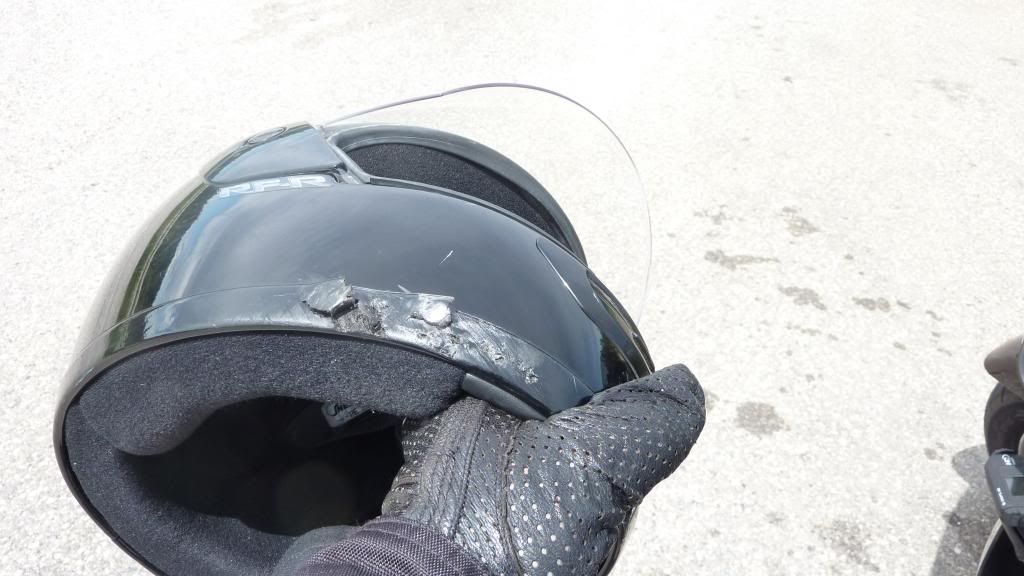 Second casualty of the day, my rain pants left an ugly black melted smear on my Dragula rear pipe when I was trying to put the bike on the centerstand to fuel up in Golden. Live and learn I guess.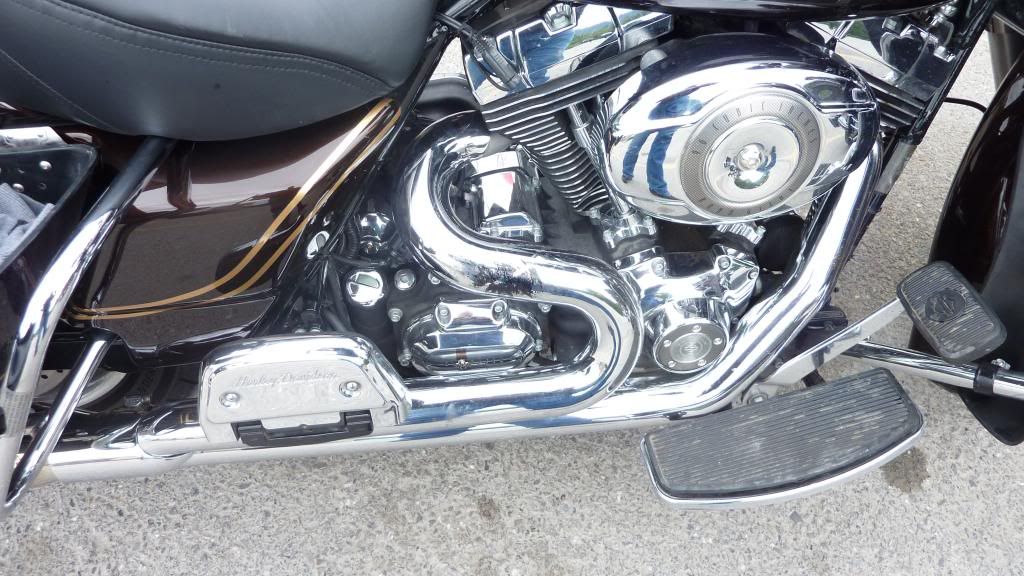 The destruction in Canmore was really unbelievable. There is washout rock form Cougar creek everywhere. The east bound lanes of the Trans Canada have washed leaving an overpass stranded like a statue. Many creeks between Canmore and Banff have washed out either the eastbound or westbound 4 lane sections. Traffic on these just opened yesterday, or our detour trip would have been 9 hours from Calgary to Revelstoke instead of th 5 that it took us.
Wildlife report; 1 moose, several elk, a few deer, and a rarity a mountain goat along the side of the highway in a rock cut close to Revelstoke. It has been many years since I have seen one in the wild. Spectacular. No bears, plenty of tourists in their rental motorhomes that don't know how to use the passing lane.
Real thrill to go through the snow sheds again between Golden BC and Rogers Pass, love the sound of the exhaust in those tunnels. The recent rains had many waterfalls showing up along the way, some were very spectacular high up on the mountainsides
A photo of Jack, Brianna and I at the top of the Roger's Pass.
And here we are arriving at tonight's accommodation, Super 8 in Revelstoke.